While the number of female directors in Hollywood is depressingly few and far between, the state of play is a lot more balanced in the world of nonfiction with some tremendous female talent coming out of documentary filmmaking school and going on to create magnificent work.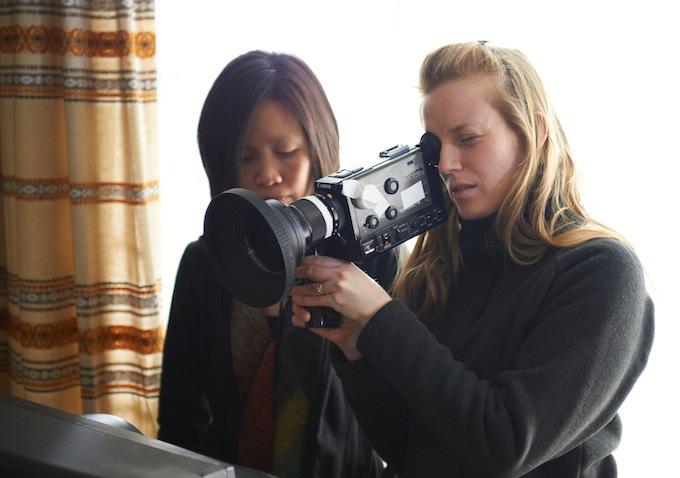 From industry stalwarts with numerous award wins behind them to brand new talent currently making waves, below you'll find six excellent documentary filmmakers who just so happen to be women. Dive right in, and you may just find a new favorite…
1. Barbara Kopple
A regular name which has appeared on every decent Top Documentarians list since the mid-90s, Kopple has won not just one, but two Academy Awards for her documentary work. Hallmarks from her extensive filmography include dissections of American culture and biopics of intriguing figures, particularly the controversies (such as Woody Allen and his relationship with Soon-Yi Previn, or the Dixie Chicks' anti-war backlash.)
If You Had to Watch One: Go with Harlan County, USA. It was one of her Oscar winners and a classic example of a documentary crew becoming part of the story itself, cementing its status in the documentary film canon. The above link plays the full feature.
2. Abigail Disney
Since the release of her debut documentary Pray the Devil Back to Hell in 2008, the granddaughter of the famous animation studio's co-founder has come into her own as a force to be reckoned with. As well as a slew of critically acclaimed documentaries, Disney is also responsible for the formation and success of numerous pro-female causes and peace initiatives.
If You Had to Watch One: The aforementioned Pray the Devil Back to Hell—co-directed with Emmy Award winner Gini Reticker—is a great place to start.
3. Kim Longinotto
A British documentarian who draws from inspiration from her tumultuous early life, Longinotto began working as a director way back in the mid-seventies and has since become a benchmark for the cinema vérité approach as applied to documentary filmmaking. With her material typically highlighting cases of women who are subject to discrimination and/or oppression, Longinotto usually leaves those she films to tell their own story (to great effect.)
If You Had to Watch One: Her most recent documentary, Dreamcatcher, is well worth checking out and won the World Cinema Directing Award at this year's Sundance Film Festival.
4. Chris Hegedus
Another luminary from the style of Direct Cinema, Hegedus has won more lifetime achievement awards for her documentary filmography than we could possibly list here. Along with her husband D.A. Pennebaker—a hugely influential filmmaker in his own right—the duo have blown open the stories behind numerous significant events in contemporary American history, as well as produced some second-to-none profiles of many musical legends.
If You Had to Watch One: Either The War Room (for which she was nominated for an Academy Award), or Moon Over Broadway if you've got an interest in musical theatre.
5. Lourdes Portillo
A Mexican-born documentary filmmaker whose extensive body of work borders on the avant garde. Much of her work—which is frequently the subject of Chicano studies—centers around aspects of Latin America culture and events, but that doesn't mean her documentaries are any less engaging for a wider audience.
If You Had to Watch One: The Mothers of Plaza de Mayo, covering the disturbing story of mothers in Argentina whose children "vanished" during the human rights atrocities of the Dirty War.
6. Gabriela Cowperthwaite
Cowperthwaite has produced a number of TV series documentaries over the past two decades, but it was with the release of 2013's Blackfish that she gained worldwide recognition as a director and a BAFTA nomination. Interestingly, despite the unparalleled success of Blackfish, Cowperthwaite is yet to make any money off its release, admitting that she wasn't much of a "business-minded shark" when it came to negotiating investment contracts.
If You Had to Watch One: Blackfish is as engaging as you've heard, but if you've already seen it, try her other directed credit City Lax.
It doesn't take much to make a documentary, making it possible for anybody to break into the scene with a good piece of work. To learn more about how to make one, visit our 1-Week Documentary Filmmaking Workshop to sign up today.

by nyfa