Schools make for dynamic and popular settings for television series, but perhaps even more so for animated shows since the target audience is usually children. Here is a look at some of the best animated school television series: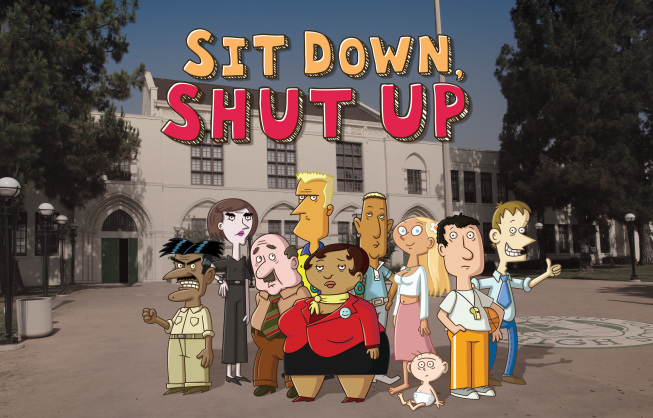 Hey Arnold!
Welcome to the life of fourth grader Arnold and the working class problems he, his family, and his neighbors all face while living in the city. The basis for the character was created by Craig Bartlett while he worked on Pee-wee's Playhouse, and drew heavily from his own childhood. The show lasted for five seasons and produced two movies and is still regarded as one of Nickelodeon's all-time great animated series.
Clone High
Clone High was created by Bill Lawrence (Scrubs, Spin City) and Phil Lord and Christopher Miller, who have since gone on to write and direct hits like Cloudy with a Chance of Meatballs, The Lego Movie, and Spider-Man: Into the Spider-Verse. The goofy, slapstick series saw a high school filled with clones of historical figures like Abraham Lincoln, Cleopatra, JFK, and Gandhi, who, despite their DNA, were modern awkward teenagers. The show featured a stellar voice cast and quickly earned a devout cult following despite only airing for 13 episodes on MTV.
Doug
Winner of four Kids' Choice Awards, Doug first began on Nickelodeon as one of its original animated series, before getting retooled and moving to Disney's ABC. The show was a kinder, gentler cartoon compared to other Nickelodeon launch shows like Ren & Stimpy, but gathered a strong, loyal fanbase over time. Doug was eventually adapted into live stage musical as well as an animated feature titled Doug's 1st Movie in 1999.
Recess 
Created by Paul Germain and Joe Ansolabehere at Walt Disney Television Animation, this fun and friendly series eventually aired for 126 episodes. The show treated school as a pure microcosm of society, complete with sixth grader King Bob, who demands conformity above all else. The six fourth graders who made up the core ensemble managed to transcend their cliches and make for a fleshed out run that produced one animated feature, Recess: School's Out, and three direct-to-video sequels: Recess Christmas: Miracle on Third Street, Recess: All Growed Down and Recess: Taking the Fifth Grade. 
Daria
Daria has since gone on to become an icon of 1990s alt culture–clever, sarcastic, and acerbic. Daria centered mainly on the personal relationships between Daria and her family, friends, and classmates, with a focus on the juxtaposition between the central character's jaded, sardonic cynicism and the values/preoccupations of American suburban life. The show's popularity has endured over time; earlier this year, MTV announced plans to produce multiple spin-offs and sequels of the series.
Magic School Bus
A Canadian-American children animated series based on the book series of the same name by Joanna Cole and Bruce Degren, this vibrant and colorful show fused talented voices led by Lily Tomlin with a fantastical premise to help educate kids through the craziest field trips students could ever imagine. By turning a school staple into a whimsical adventure each week, the show earned a place in the hearts of many young children.
Kim Possible
Annie and Primetime Emmy Award nominated, this Walt Disney Animation series was a critical and commercial hit with a brilliant premise that combined the everyday drama of being a high school student with crime-fighting spy heroics. The show was created by Bob Schooley and Mark McCorkle and employed several staff writers and freelancers over its four seasons, including New York Film Academy Los Angeles (NYFA-LA) Screenwriting Chair Nunzio DeFilippis and NYFA-LA Screenwriting instructor Christina Weir.
Sit Down, Shut Up
One of the few animated school series to focus on the faculty rather than the students, Sit Down, Shut Up was Mitch Hurtwitz's follow up series after the initial cancellation of his award-winning Arrested Development. The voice cast included three alumni from the latter–Jason Bateman, Will Arnett, and Henry Winkler–as well as other big names like Kristin Chenowith, Will Forte, Tom Kenny, Cheri Oteri, Nick Kroll, and Kenan Thompson. The show stood out for using live action high school backgrounds as well as rapid-fire, fourth wall-breaking jokes that came as such an incredible pace that it made it hard for the Fox Primetime show to find an audience–it was quickly cancelled early in its first season.
Ludovic Coutaud is a NYFA alum and writer. For more information, click here. 

by nyfa