Performers or aspiring dancers are artists and possess a number of skills. With experience in movement and performance, many dancers are known for their discipline, punctuality, dedication, creativity, and kinesthetic awareness. These traits can easily translate to a number of other creative interests and dance professions, giving aspiring performers even more ways to express themselves.
Dance Professions, Interests, and Passions To Pursue
The world of dance is an ephemeral field. For those passionate about dance and movement, there are a number of ways to continue to hone their craft off-stage.
1. Teaching dance to others.
Those who can do, teach! Performers passionate about dance can teach or volunteer at a studio, in a public school system with the proper qualifications, or in a college dance program with a Master's degree. Being a dance teacher allows dance enthusiasts to remain active physically while sharing knowledge with others. Performers can also remain creative by choreographing routines for class and performances regularly.  Without dance teachers, the field of dance, as we know it today, would not exist!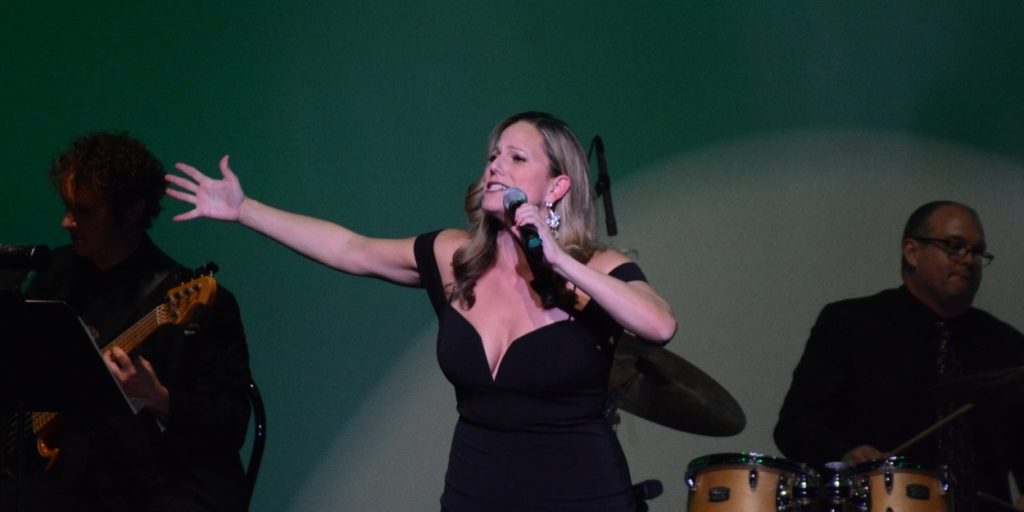 Many of the NYFA Musical Theatre faculty members are former dancers and performers, including Kristy Cates, the Chair of the Musical Theatre department at NYFA New York. A member of the original Broadway Cast of Wicked, as well as Finding Neverland on Broadway, Kristy is an extremely experienced and passionate performer who uses her expertise and knowledge to work with NYFA's musical theatre students. In this photo from Broadway World, Kristy is shown debuting her new solo show CHECK YOUR PLAYBILL at 54 Below.
2. Creating dance-related content.
Dancers have been on the other side of the lens many times, and already have an awareness of movement. When dancers take the leap into the photography world, they have an edge and can predict great photo moments or video framing. It could even lead to a bigger passion or interest in photography. Dancers and choreographers, especially, often have a great eye for creating imagery – after all, dance is essentially creating images with their bodies.
That's why individuals who love to perform and dance are a natural fit for platforms like Instagram and TikTok. Anyone can start their own channel, and get started on the social media outlets right away. This provides a fun way to express love and enthusiasm for dancing and movement.
NYFA Australia alum Nathan Lust has his own TikTok channel dedicated to dancing and has over 4.8 million followers. In many of his TikToks, Lust re-enacts dances from movies and pop culture.
3. Choreographing for local groups and teams.
Many dancers are also choreographers, including iconic performers like George Balanchine, a founder of the New York City Ballet, Jerome Robbins, Crystal Pite, Akram Khan, and many more. Aspiring dancers who want to practice their skills, even more, can volunteer to choreograph for local theater groups, dance, or cheerleading teams.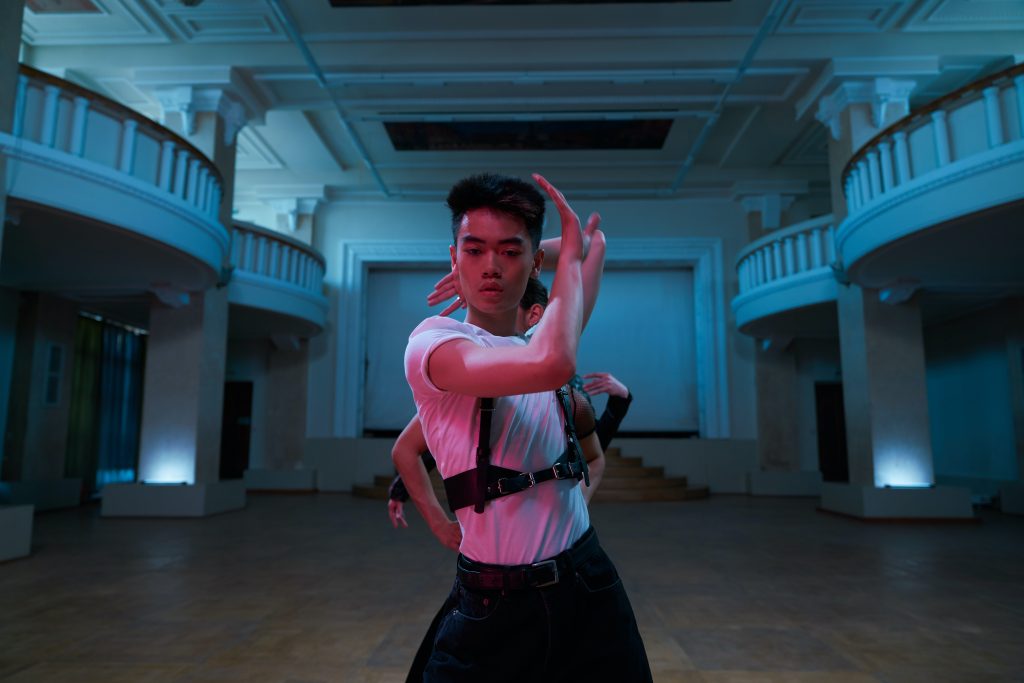 For more experienced dancers, another option can be seeking out large-scale entertainment companies that may need a choreographer for corporate or commercial work.
4. Volunteering in arts administration for a dance company or theater.
Experience in the dance world gives performers a thorough understanding of the arts in general, and transitioning to a desk job is a good option to stay involved in the field.  This is a great option for those who can organize budgetary finances, schedule meetings, rehearsals, or shows, organize fundraisers, and be a support to the artistic director.
5. Doing yoga or Pilates.
Yoga and Pilates are great conditioning supplements for dancers, and the language of dance crosses over well into these hobbies. Dancers who went on to become experts in yoga, such as Tara Stiles, founder of Strala Yoga in New York City, Shiva Rea, founder of Prana Vinyasa Yoga, and Duncan Wong, founder of Yogic Arts, show the breadth of kinesthetic knowledge from dance training translates effectively when teaching these mind-body techniques.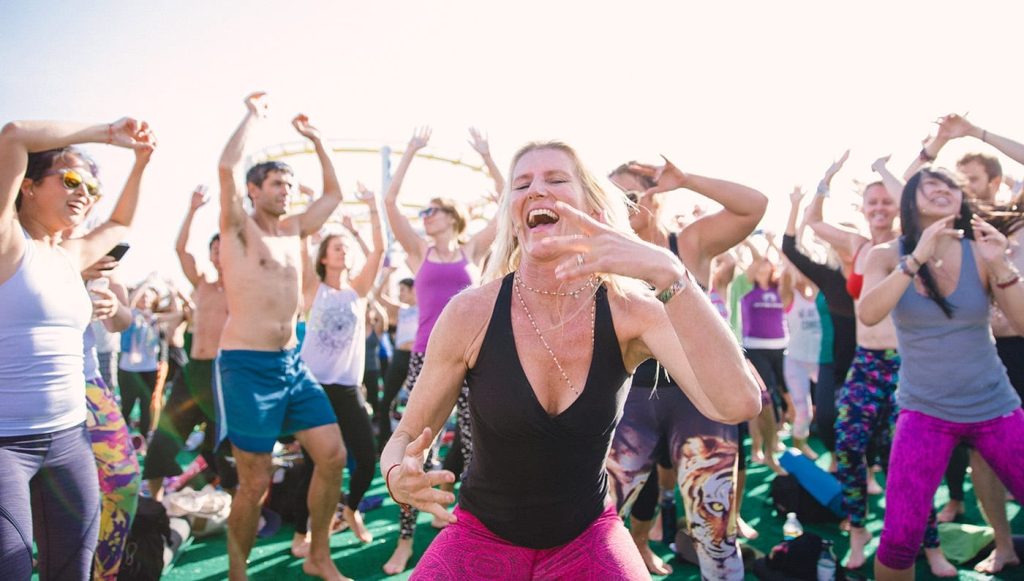 These are great passions for dancers who either wish to continue to dance or transition into a field that may be gentler on their body while allowing them to remain physically active. Shiva Rea, pictured above in an image from Wanderlust, came up with a yoga "Trance Dance" that combined two of her interests.
6. Participating in dance competitions.
Dancers with expertise in specific dances can participate in a number of competitions around the world. NYFA Musical Theatre and Acting workshop alum Joanne Kirsty Clifton won the World Ballroom 6. Photograph or record performances. Showdance Championship, as well as the European Professional Ballroom Championship and World Dancesport Games. Alum Majeste Pearson performed on FOX's The Four: Battle for Stardom and advanced to the final round of the reality competition.
Ilda Mason, another Musical Theatre alum at NYFA and accomplished performer was also a professional dancer on Dancing with the Stars: Panama.
7. Writing and performing an original show.
Performers are particularly suited to creating their own shows, with a lot of experience on stage. Dancers with an idea for an original story can write and create their own show, with the limit being only as high as their imagination. NYFA Musical Theatre alum Roy Khoury created, starred, and directed his own musical concert "One Night on Broadway." The show won an award of appreciation in the "Murex D'Or" 2015, and he showcased "One Night on Broadway" at the "Zouk Mikael International Festival."
8. Making costumes or designing clothing.
Dancers are surrounded by costumes their entire life and know what feels good to practice in. With this advantage, dancers can create costumes, dancewear, or clothing that is designed to be moved in or move well with the body. Learning to sew and create their own costumes could lead to becoming involved in the costume department of a dance company.
9. Trying voice/voiceover work.
A lot of dancers are confident performers. For dancers with voice skills, voiceover work is a great way to explore another method of performance. Audrey-Louise Beauséjour, an NYFA Musical Theatre alum, recently did the voice for the French version of The Little Mermaid (2023), showcasing her incredible singing voice.
View this post on Instagram
Bringing everyone's favorite mermaid to life is a dream for any performer, and NYFA congratulates Audrey-Louise for all of her hard work! Aspiring voiceover performers can also explore our online workshops in Acting and Musical Theatre, with many teaching skills in voiceover.
10. Singing and performing at events.
A lot of dancers and performers pursue roles at local and/or special events.  Miisha Shimizu, a Musical Theatre Conservatory alum, performed in the global, year-long Walt Disney event "Ultimate Princess Celebration." She sang the Japanese version of "Starting Now."
11. Getting started in acting.
As confident performers, dancers are also a great fit for acting. Performance skills on stage can translate to on-screen, as many NYFA alum has demonstrated. Mey Novak, a graduate of an NYFA Musical Theatre workshop, acted in the feature film River Runs Red, starring Taye Diggs, John Cusack, and George Lopez.
Exploring Film, Media, and Performing Arts at NYFA
Dancers can take these many of their wonderful qualities to open new doors, build new bridges, and have a successful and happy life full of creative exploration. At NYFA, aspiring visual artists can strengthen their skills in performance and voice in our musical theatre programs, or request more information about our classes in film and media. Get started with us today!
by nyfa