As a compelling art form, film, television, and media is always subject to interpretation. Audiences analyze everything from classic films such as 2001: A Space Odyssey (1968) to the latest episode of Yellowjackets on Showtime, studying everything from hidden easter eggs to character behavior. When it comes to deep, introspective films, the Everything, Everywhere, All at Once, meaning is layered and leaves plenty for audiences to examine.
Diving Into the Everything, Everywhere, All at Once Meaning and Themes
Soon after it premiered at South by Southwest, film critics and audiences dove into the meaning of the now Oscar-winning film Everything, Everywhere, All at Once. With various elements of sci-fi, action, adventure, and comedy, the movie also covers the complexities of a mother and daughter relationship, the concept of a multiverse and time travel, as well as the immigrant experience. While seemingly ambitious, the film directors, The Daniels, execute the film with near perfection. The Daniels, who first collaborated on a short film while camp counselors at NYFA, created a one-of-a-kind story that feels truly inventive.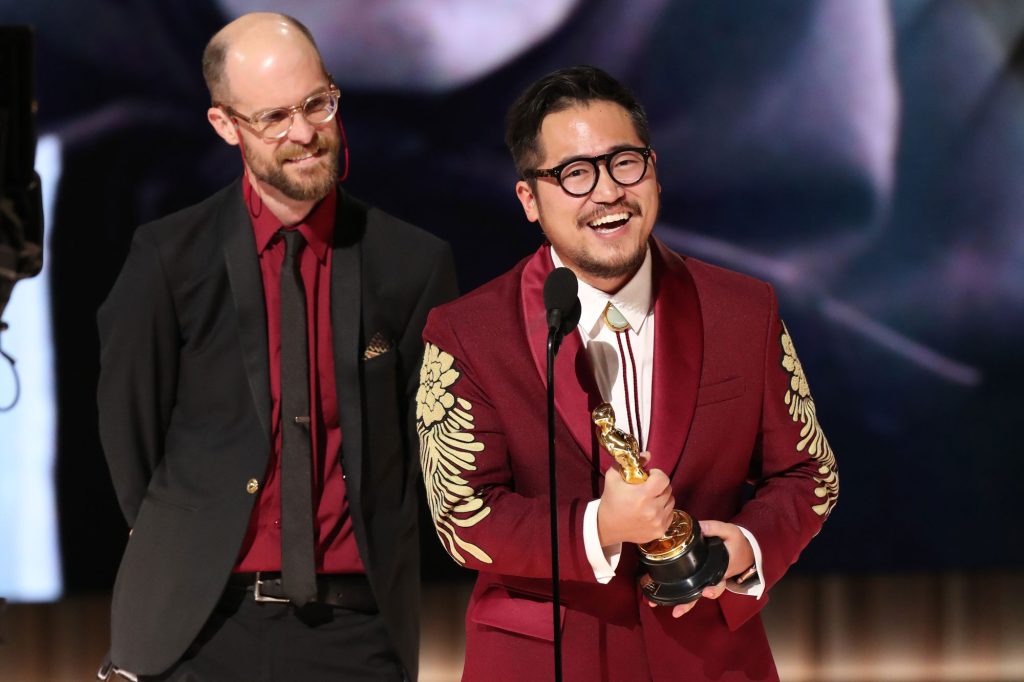 Throughout this post, we'll review the various themes of the film and discuss The Everything, Everywhere, All at Once meaning.
Mother-Daughter Relationships
"I am in love with this," cries Bliss Cavendar in the 2009 film, Whip It to her straight-laced, traditional mother, Brooke. Starring Elliot Page and Marcia Gay Harden, the scene where Bliss tries to explain her passion for roller derby captured a common dynamic between mothers and daughters. From award-winning films such as Lady Bird (2017) and The Joy Luck Club (1993) to beloved television shows and movies like Freaky Friday (2003) and Gilmore Girls (2000-2007), stories with mismatched mothers and daughters are extremely relatable to audiences.
Films like Anywhere But Here (1999) and Real Women Have Curves (2002) expand on this even further, showing the damaging effects of a complicated relationship between mother and daughter. Everything, Everywhere, All at Once captures this exceptionally, as Joy (Stephanie Hsu)'s villainous alter ego Jobu seeks to destroy the universe, fueled by anger that her mother, Evelyn (Michelle Yeoh), does not accept her. Evelyn searches universe after universe to find Joy and overcome the divide between them.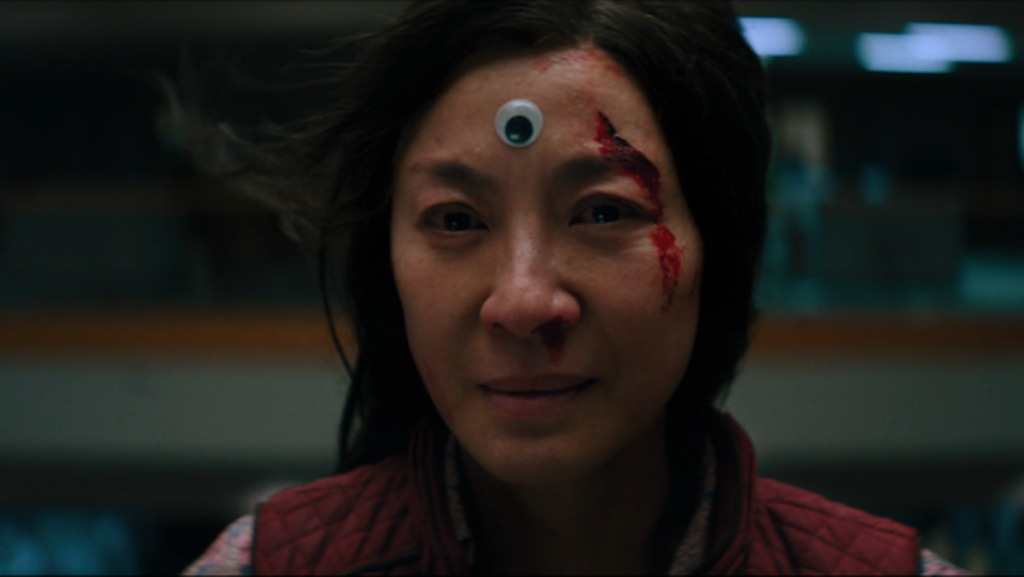 Yeoh is no stranger to playing an assertive and strong-willed mother. In Crazy Rich Asians (2018), Yeoh played Eleanor Young, the mother of protagonist Rachel Chu's boyfriend. Throughout the film, Rachel sought the same acceptance from Eleanor as Joy does from her mother. Ultimately, both films allow the characters to find common ground after a number of interpersonal challenges. While Crazy Rich Asians and Everything, Everywhere both had a significant cultural impact, the difference, of course, is the quirky and strange multiverse present in Everything, Everywhere, All at Once.
The Multiverse and Concept of Time Travel
The idea of a multiverse is a playground for screenwriters and opens the door to a variety of imaginative worlds and characters. The perfect example of this is the recent Marvel films from NYFA Guest Speaker Kevin Feige, which is what audiences often think of when they think of "the multiverse." In recent years, the multiverse has been a main theme in many of the Marvel films, including Doctor Strange in the Multiverse of Madness (2022) and the Disney Plus series Loki (2021). With the backdrop of the multiverse, Marvel has explored everything from the love and dedication of a mother (The Scarlet Witch in Multiverse of Madness) to a journey of self-discovery and acceptance (Loki).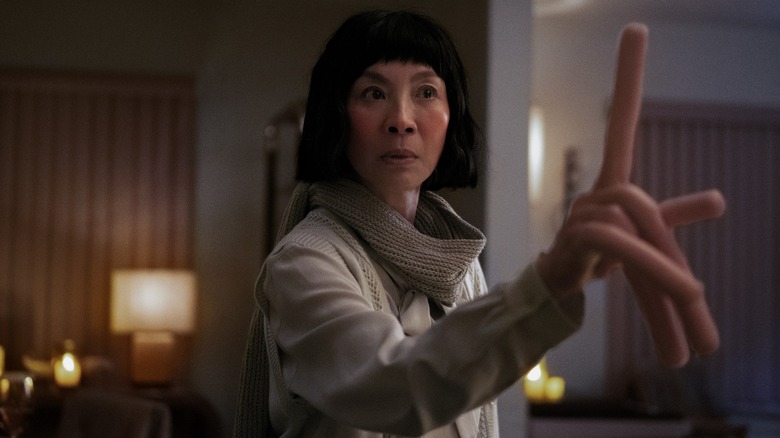 The multiverse in Everything, Everywhere, All at Once allows the film to fully explore every possible outcome of Evelyn's life and identity. This provides the main Evelyn the opportunity to explore herself and build confidence, strengthening her self-love and helping her to effectively show her acceptance of her daughter.
The Immigrant Experience
In My Big Fat Greek Wedding (2002), a scene shows a young Toula Portokalos eating lunch alone in a cafeteria. A girl nearby asks Toula what she's eating from her packed lunch, to which Toula replies, "Moussaka", referring to a traditional Greek casserole. "Moose ca ca?" the girl asks, laughing along with a group of girls. The short clip demonstrates the challenges that many immigrants face when coming to the United States, including being prejudiced against because of their heritage.
The film The Farewell (2019), starring Shuzhen Zhao and Awkwafina, also tackles the gap between older and younger generations. The movie challenges the protagonist Billi to examine her values and family's traditions, resulting in a beautiful and touching story that was shot by director of photography and NYFA Cinematography alum Anna Franquesa-Solano. BFA Filmmaking alum Qianying Zhou worked as 1st Assistant Camera. Another exceptional portrayal of the immigrant experience is the Canadian television show Kim's Convenience (2016), starring NYFA Guest Speaker Simu Liu. Liu plays Jung, the son of a close-knit Korean-American family running a convenience store.
Films and television shows such as Fresh Off the Boat (2015-2020), Never Have I Ever (2020-present), as well as the hit series Ramy (2019-present) and beloved One Day at a Time (2017-2020) are all examples of media that show diverse portrayals of immigrant experiences.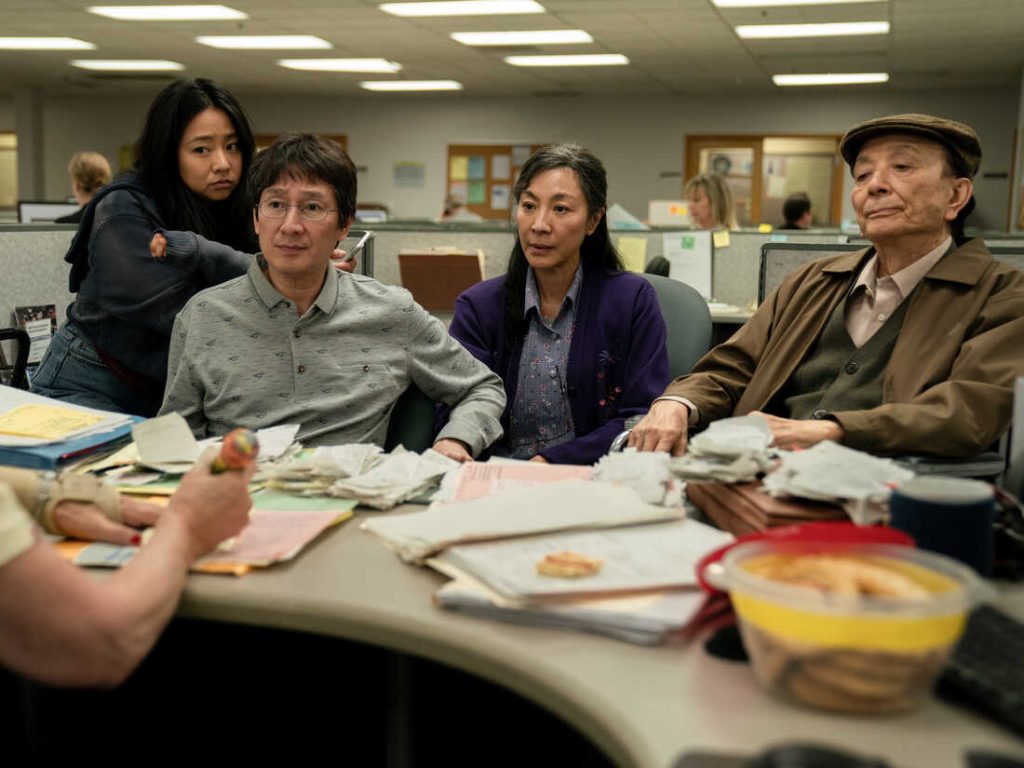 Similar to these films and television shows, Everything, Everywhere, All at Once explores the immigrant experience in great depth. From the language barrier to confusion about American tax laws, the film doesn't shy away from the modern difficulties that come with moving to the US.
The immigrant experience is a topic often explored by our students and alums. NYFA's own Phyllis Tam, a Filmmaking MFA grad from NYFA's Los Angeles campus, was named a finalist in the 47th Annual Student Academy Awards for her thesis narrative short film. Fragile Moon tells the story of a 60-year-old Chinese immigrant named King, who was known in China as a famous Peking Opera singer before immigrating to Los Angeles and becoming a dishwasher in a Chinese restaurant. The film grapples with themes of memory, loss, and the impact of immigrating to the U.S. and pursuing the American dream.
All Things Whimsical and Outlandish
The evolving CGI animation, VFX, and advances in digital editing make a lot of the effects dreamed up by The Daniels possible. In addition to the heartfelt themes of the film, the directors also introduce a number of fantastical and eccentric characters and alternate realities.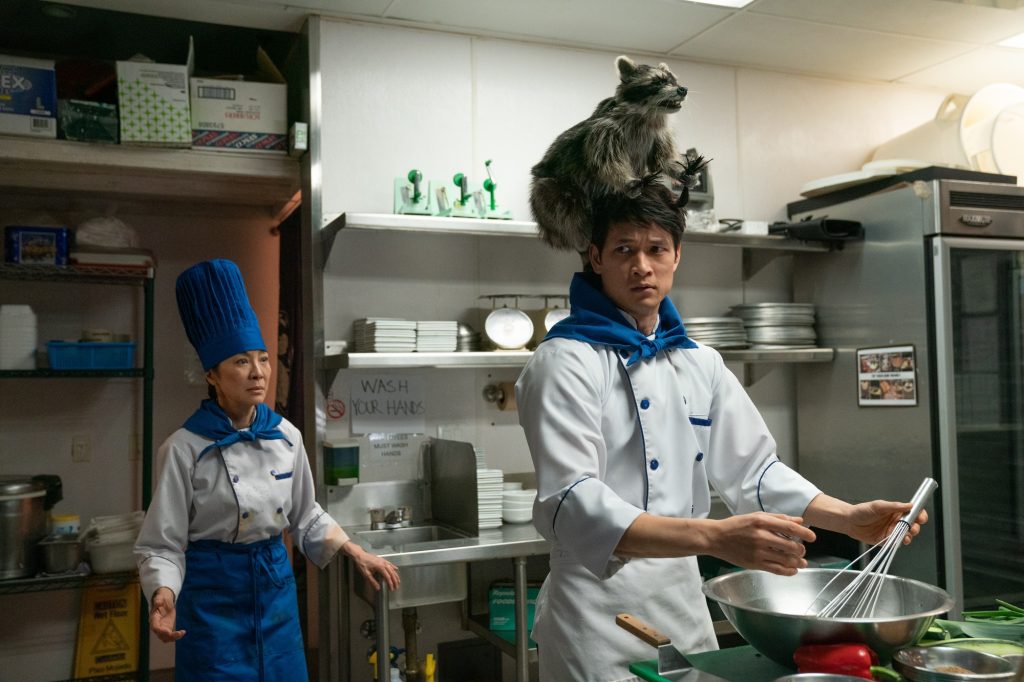 A giant everything bagel symbolizes both everything and nothing, a raccoon hides underneath the hat of a chef, paying tribute to the animated film Ratatouille (aka Raccacoonie), plastic googly eyes are everywhere, and Michelle Yeoh and Jamie Lee Curtis enter an intimate relationship in a universe where they literally have hot dog fingers.
Another recent film, Shang-Chi and the Legend of the Ten Rings (2021) used the same effects to bring a fantasy world to life. From dragons to animated rings, many of the elements needed to effectively tell the story were made possible with visual effects.
In 2022, Shang-Chi director, Destin Daniel Cretton and lead actor, Simu Liu joined NYFA for a live Q&A and discussed the film. "As a creative experience, it was one of the most fulfilling that I've had," Liu said.
The Everything, Everywhere, All at Once Meaning
So what is the ultimate Everything, Everywhere, All at Once meaning? Daniel Kwan shares his perspective in an interview with The Los Angeles Times.
"The question of 'what if?' looms over anyone who has had to upend their life and move somewhere else," said Kwan. "So the multiverse was the perfect place for us to explore that, especially with a middle-aged immigrant person who has had a long life to look back on all their regrets. It wasn't intentional, but it ended up being the perfect way to explore my parents' story."
At the Oscars, Kwan dedicated the film to his Taiwanese mother, who always supported his creativity. According to Kwan, his mother had not wanted children and sacrificed a great deal to provide for her children. In Everything, Everywhere, the audience watches Evelyn explore the "what if" of her own life, exploring possible outcomes if she had not married, pursued different careers, lived in another universe, or had her daughter Joy. Ultimately, the film has a happy ending, seeing Eleanor content in her life and with her family.
Learn The Art of Filmmaking at NYFA
Aspiring filmmakers can learn how to tell their own innovative stories through film, media, and the performing arts in NYFA's hands-on programs. NYFA's courses enable students to learn by doing, bringing them through the process of creating a film. To explore everything NYFA has to offer, request more information today!
by Melissa Randall and Paula Rey Jiménez