The film, television, and entertainment industry have a long history of memorable partnerships, from the Coen brothers to Issa Rae and Tracy Oliver to The Daniels. Hit films, television shows, podcasts, and other media have shown that sometimes, the right partner makes all the difference. Storytelling teams find inspiration and motivation in each other, which can be fueled when working together in a welcoming creative environment that supports and encourages collaboration. NYFA alumni and current and former faculty have found this space at New York Film Academy, and have gone on to create films, tv shows, short films, graphic novels, and much more.
From The Daniels to Issa and Tracy: Connections Forged at New York Film Academy
Given the highly collaborative nature of visual storytelling, the film, television, and media industries require cooperation and coordination at every stage. Over the years, the NYFA community has demonstrated how essential this collaboration and connection is for the creative process, resulting in exceptional films, television shows, podcasts, web series, and much more.
Here are a number of collaborations from NYFA faculty, students, and alums, with many of them still working together today.
Feature Films
In 2022, the directing duo known as "The Daniels" made history with the hit film Everything, Everywhere, All At Once (2022). Back in the day, Oscar-winners Daniel Kwan and Daniel Scheinert worked together as NYFA camp counselors in our Harvard program and even made their first short film during a summer camp.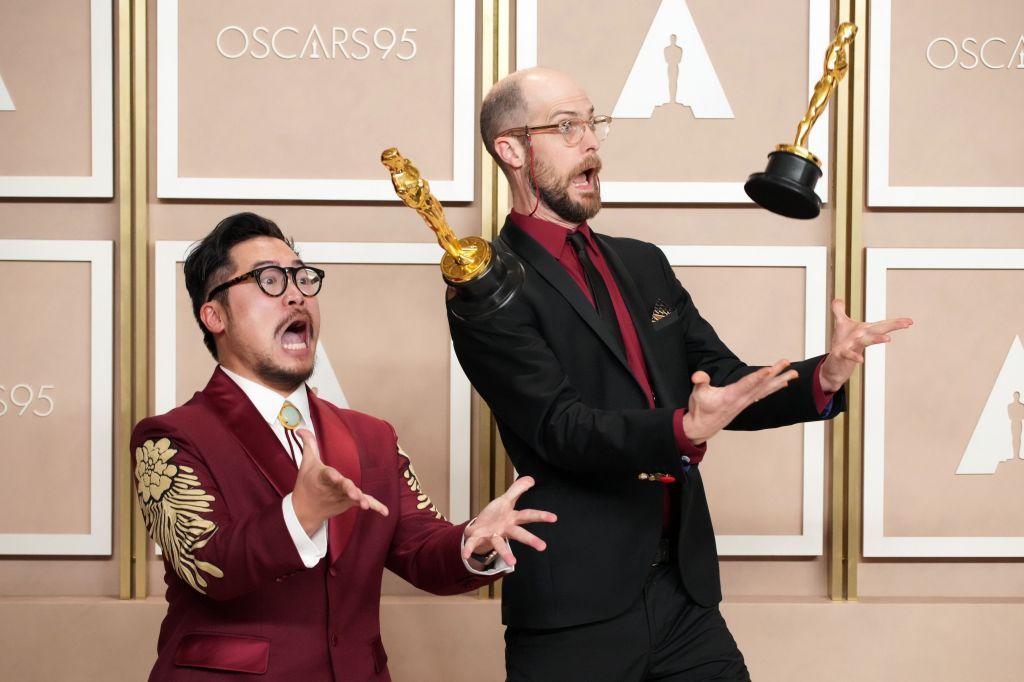 NYFA alum Daniel Schecter, as well as NYFA faculty members Ishai Setton, Chandra Simon, and Josh Silfen, also worked together on a feature film. The group collaborated on The Big Bad Swim (2006), a film directed by Setton and written by Schecter. The film starred Paget Brewster and Jeff Branson.
NYFA Australia Alum Josh Hale (graduate of the 2016 Advanced Diploma program) is another NYFA alum finding a lot of success in the indie market. Now a faculty member, Hale's Director of Photography on his last two features, House of Inequity (2023) and Blue Horizon (2004), was also a former graduate, Nathan Jermyn. Hale also used an ensemble cast of mainly NYFA graduates for both films.
Stephen Osbourne and Luke Speech, NYFA graduates and now staff members, have collaborated together as Director and Director of Photography on their last two feature films. They have gone on to be nominated for the Gold Coast Film Festival. MFA Filmmaking alum Felipe Holguin and Two-Year Filmmaking alum Andrés Sierra also found success together. They co-wrote the feature film La Suprema, applying to the Film Fund (FDC-Proimagenes) and winning one of the two awards given for regional feature films.
In the Cinematography department, NYFA New York Cinematography Chair Piero Basso shot two projects with NYFA alum Lanre Olabisi, including his second feature film, Somewhere in the Middle. NYFA Cinematography alum Julie Angelo worked with Basso in Una Famiglia, a movie that competed in Venice.
NYFA alums have also found success in documentary filmmaking. The documentary Shirampari: Legacies of the River, which takes place in a remote part of the Amazon rainforest in Peru, was created with the help of several alums. NYFA alum Lucia (Chía) Flórez served as the director and screenwriter for Shirampari, and NYFA alum José Miguel (Chémi) Pérez, produced the film. The film was screened at Sundance and was a festival favorite.
Television Series
NYFA workshop alums, Filmmakers, and Screenwriters Issa Rae and Tracy Oliver first connected at NYFA in a short-term filmmaking workshop and went on to collaborate on Rae's series Awkward Black Girl (2011). Issa wrote the show and starred in the series as J, and Tracy starred as Nina.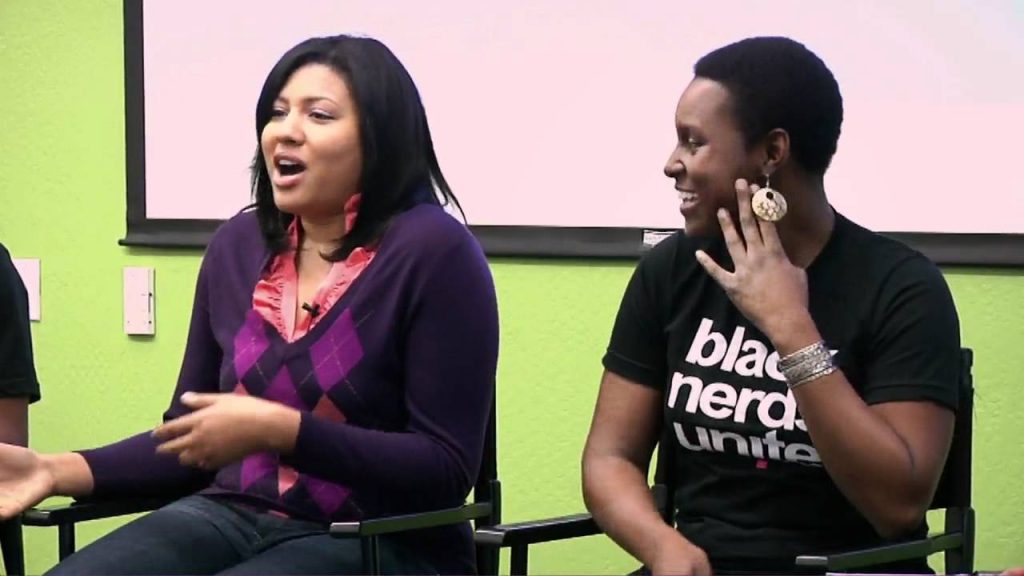 Tracy also wrote an episode of the show. Screenwriting alums Safiya Azaunce (Spring 2018 MFA Screenwriting) and Cesia Cano (Spring 2018 MFA Screenwriting) were also both writers on the series LACE (2021).
Graphic Novels and Comics
NYFA Los Angeles Screenwriting chair Nunzio DeFilippis and Screenwriting faculty Christina Weir have worked on a number of comic books and graphic novels together. As writing partners, the duo has worked together for over 25 years, creating beloved stories such as Bad Medicine, Skinwalker, Past Lies, and The New York Four.
NYFA Screenwriting faculty Josh Eiserike and NYFA Screenwriting alum Ian Brown also collaborated on a graphic novel. Eiserike, who teaches screenwriting, wrote the gripping story of The Very Final Last Girls, while Brown, a Fall 2018 BFA Screenwriting alum, contributed his design skills to the book.
YouTube Original Series
NYFA alums Talya Adams, and Kareem Brown teamed up to create a number of successful web series that have gained a large following. Adams graduated from the MFA Screenwriting program, and Brown completed the AFA Screenwriting program. Their most popular series, Just Playing With Jason, is a witty and irreverent take on pop culture that showcases their unique writing and comedic talents.
NYFA Screenwriting faculty Selyna Warren and Marissa Read also created the YouTube Original series FOURSOME, among other projects. The two are a writing team that both teach at NYFA.
Podcasts
NYFA Screenwriting faculty Heather Huntington and Danielle Evenson teach and write together as a team. The two work as a team on the podcast UNSOLVED DEATH MURDER CRIMES and write together on several other projects. They also have separate TV credits from before they teamed up.
Music Videos
Before they went everywhere all at once, The Daniels actually partnered on the hit music video Turn Down for What. NYFA alum Shivashish Ahuja and MFA Cinematography alum Mayur Patankar both worked on shooting a live performance with pop singer Billie Eilish.
Short Films
Three NYFA alumni, Deedee Benkovich, Arturo Vargas, and Janet Odogwu Butters, have collaborated on several successful projects. Together, they created the poignant and thought-provoking short film One Heart, which has received critical acclaim for its emotional depth and powerful storytelling. In addition to this project, Benkovich, and Odogwu Butters collaborated on the short film Lost Girls, a haunting exploration of loss and the human experience.
Barry Galperin (Spring 2016 BFA Screenwriting), Diego Celis (Fall 2016 BFA Screenwriting), and Marisa Milroy (Fall 2017 BFA 2A Screenwriting) also collaborated on the upcoming short WHAT YOU FELT LIKE. NYFA Cinematography alums Andrea Gavazzi and Davide Sorasio also collaborated on the short films The Farthest Apple from the Tree, Milk, and Super Paradise.
Piero Basso's short A Storybook Ending also had a crew filled by alums, including Anna Franquesa Solano as B camera.
Photography
The work of NYFA photography alums Apeksha Agarwal and Rutvik Katuri was featured in Harpers Bazaar Vietnam with captivating shots of Madhulika Sharma.
Initially meeting at NYFA, the duo also recently worked together on the House of Masaba Spring 2022 campaign. With Agarwal as Photographer and Katuri as a Creative Consultant, the two created a series of images that impeccably showed off the clothing.
Connect and Collaborate at NYFA
Across our campuses, NYFA offers an immersive experience where students are comfortable learning and growing with each other. Throughout our hands-on programs, students can learn the roles required in a film or television production, what it's like to work in a writing room, and much more! To inquire about film, media, and performing arts classes at NYFA, request more information today.
by Melissa Randall