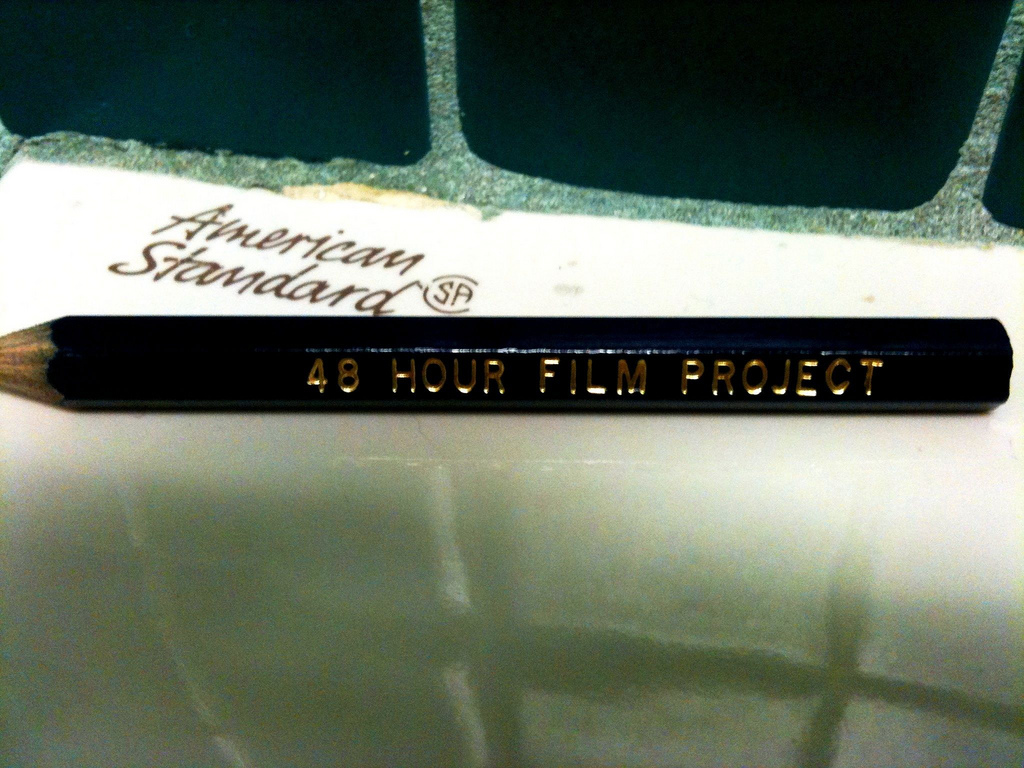 All across the land, one competition is taking filmmaking by storm. The 48-Hour Film Festival challenges production teams to make a short film in only two days' time, which will then screen publicly in front of a panel of judges. Winning films from each city move on to be screened in Los Angeles, and the top 10 worldwide screen at Cannes the following year.
To start, each team receives a random genre, and a prop, character, and line of dialogue that must be included in their film. Then, over one weekend, writers craft a script, a director breaks it down, actors perform, an editor cuts it, and the producer turns in the final copy. For actors, the challenge is a great way to practice on camera, gain material for a reel, and meet industry folk. Never before has one weekend done so much for your acting career…and it's fun!
Advantages for Actors
Scheduling film shoots is always a difficult proposition, and when working in indie film, is a common reason that shoots get pushed back. With the 48-Hour Festival, scheduling problems are reduced because everyone knows about the weekend in advance. This means that Festival teams are often more organized and dependable than the average independent production team.
Additionally, competing in short film festivals gives actors the chance to play a variety of different roles. Producers must recruit their cast before they know what the story and genre will be, so actors often have the chance to play against type, or in an atypical genre. For instance, horror, western, and sci-fi are genres that are included in every drawing, but rarely will actors come across them on public call boards.
Finally, the popularity of 48-Hour Film Festivals draws many professional production teams in every city. This gives actors the chance to work with established, local, film industry pros, which is crucial for networking. Beyond the networking, these teams bring a high-standard of production value with cameras, lights, microphones, and other equipment that would otherwise only be found on the best short film shoots.
Reel World Experience
All of the above traits make short film competitions a viable option for actors in need of resume and reel building credits. On-camera experience is important for all aspiring actors, and a credit from a 48-Hour Festival is definitely worth the time.
If the final product is polished, there is also a good chance that footage can be obtained for use on a reel. This is further encouraged by the quick turnaround time. In only two days, an actor can gain a credit and a scene for their reel, talk about efficiency.
Besides all of this, 48-Hour films are fun yet challenging to work on. Actors must build a character quickly and perform under constant time pressure, similar to the stress experienced on studio TV and film productions. And, with The 48, there is always a guarantee that if completed on time, actors will get to see themselves on the big screen and gain exposure to local audiences.
Advice for Finding a Team
Don't despair if you are an actor without a team for an upcoming competition. If you are interested, chances are that you can find a team. The 48-Hour Fest has a mailing list on its website that anyone can sign up for, and they also host mixers for teams and prospective members. Signing up and/or attending those events is one way to find a team. Another proven way is to hit the local casting services and social media groups for teams in need.
Importantly, the festivals are all open to anyone, and volunteer-based, so payment is never provided. Therefore, it is the responsibility of the actor to screen teams for quality and find the right one for themselves.
Things to Look for in a Team:
Experience – Always helps if they have done this before.
Organization – They should seem knowledgeable and prepared.
A Full Crew – It's a lot of work. If others have signed up, that's a good sign.
Similar Vision – Ask them why they are doing the project. Ask what their goals are. Ask to see their past work and be prepared to answer their questions about yourself.
Familiar Names – If they have an artist on their team that you recognize, that's a good sign of legitimacy.
Matching Personalities – To work closely and successfully in a high-stress environment, it helps to be comfortable with the people around you.
[su_note]Learn more about the School of Acting at the New York Film Academy by clicking here.[/su_note]
by nyfa