While traveling all over the world working on multiple film sets, New York Film Academy (NYFA) Documentary Filmmaking alum Mollie Moore knew she wanted to continue to tell stories through non-fictional storytelling.
She then moved to New York from her home base of London, England, and attended the 1-Year Documentary Filmmaking conservatory at NYFA, where she graduated in 2018. With her background in cinematography and love for documentary filmmaking, Moore continues to push to tell stories that are waiting to be told and to give viewers a glimpse at the life and experience of another.
New York Film Academy spoke with Documentary Filmmaking alum Mollie Moore about her experience at NYFA, her work as a global filmmaker, and her upcoming project with artist Marc Quinn.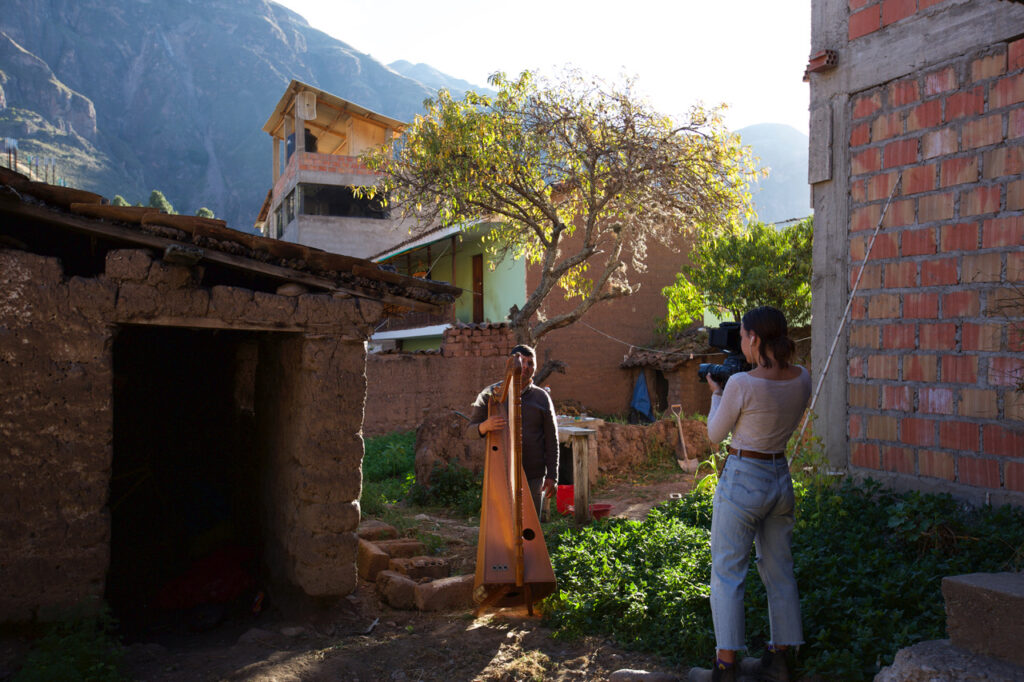 New York Film Academy (NYFA): What made you want to pursue this career in documentary filmmaking?
Mollie Moore (MM): I grew up in South London and was always involved with the theatre world there from a young age. After leaving education, I made the decision to not attend university straight away and, instead, moved to Australia. I ended up traveling around South East Asia, India, South America and further. During this time, I worked on different fictional film sets as part of the crew. This continued for four years, and in this time, I realized the vast possibilities of storytelling and the importance of capturing the beauty of the world we live in and the stories within it. Documentary felt like a natural marriage with my background in theatre, story telling and my passion for exploration and the people I met along the way. This idea eventually led me to New York City.
NYFA: What made you decide to study Documentary Filmmaking at NYFA?
MM: I decided to study at NYFA because it appeared to be a program that I could give all of my attention to, whilst also getting maximum in-person time to learn in a creative and hands-on way.
NYFA: Who are some of your favorite filmmakers/documentaries/media that you think readers should check out?
MM: There are so many incredible filmmakers that are breaking the boundaries of traditional filmmaking. A piece of work I saw and was very moved by was Ja'Tovia Gary's  The Giverny Document, which has been screened in cinemas and art exhibitions. It Is an experimental piece of documentary filmmaking that "meditates on the safety and bodily autonomy of Black women." 
Another piece of filmmaking I have seen this year that has stuck with me is a love song for Latasha, another experimental documentary film about Latasha Harlins, who was killed in LA. It is told through memory and archive of her cousin and best friend, and her death is considered to have contributed to the 1992 Los Angeles riots.
NYFA: What are some challenges you may have faced as a filmmaker in the industry?
MM: For me the biggest lesson has been finding my own voice in a male-dominated industry and learning how to best hold yourself in difficult situations. It is a constant learning curve and strengthening experience. I think, as documentary filmmakers, we should constantly be self-reflecting and asking ourselves hard questions about what drives our work.
NYFA: Can you tell us more about your thesis film A Word Away?
MM: My film A Word Away is about a young man named Cosmo from South Sudan now residing in the USA. Cosmo attempts to articulate his journey of migration through the medium of poetry. It was important for me to find a new way of telling a story of migration, through a more intimate and personal lens. The film looks closely at the effects these themes have on mental health, through a young mans eyes and his family. The film premiered at Camden International Film Festival in Maine, where we shot the film. Cosmo and his family were all there to watch the premiere of the film. This was very important for me.
NYFA: Can you tell us more about the other films you have worked on with NYFA alum Lucia Florez? What about other projects (other than A Word Away) you have worked on?
MM: Lucia and I have made three films together so far, with the hopes of eventually making a feature film together. As well as A Word Away, we made the documentary Paper Thin about a young transgender womxn starting a new life in New York City after having to flee the persecution of LGBTQ+ persons in Russia. The film has been really successful amongst festivals. Our most recent film we made together is called Mama. It's a personal story between a mother and daughter (Lucia), who look into their past to try and reconcile their relationship after difficult years born through the conversation and opinions of Lucia's sexuality, in the setting of Latin America.
NYFA: You have filmed in many locations all over the world. What are some key learnings that as a filmmaker you have learned from filming all across the globe? Why has it been important to you?
MM: Being lucky enough to have travelled with work has been something I am extremely grateful for. I have been incredibly humbled by the people I have met and worked with in these settings. It is so important to remember how much trust you are being given by people who are generous enough to allow you into a small part of their world. I think that trust and responsibility is not to be taken lightly. This is even greater importance when you are walking into a situation and setting you are not so familiar with. It is important to listen intently before making your own assumptions and narratives. I think documentary filmmaking should always be seen a collaborative process between the filmmaker and the people sharing their stories.
NYFA: A lot of your work focuses on the LGBTQ community, as well as themes of forced migration. Can you explain how this is incorporated or highlighted this in your work? Why is it important for the film industry to see more stories like this told?
MM: I hold both these topics very close to my heart and with a lot of passion, and I identify with some of these themes on a very personal level. I think shedding light on topics and communities that have often been misconstrued massively and discriminated against through violent acts of oppression and injustice is of huge importance. If we have the tools to give platform to things in a honest way, we must share It and give voice to those whose realities have often been silenced throughout history.
NYFA: Do you have any upcoming projects you are working on?
MM: I am currently working on the artist Marc Quinn's Our Blood project as one of the filmmakers on it. Our Blood is a multi media art project that focuses on the refugee crisis all over the world. We have been filming in London and New York City. The art piece will premiere outside of the New York Public Library sometime in 2021.
New York Film Academy thanks Documentary alum Mollie Moore for taking the time to share her experiences and thoughts on the responsibilities of storytelling for documentary filmmakers. We look forward to seeing more projects from her in the future!
by nyfa