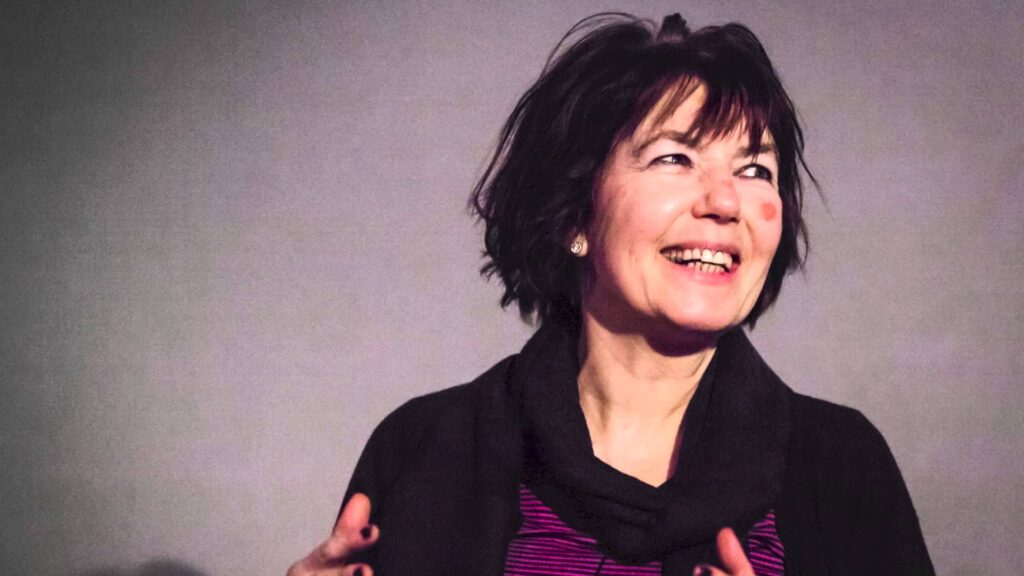 Oprah, Beyoncé, Emma Watson, Angelina Jolie; when talking feminism, art, and pop-culture, these are the names that immediately spring to mind. But what about the strong and talented females behind the camera that use their art to elevate women's rights and their plight in trying to fight for them? Kim Longinotto (1952), a documentary filmmaker from the UK, is one of them and has been using her talent to highlight the oppression and discrimination of females from stifling traditions and authoritative rule for the last three decades.
Her debut film, 1976's Pride of Place, a school project of hers during her years at England's National School of Television and Film, was somewhat of a rebellion against her previous boarding school in Buckinghamshire, a repressive institution with absurd punishments and incalculable rules. This dark exposé used the students' perspectives to condemn the school and resulted in it closing down a year after the film was released. This kind of observational documentation of the lives of females as they rose up against any situation that was unjust set the tone for a very long and prestigious career for Longinotto.
As an observational filmmaker, her techniques were unobtrusive—often steering away from any advanced planning, narration, scripting, or staging and yet somewhat also participatory. She would make sure that the audience would feel like they were involved, right there in the scene as her, watching what was happening through the camera. As a result, her work always exhibited her subjects with a fervent veracity that penetrated the camera lens, giving them a distinct voice and presence not always shown in other documentary genres.
Take Shinjuku Boys (1995), a candid look at the lives of three female-to-male transgender subjects working as hosts at the New Marilyn Club in Tokyo. This remarkable documentary followed the three subjects (all of whom don't identify themselves as lesbians) at home and at work with an anthropological immersion as they entertained their exclusively heterosexual female clientele. Showcasing the complexities of sexuality in an ultra-conservative Japan, this film really thrust Longinotto into the filmmaking limelight and won Outstanding Documentary at the San Francisco Gay and Lesbian Film Festival. This then catapulted the career of the self-confessed "lover of the underdog" as she continued to be adorned with honours—including a two-week-long career retrospective at the Museum of Modern Art in New York. Among the 14 films featured at the event was Rough Aunties (2008), winner of the Sundance documentary award for its portrayal of five South African women, aka "Bobbi Bears," who looked after abandoned and abused children. There was also Pink Saris (2010), with protagonist Sampat Pal, a relentless vigilante battling India's endemic rape dilemma. And Sisters in Law (2005), following Cameroonian judge, Beatric Ntuba and prosecutor, Vera Ngassa as they help women fight cases of abuse; a film that also won the Prix Art et Essai at Cannes and was awarded a Peabody.
The consistent theme behind her works could easily be misinterpreted as continuous representations of female victims and their tragic stories. But Longinotto is quick to point out that none of her subjects are victims but rather survivors. "These stories are about rebels, and those rebels are usually women, because, in most situations, men have an awful lot more power," she says. However she also clarifies that her work empathises with all of those who struggle. "If there was a place where men were being kicked around and women were locking them in cages, then you'd focus on the men," she says.
Her passion for those who struggle without a voice comes as no surprise when considering her own history. Born to a Welsh mother and an Italian father, a photographer who later went bankrupt, Longinotto grew up in complete fear of her father's next "blow-up," followed by the fear of her boarding school headmistress' next punishment. She eventually ended up as a homeless 17 year-old where she found herself at the brink of death from illness. It was only when she discovered her love of filmmaking at the National Film and Television School, that she felt she had a calling.
True to form, her latest film Dreamcatcher won the Directing Award and was nominated for the Grand Jury Prize at this year's Sundance Film Festival. Following Brenda Myers-Powell, a former prostitute and addict as she dedicates her life to saving girls on the street, it's clear from the get-go Longinotto's intent to truly bring the audience in through all the harrowing accounts of rape, violence and abuse. It includes everything, from the shockingly nonchalant confession of a nine-year-old rape victim having witnessed her four-year-old sister receive the same treatment, to the opening scene, where a young sex-worker recalls being stabbed multiple times by a client. And through it all, Longinotto shoots with her resolute adherence to justice through awareness. And may she continue to do so.
[su_note]Learn more about the School of Documentary Filmmaking at the New York Film Academy by clicking here.[/su_note]

by nyfa