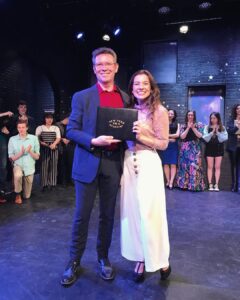 New York Film Academy (NYFA) Musical Theatre alum Audrey-Louise Beauséjour has dubbed the singing voice for Nala in the French audio track for Disney's live action remake of The Lion King, filling in for Beyoncé who played the role in English this summer.
The Lion King, which releases digitally on October 11 and on home video on October 22, was one of several successes for Disney in 2019, grossing over a billion dollars at the box office. Several audio tracks have been recorded in non-English languages so people around the world could enjoy the movie's famous musical numbers, in addition to its incredible visuals.
The film, a remake of the animated 1994 classic, employed a unique, state-of-the-art virtual reality set to bring the African savannah to life—technology partially developed by NYFA Game Design alum Guillermo Quesada. Directed by Jon Favreau (Iron Man, The Jungle Book), the 2019 Lion King co-stars Donald Glover, Beyoncé, James Earl Jones, Chiwetel Ejiofor, Alfre Woodard, Seth Rogen, Billy Eichner, and John Oliver in the original English track, among several others.
NYFA alum Audrey-Louise Beauséjour was a natural choice for the role of Nala, the love interest of main character Simba. The Canadian-born musician and singer enrolled at the Professional Conservatory of Musical Theatre at New York Film Academy (PCMT at NYFA) in Fall 2018, studying at our New York campus.
New York Film Academy congratulates musical theatre alum Audrey-Louise Beauséjour on her French-language singing role for Disney's The Lion King!
by nyfa