Lisa Monde, an alum of the Professional Conservatory of Musical Theatre at New York Film Academy (PCMT at NYFA) recently appeared in Anne Frank, The Musical, an Off-Broadway limited production that ran in September. 
Monde plays Edith Frank, the mother of Anne Frank, the teenage girl whose posthumous diary has become one of the most read and discussed stories of the Holocaust. The production was the domestic Off-Broadway premiere of a successful French musical, and featured a dozen artists recreating the life of Anne Frank with music and lyrics written by Jean Pierre Hadida.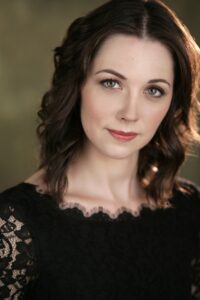 Monde hails from Russia and was one of the very first alumni of NYFA's Musical Theatre program, having attended the 1-Year conservatory in 2009 at NYFA's New York campus. She is an award-winning actress, singer, director and writer, who began her career in Europe and has since worked Off-Broadway in various plays and musicals. 
Her credits include Dali's Dream (Coco Chanel); Arsene Lupin VS Sherlock Holmes (AJ Raffles Holmes); The Elizabeth Taylor Story (Elizabeth Taylor); Ghost Writers (Mary Shelley); A Midsummer Night's Dream (Hippolyta); Of Mice and Men (Curley's Wife); La Cage Aux Folles (Jacqueline); Dracula. Finding of a Shadow (Mina Murray); Teach Me How to Die (Poet); True Confessions of the Straight Man (Rebecca, various); and Romeo and Juliet (Lady Capulet).
Additionally, Monde has appeared in the web series Existentialism and Callie and Izzy and starred in the feature film The Most Dangerous Man UVX by Future Proof Productions, which is set to premiere later this year. Monde has also has produced, written (book and music), and directed eight staged musicals and seven plays.
"I am very honored and excited to be playing the part of Edith Frank," says Monde of her latest role. "First of all, playing Edith is a challenge, in the best possible way. I remember, how when I studied at NYFA, we did character work and learned how to prepare as actors—thorough research, lots of reading, trying out different approaches and emotions for the character. And I do the work every time and apply those skills in my career pretty much every day!
"Since it's a musical—it's not just about telling the immortal story of Anne Frank and her life in the Secret Annex, but also about expressing the feelings and complex emotional states of characters through music," continues Monde. "Which brings me to the second exciting challenge—music. The composer and author of Anne Frank, The Musical, Jean-Pierre Hadida, has created a very complex musical score, which is meant for singers with great technique and extensive vocal ranges … I really hope that thanks to the rich musical material, very important story—which we all should remember and never forget—and an interesting creative approach of the director/producer, David Serero, this musical will extend its run and find its way to Broadway!"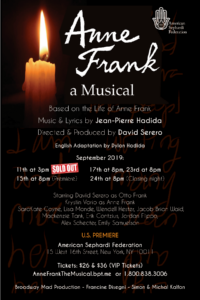 Monde was joined in the cast of Anne Frank, The Musical by David Serero (Otto Frank), Kristyn Vario (Anne Frank), SaraKate Coyne (Margot), Wendell Hester (Peter), Jacob Waid (Herman Van Pels), Mackenzie Tank (Augusta Van Pels), Erik Contzius (Fritz Pfeifer), Jordan Flippo (Miep), Alex Schecter (Slammer and U/S), and Emily Samuelson (Ensemble and U/S). The production was directed by David Serero and adapted into English by Dylan Hadida. Performances were held at the Center for Jewish History and ran from September 11 – 24, 2019.
New York Film Academy congratulates PCMT at NYFA alum Lisa Monde on her latest role and wishes her success as her career, both on- and off-stage, continues to grow!
by nyfa