New York Film Academy (NYFA) BFA 3D Animation & VFX students Arina Andriushchenko and Nathan Hacker were able to add some professional experience to their portfolios before even graduating their BFA studies at our Burbank-based campus. The pair recently had the opportunity to do some animation work for a commercial advertising the hit video game Borderlands 3.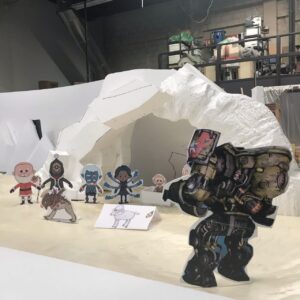 The Borderlands franchise comprises a series of action role-playing, first-person shooter video games created by Gearbox Software and published by 2K Games that merges western, fantasy, and sci-fi genres. Borderlands 3 was released earlier this year after much anticipation from the series's passionate fanbase.
The newest ad for the game arrived just in time for the holidays and recalls the stop motion wintry animation of classic Rankin/Bass productions like Rudolph The Red-Nosed Reindeer and Santa Claus Is Comin' To Town.

Andriushchenko and Hacker worked as part of the commercial's art department, collaborating with NYFA instructors Tony Candelaria and Misha Klein on the video's stop motion animation. Klein teaches stop motion at NYFA; Candelaria teaches sculpture.
Andriushchenko worked on the character puppets for Sheep and Skag characters' puppets as well as assisting Candelaria, who created all the sculptures for the puppets. Misha Klein was the main animator of the video.
"We were very glad to work with our teachers together," says Andriushchenko, "and, in general, it was just an amazing experience. We've learned a lot."
He and Hacker also did decorations for the sets, creating Christmas trees and their decorations, elements for the cave, gingerbread men garland, and other assorted props. Additionally, they worked on facial expressions for the puppets.
New York Film Academy congratulates BFA in 3D Animation & VFX students Arina Andriushchenko and Nathan Hacker on their hard work and for getting a head start on their careers on animation!
[su_carousel source="media: 33371,33375,33387,33385,33386,33384,33383,33382,33381,33374,33376,33377,33378,33379,33380,33373,33372,33370″ limit="60″ link="lightbox" target="blank" width="780″ height="360″ title="no" autoplay="0″]
by nyfa