Jameelah Rose del Prado Lineses has won several awards for her various film projects since attending New York Film Academy (NYFA), and last October, she added another. At the 8th Annual International Film Festival Manhattan, Lineses earned the Best Cinematography Award for her music video, Atareek.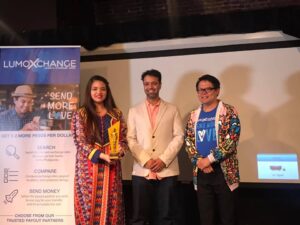 The 2018 International Film Festival Manhattan (IFFM 2018) opened on October 17 and ran until October 21, with its awards ceremony held on October 18 at the Philippine Consulate in New York City. Lineses screened Atareek at the Producers Club Theaters, just a few blocks from Times Square. Saudi Vice Consul of the Saudi Arabian Consulate, Mazin AlMouallimi, was in attendance at the event.
Atareek is "a journey to the colorful streets of Old Balad" that explores "the beautiful history of the city's rich culture and heritage." It was the only film representing Saudi Arabia at this year's festival, and was shot, directed, edited, and produced by Lineses, who was assisted by her mother throughout the shoot.  
Lineses picked up a lot of the skills necessary for filmmaking, from pre-production through post-production, at the New York Film Academy, which she first attended in June 2011 when she enrolled in the 8-Week Filmmaking workshop. Two months after that, she deepened her studies and attended the 1-Year Filmmaking program at NYFA's New York City campus.
Atareek was filmed in 2017 entirely in Jeddah during the Atareek festival and is the third production Lineses has made that features Historic Jeddah. Her previous films, Historic Jeddah and Our Journey to Hijaz, have garnered significant praise from multiple festivals in the last several years. 
In addition to Atareek, Lineses worked on two other films that were Official Selections at IFFM 2018. She was Associate Producer on Reunion as well as Assistant Director, Editor, cast member, and one of the producers of Mindanao. 
New York Film Academy congratulates Jameelah Rose del Prado Lineses on her film Atareek and her latest award win!  
[su_carousel source="media: 28620,28619,28618,28617,28616,28615,28614,28613,28612,28611,28610,28609,28608″ limit="60″ link="lightbox" target="blank" width="780″ height="360″ title="no" autoplay="0″]
UPDATE (June 21, 2019):
New York Film Academy is proud to announce that Jameelah Rose del Prado Lineses's Atareek is now an Official Selection at the 15th Annual Houston Asian American and Pacific Islander Film Festival in Houston, Texas (HAAPIFEST), where it will compete in the music video category. HAAPIFEST runs from June 20 – June 28, 2019, and this is the first time the Houston Asian American and Pacific Islander Film Festival will have a music video category. Atareek will be screened on June 28, which is the closing ceremony and Arts Night of HAAPIFEST. You can find tickets here. The June 28 HAAPIFEST screening will be held at:
Chinese Community Center
9800 Town Park Dr.
Houston, TX 77036
Congrats again Jameelah!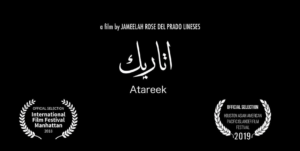 by nyfa