In a broadcast studio at the New York campus of New York Film Academy (NYFA) last week, Colonel Jack Jacobs joined NYFA's President, Michael J. Young, and Myrta Vida, a recent graduate of NYFA's Screenwriting program, to film a very special announcement to the veteran and military communities. Together, Colonel Jacobs, Mr. Young, and Ms. Vida announced that the NYFA's New York City campus recently joined the NYFA's Los Angeles and South Beach, Miami campuses in offering Bachelor of Fine Arts degrees in Filmmaking and Bachelor of Fine Arts degrees in Acting for Film.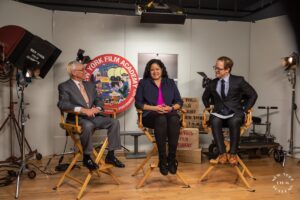 Veterans may now use their Post-9/11 GI Bill benefits to study in these BFA degree programs at the NYFA-NY campus located off Battery Park in the historic and vibrant downtown Financial District of New York City.
In many cases, veterans and their eligible dependents looking to use the Post-911 GI Bill may have their tuition and fees covered in full by the Yellow Ribbon Program.
In addition to NYFA's bachelor's degree programs, veterans may also apply their GI Bill Benefits to the college's 1-Year and 2-Year Conservatory Programs and graduate degree programs in 10 distinct areas of visual and performing arts study.
In the public announcement video, which will be released in coming weeks, Mr. Young states, "Veterans who have the passion and commitment to become creative professionals excel in our many degree and certificate programs, which all share a philosophy of hands-on intensive learning."
The video features Colonel Jacobs, Chair of NYFA's Veteran Advancement Program.  Col. Jacobs is a is an Army veteran who received the nation's highest military honor—the Congressional Medal of Honor—for his exceptional acts of bravery during the Vietnam War; he is one of only 71 living Medal of Honor recipients. Col. Jacobs is also a media personality who can be seen regularly on NBC and MSNBC, and is often on shows including Morning Joe, Stephen Colbert, Rachel Maddow, and Bill Maher.
[su_carousel source="media: 33326,33324,33328,33325,33327″ limit="60″ link="lightbox" target="blank" width="780″ height="360″ title="no" autoplay="0″]
US Military Servicemembers and their dependents can visit www.nyfa.edu/veterans to learn more about our programs. For questions and to apply, please contact [email protected] or call Christopher Paparis at (212) 966-3488.
by nyfa