At a gala sponsored by the San Angelo Library, former New York Film Academy student Cody Broadway, director of the film She Rides Bulls, pulled back the curtains on his new dramatic short film, to a crowd of over 200 well wishers, crew members and public. The film was produced in and around San Angelo with a cast and crew from all over Texas, including seasoned professionals and amateurs all drawn to the project by its unique, thrilling story and the dynamic will power of its director.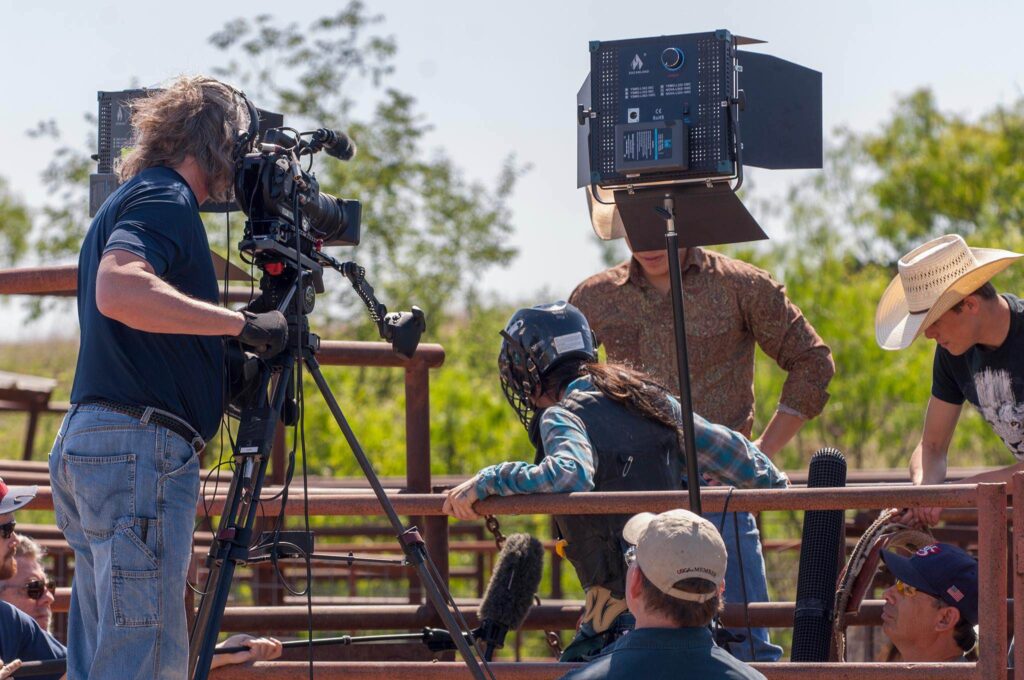 The project began back in 2008, when the writer, Greg Mcgee, was a commercial producer at a San Angelo TV station (not coincidentally, where he met Cody Broadway).
"I had always been a fan of the rodeo — especially the bull riding competitions," said Mr. McGee. "I'd been looking for a script idea to sink my teeth into, and for some crazy reason I came up with the idea of a girl going toe to toe against all those macho cowboys in the PBRA. It was just outlandish enough…but not something I figured any sane woman would actually DO anytime soon. I sat down one Friday night and started writing. The words were leaping on to the page. I knew I was onto something, because the script was virtually writing itself."
The first person Greg showed it to was Cody. Greg was something of a mentor to Cody at the time, as this was Cody's first industry job, and it was a "late career" job for Greg. "When I read the script, I literally BEGGED Greg to let me direct it," said Cody. "It was such a great story. As a country boy from San Angelo, the rodeo setting and the strong family values in the story had a strong impact on me. It was something I knew I could do better than anybody else in the world, if I was given the chance."
"I couldn't pass up commitment like that," said Greg. "Of course I promised him he could direct it, with one caveat. He'd have to raise the money to get it done, because I was a writer, not a producer." It took a few years, but Cody never forgot that promise, and never forgot the script She Rides Bulls. Flash forward to 2015. Cody was a producer at the CBS affiliate in San Antonio with all his ducks in a row to make a short promotional film for She Rides Bulls. He called in favors from cameramen and lighting professionals, make up artists, designers and props people. Everybody in San Angelo wanted go get involved, so before you knew it, Cody had a herd of bulls, some stunt cowboys and wranglers, horses, locations — everything fell into place perfectly.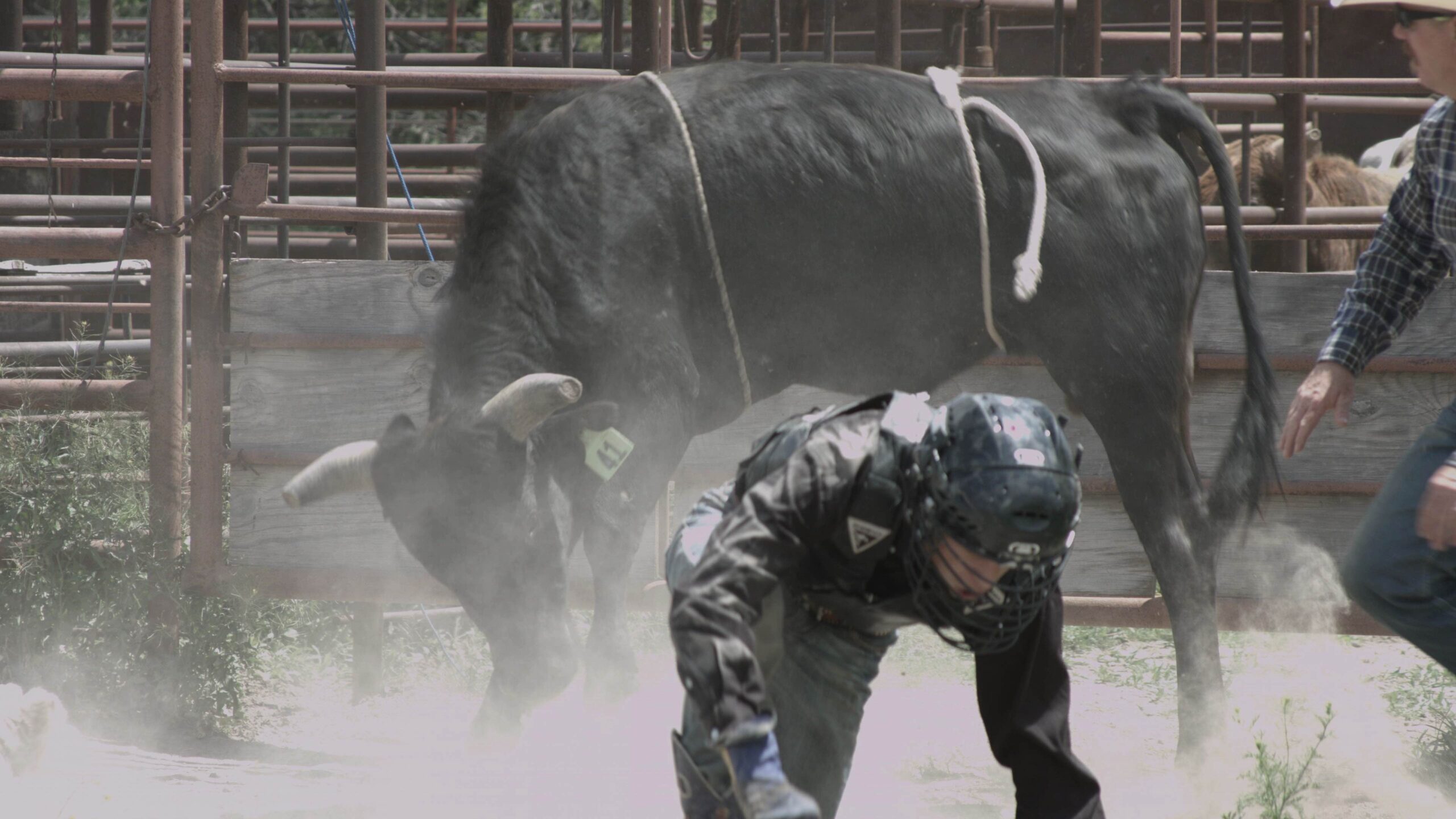 "I have a fantastic amount of support from my friends and family. It was sort of like a snowball effect. First, they read the script. Then, they saw my determination in my eyes. And then, they were on board."
The film was shot over a long weekend in and around San Angelo, Texas. Working from a 20-page script provided by Greg McGee, based on the original screenplay, Cody used up to 4 simultaneous cameras to capture all the bull riding sequences. "We had some really talented riders from the local rodeo circuit. They were willing to do just about anything to get the shots we needed. It was really exciting to work with these guys," said Broadway.
Mr. Shawn Berryhill, who raises bulls and runs a bull riding school in San Angelo, furnished the bulls. "These weren't amateur bulls," says Mr. Berryhill. "They're the same bulls I supply to rodeos all over Texas. They're professionals, with over 100 years of breeding for one thing: to hate having a man on their back.
The star of the movie is Melina Lyon, playing the role of Darlene, our bull riding diva. Melina is an accomplished horsewomen as well as a talented actress, but she'd never ridden a bull before. "This was a great role for me. Working with Cody and Michael (Lukaszewskyj, the Director of Photography) and the rest of the crew was an awesome experience. But, in real life, I think I'm going to stick to riding horses. Bulls are just too freakin' crazy!"
Cody was not only the director and the producer; he was also the movie's editor. In less than 30 days, Cody had it finished and ready for the big screen. "We shot most of it on 4K video, which is a huge frame," says Cody. "It gave me a lot of options in the editing room, such as cropping in on various parts of the picture to get the composition just right, and not sacrificing image quality. There was a lot of footage from multiple cameras, so it was a complicated editing job. It helped a lot to be the guy who shot it as well. I didn't have to waste time figuring out where all the shots were. I already knew."
After a very successful first screening in San Angelo and San Antonio, Cody has entered the short movie in numerous festivals in the U.S. and Europe. "We're hot on the trail of funding for the full feature film. There's a lot of interest. I can't say any more or I'd have to lock you in the stall with my favorite bull. Just kidding."
Announcements are forthcoming about major talent being attached to the project!

She Rides Bulls Trailer #1 from MUSE studio + gallery on Vimeo.
by nyfa