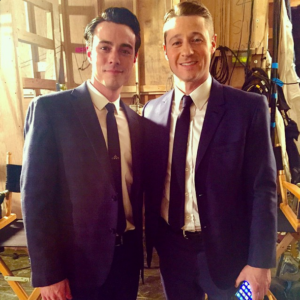 Over the past few episodes, the popular Fox series Gotham, based on DC Comics' Batman franchise, has shined a light on the Wayne family business and its board members. It was only a matter of time before the series introduced Lucius Fox, a tech genius who, in the comics, has been Wayne's business manager and the acting CEO of Wayne Enterprises. Fox will be played by Chris Chalk, an actor predominately known for his theater work, but who's also appeared in HBO's The Newsroom and Showtime's Homeland, as well as FX's Sons of Anarchy and Justified. He also starred in the Oscar-winning film 12 Years a Slave.
This comes off the news that actress Jada Pinkett Smith and her character Fish Mooney will be leaving Gotham at the end of its first season. Though, in a recent interview on Live with Kelly and Michael, Smith hints that her character could always reappear down the line.
The popular Fox series has also introduced the acrobatic circus family The Flying Graysons. John Grayson and Mary Loyd, who at this point in the show have just met, will eventually become the parents of Dick Grayson, who most of us know as the first Robin. What's most exciting to us about the introduction to the family is that the role of John Grayson is being played by New York Film Academy Admissions Representative Rob Gorrie. Gorrie has appeared in a number of film and television productions, including his season stints on the popular soaps, As the World Turns and One Life to Live.
by nyfa