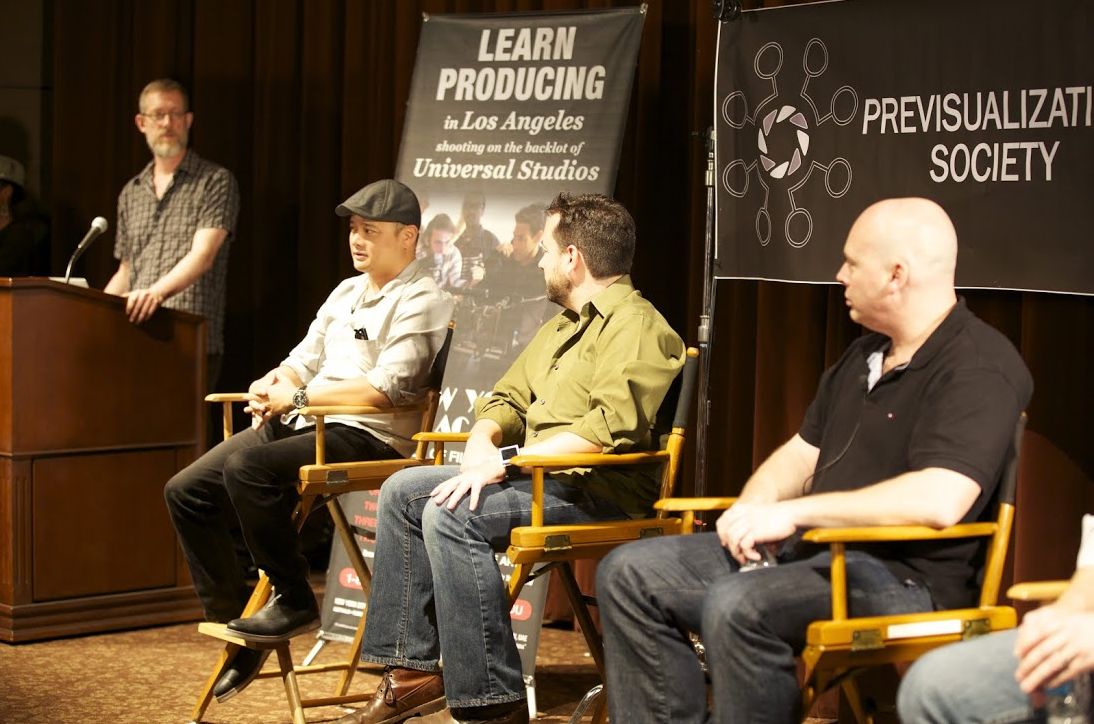 Our students and World War Z fans got a special treat this past Saturday at a New York Film Academy Animation School event where they were introduced to the "pre-viz" team that planned out the remarkable visuals for the blockbuster horror film. "Pre-viz" stands for pre-visualization and it is an invaluable technique for planning out complex sequences to not only visualize what a film will look like using CGI but keep costs down as well. Brian Pohl, a leading pre-viz artist and one of the founding members of the pre-viz society, was our host and moderator for the afternoon.
We began with an enlightening discussion of the time honored art of storyboarding, presented by artist Robbie Consing. Working closely and quickly with a director to create storyboards is the start of the process. Robbie made mention that as an artist he not only has to work fast but also quickly discern what each individual director means when he or she describes a shot. A tilt up may be described as a "pan up" and the artist will need to understand and accommodate what the director means in order to move the process along. Robbie also shared some marvelous pre-production matte painting mock ups of set ideas that enhanced existing locations.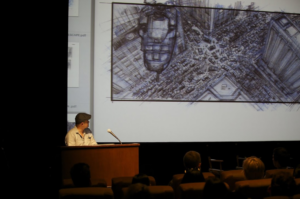 Our next speaker, Dan Gregoire is one of the founding partners of Halon the company that executed the pre-viz for the film. Dan mentioned that to sell a film today directors are making use of the technology to also make a "pitch-viz" to use as a marketing tool for showing the proof of concept to a studio. The students were shown the chilling pitch-viz for WW Z which was met with a round of applause at its conclusion. Mr. Gregoire continued by sharing his experience of going on location to scout the locations used from all over the world while taking extensive notes and recording video with a GoPro. Dan said that while the GoPro may have seemed overkill the production always came to him later wanting to know about some little detail they missed, but he hadn't. The images shot on location are used to provide texture maps for the CGI settings in pre-viz. Dan went on to say that pre-viz was invaluable in planning out set construction and letting production know exactly how much green screen was needed for the shoot. Construction is a very expensive proposition and pre-viz undoubtedly saved many thousands of dollars by supplying excellent preplanning.
Our next speaker was co owner of Halon Brad Alexander who shared many chilling videos of performance tests for zombie movement in which he and his team were often performers. This entailed people acting like zombies while walking or standing up to making running leaps at dummies and biting them viciously. These reference videos were used to provide guidance when animating the CGI characters. Brad mentioned that Halon could work around the clock taking advantage of time zones. Brad would share notes via the Internet from Dan who was just ending his workday in Madrid, and Brad would start his day after the call acting upon those instructions and be ready with dailies for Dan when he started the next day.
The final speaker was Patrick Ready owner of Digilab who stressed the importance of data wrangling in this tech heavy production pipeline. What came as a surprise was that Patrick is responsible for saving and cataloging all the images from the camera and then after that process "erasing" the files from the cameras hard drive so that it could be used again for the next shoot. You can't make a mistake there!
At the end of the presentation, a robust Q & A followed from a long line of fascinated audience members. Our guests and the pre-viz society drove the point home that pre-viz is here to stay and a valuable part of the film making process.
Special thanks to Juniko Moody co-chair of NYFA Animation along with Clayton Shanks and Brian Pohl of the pre-viz society for making this up to the minute look at current movie practices possible. We hope to see them again soon!

by nyfa