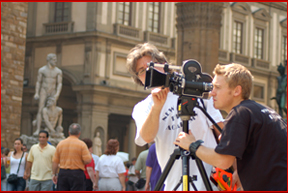 The Italian Ministry of Education in collaboration with the New York Film Academy and Mecenate 90, announce the first edition of "La Tua Città in Primo Piano" ("Your Town Up Close"). The initiative is a video contest open to all Italian private and public high school students, in order to promote film culture, the development of new creative expressions and enhance the artistic talents of a younger generation.
There will be two competitive sections: the first, "Nuovi registi in città" ("New Directors in the City") addressed to individual students who will try to achieve a commercial (a video lasting a minimum of 30 seconds to a maximum of 3 minutes.) The video can be any theme, as long as it presents an important aspect of their city. The second is "Una scena per la tua città" ("A Scene For Your City") addressed to the teachers to shoot a video with their classes. The topic of this video is an adaptation of a famous movie scene shot in Italy.
Students can then share their videos via social media in order to get as many votes and as much exposure as possible.
The ten videos with the most votes will be considered the finalists and a committee, consisting of representatives from NYFA and the Ministry, will select the winner. The winner will receive a scholarship for a 4 week filmmaking workshop and accommodation at the New York Film Academy in Florence. 
by nyfa