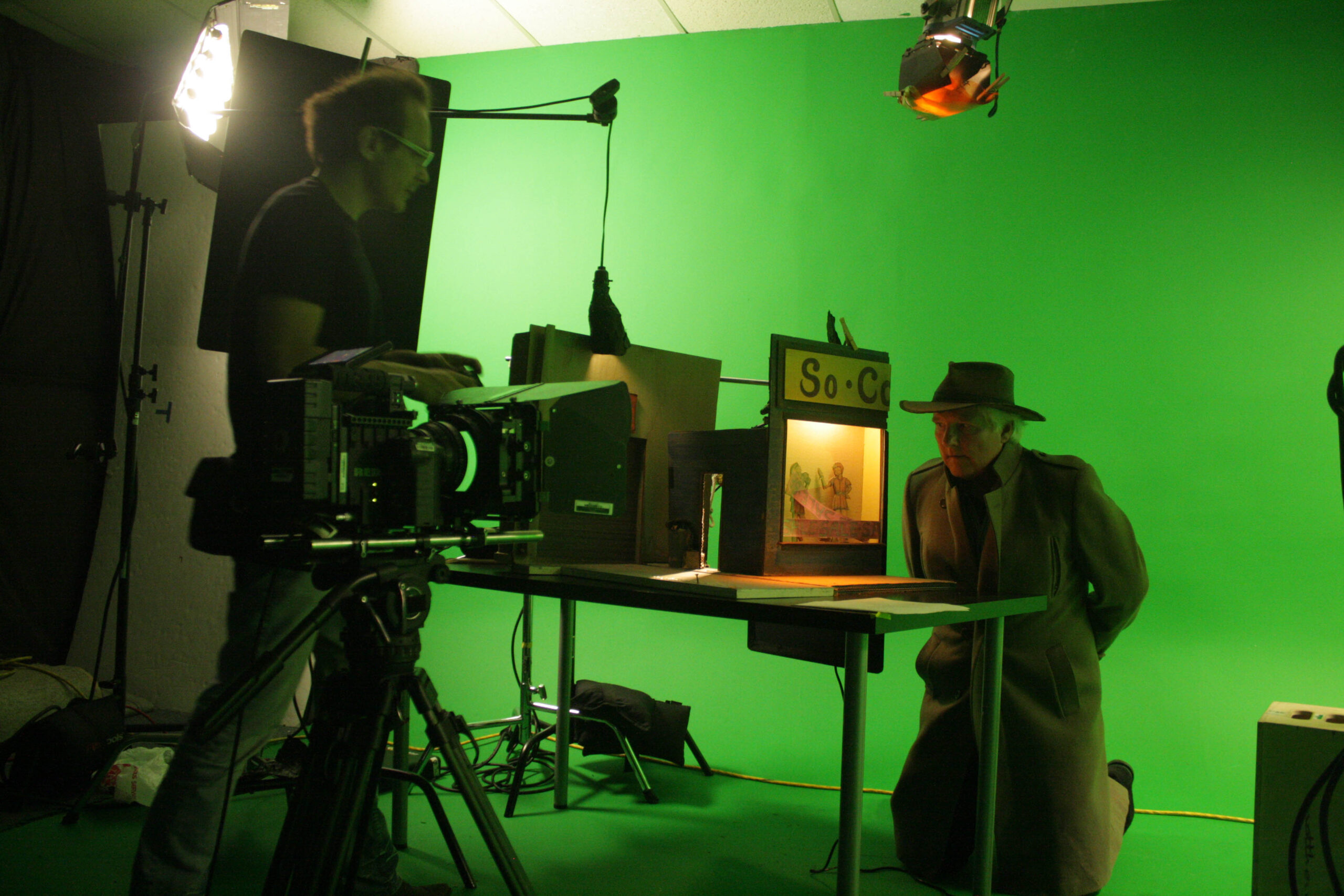 The students in my Cine 810 class in visual effects cinematography outdid themselves recently by shooting a mock Solar Power commercial complete with miniatures and size scaled performers. Originally, the plan was to have the concept take place during the day but director of photography student Yan Rymsha suggested that it take place at night with mysterious film noir lighting.
I loved the idea and modified the script just before the shoot. The principal photography took place on a green screen stage in Hollywood and is an example of a poor man's virtual set. The miniature and myself (playing the giant) was set up at one end of the stage and was shot with a Red Epic A camera. Colin Meyer, playing the solar panel owner, was shot in the same room simultaneously with a Red Epic B camera, using the same focal length lens as the A camera. This enabled the performances and camera angles to be synchronized very easily.
To "pre viz" the shots a Panasonic AS50S switcher was used to do a rough video composite between the two cameras to make sure the critical alignment was spot on. The crew also used an Atomos Ninja recorder to record the output of the switcher for editing purposes. The giant coin prop was created by sticking a blow up photo of a coin on a film can and having Colin pick it up off of a C-stand. Animation of the giant's hand holding the coin was then executed in After Effects to link up with the prop coin that Colin picked up at just the right frame. The shoot took all of a fun filled eight hour day. Post compositing was executed in After Effects and saved in our database of real world exercises. The students and I had a lot of fun shooting the project and we look forward to developing more virtual stage projects here at NYFA Los Angeles.

by nyfa