Once again, I am returning to a subject I've discussed before — how "newspapers" are no longer just "newspapers." Last week I visited Endicott College in Beverly, Massachusetts, and I spoke with several faculty members about the transformation of so-called "legacy media." You can't get more "legacy" than newspapers.
Today The New York Times has far more digital subscribers than folks who buy the physical version of the publication. They often "break" stories in the evening, hours before their print edition "hits the street." The Times has a TV studio set up right off of its newsroom, so that it can go "live" online whenever it makes sense. In fact, last time I visited, they had 75 video journalists. Video has become a central component of the Times ecosystem, with 20 channels and shows. As current and former students know, the Op-Docs channel is a continuing source of outstanding visual journalism.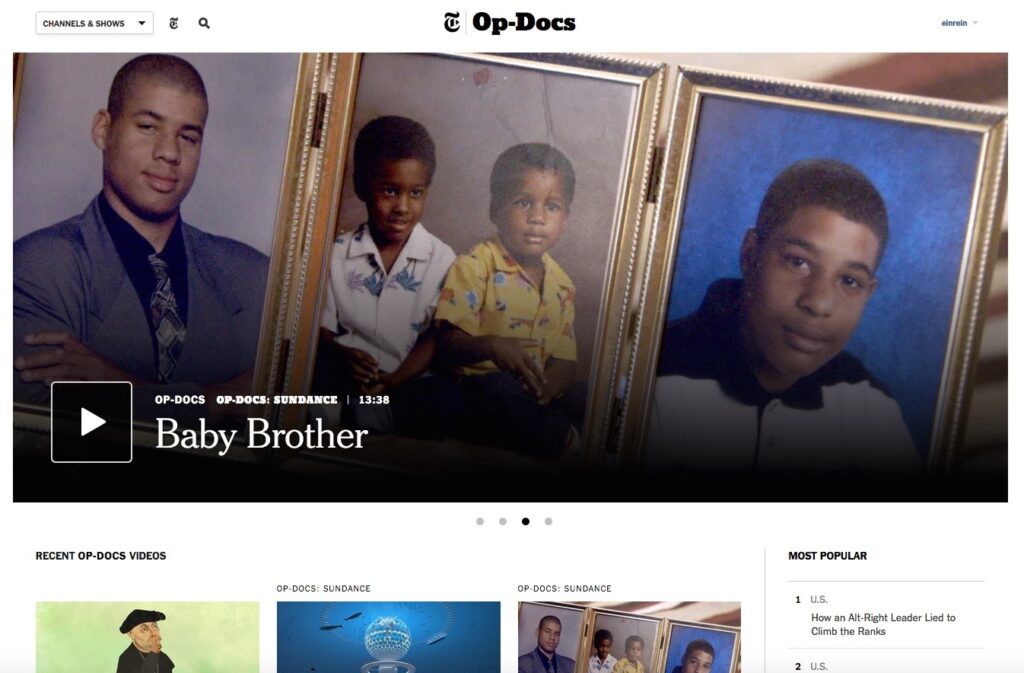 DMN posted a fascinating story
 last week about the Times use of AR (Augmented Reality), the cousin of VR (Virtual Reality). When combined with 360-degree video, it will (I am told) allow "viewers" to actually "walk into" a story.
Of course, central to the use of AR and 360-video is developing a business model that will sustain them. Technology is great, but you simply can't give your product away. Perhaps by combining these new technologies with more standard features, and a pay wall, the Times will do just that. We'll see…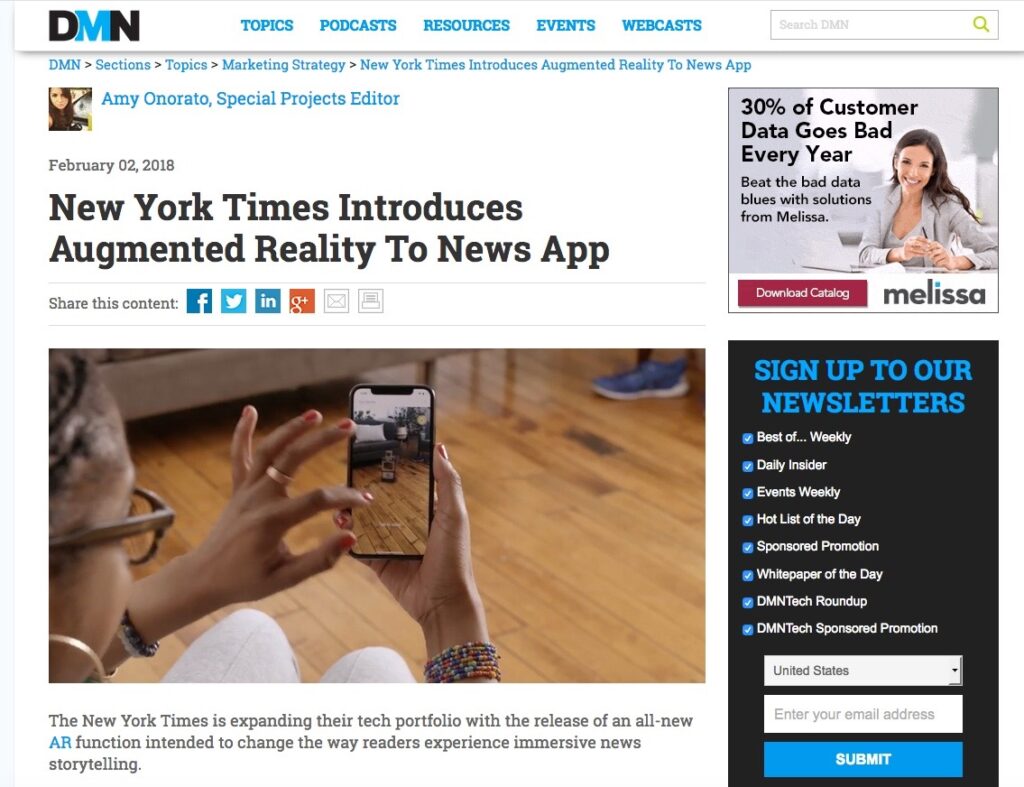 A big "Thank You" to the folks at Endicott College for welcoming me, along with NYFA Photography Department Chair David Mager and Musical Theater Creative Director Kristy Cates, to their campus last week. We had an opportunity to meet with students considering a three-month "New York City internship," as well as members of the faculty and administration. They even put our names on a poster!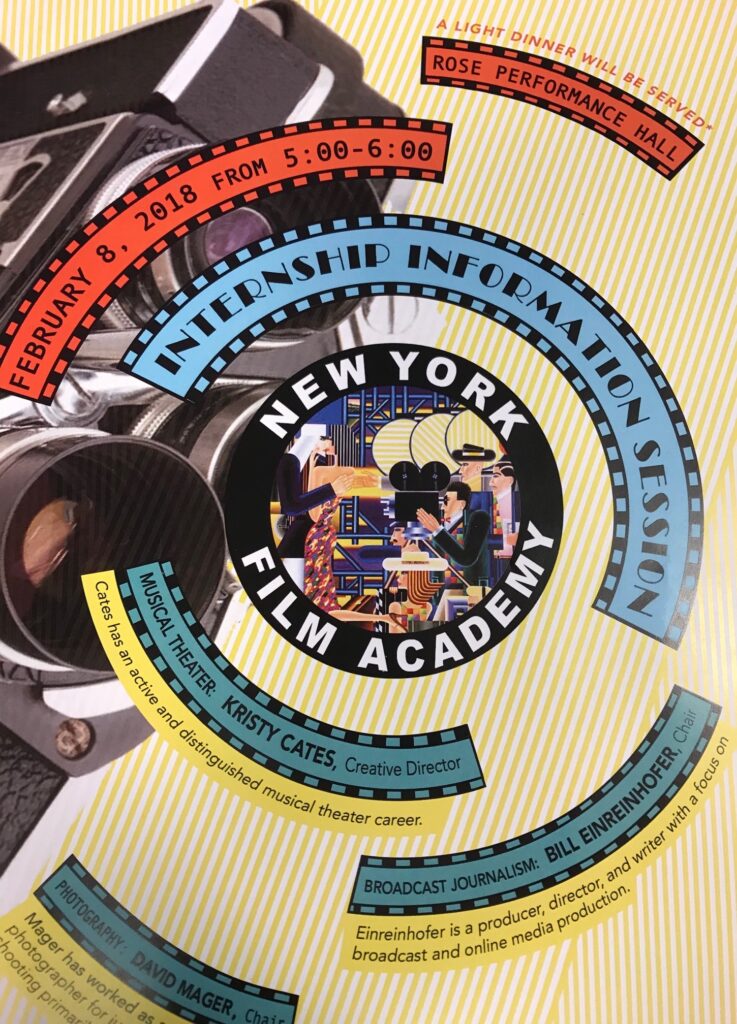 More good news via Facebook and email this week. First I heard from
Alyssa Taglia
, who is working at WTNH in New Haven, Connecticut:
Hi Bill! Hope you're well, I wanted to share with you that I was hired here at WTNH News 8 full time as their traffic anchor for Good Morning Connecticut 

4:30-7 a.m,

 and as an MMJ. Early mornings (wake up at 2, or on snow days when we go on early I wake up at 

1 a.m

) aren't always the easiest, but I truly truly truly love this business and this career I'm so thankful to have. It's still amazing to me that just two weeks after graduating I landed a job here in my home state, which was always my goal! Thanks again for everything you and NYFA gave me!

Then I found out Bryanna Reynolds is now working at Channel 9 in Melbourne, Australia. (That's Bryanna on the far right in the picture below.) If there is one quality Bryanna has in abundance, it's enthusiasm!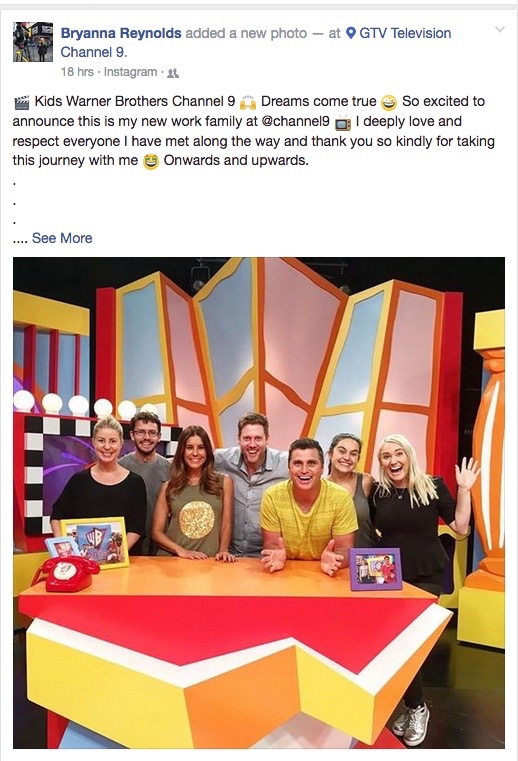 Suzane de Oliveira works for Agence France-Presse (AFP) in Rio de Janeiro, Brazil. Last week she re-posted her NYFA graduation picture, and I was deeply honored by her kind words. She wrote, in part:
by nyfa