Graduating Cinematography students in the New York Film Academy Los Angeles MFA and 1-Year programs participated in a recent field trip to Dolby Laboratories to see the cutting-edge of theatrical projection. NYFA Los Angeles Cinematography department chair Anthony Richmond, ASC, BSC set up the visit.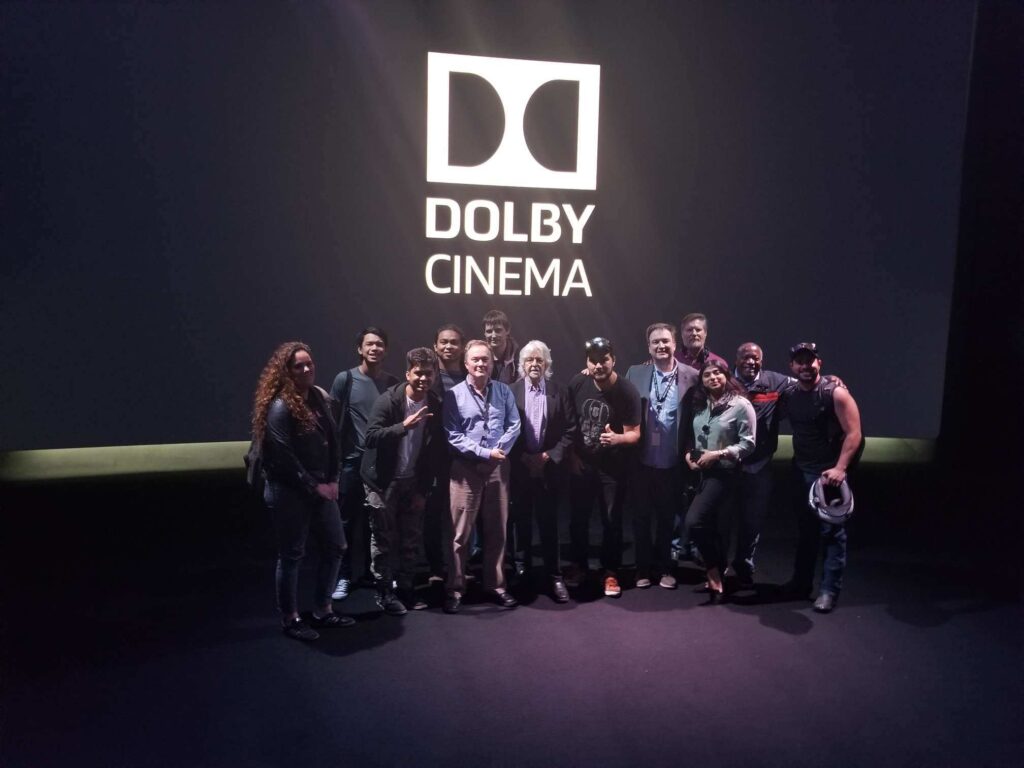 During the trip, NYFA Cinematography students were introduced to some of the technical aspects of Dolby Vision, and had a chance to see the color correction process in Dolby's state of the art theater. Students asked questions of the Dolby staff, and got to see some of the possibilities available to shape the look and finish their images.
The trip gave these recent graduates a look at some of the latest innovations that they will be seeing in the industry very soon.
Best known for their work in the audio field, Dolby has recently introduced a new system for high-dynamic-range (HDR) projection in the cinema. Dolby Vision makes it possible to project images with a dramatic 1,000,000-to-1 contrast ratio, creating a far bigger range of brightness than previous projection standards.
Dolby simultaneously introduced a proprietary color correction system, creating a pipeline that will optimize films to take advantage of these new projectors. Recent blockbuster films including Incredibles 2, Ocean's 8, Solo: A Star Wars Story, and Jurassic World have been early adopters of this new technology.
Anthony Richmond recently employed Dolby's new process in the color correction for the 4K restoration of the classic concert film The Rolling Stones Rock and Roll Circus, a film he shot for director Michael Lindsay-Hogg in December 1968. The film features performances from the Rolling Stones, The Who, John Lennon, Eric Clapton, and other iconic musicians from the British music scene of the late '60s.  
Speaking about his experiences, Richmond said "I think Dolby Vision is the most exciting thing that has happened in the way we color correct films. Most of the new televisions are now Dolby Vision ready, and Netflix is already broadcasting some productions in Dolby Vision."
Richmond advocated for using Dolby Vision for this restoration, conducting a test to demonstrate the advantages to the producers. When Richmond showed them the results, they agreed that using the Dolby process would be an essential part of the restoration. The film will be released on September 27 for both Dolby Vision blu-ray and a limited theatrical release.
by nyfa