Fits of laughter echoed in and out of the theater at New York Film Academy (NYFA) on Wednesday, August 21, where Rachel Bloom, the Golden Globe-winning and Emmy-nominated writer, producer, and co-creator of the CW's hit series Crazy Ex-Girlfriend, was welcomed by NYFA. Bloom spoke with students in an event at NYFA's Los Angeles campus, moderated by Tova Laiter, Director of the NYFA Q&A Series.

Rachel Bloom is best known as the star of the CW musical dramedy Crazy Ex-Girlfriend, which she co-created and executive produced alongside Aline Brosh McKenna. For her lead role in the series, Bloom won Best Actress in a TV Series – Musical or Comedy at the Golden Globes, Critics' Choice Awards, and TCA Awards. She is also a four-time Emmy nominee for both the songwriting of Crazy Ex-Girlfriend as well as her work writing on the Adult Swim sketch series Robot Chicken.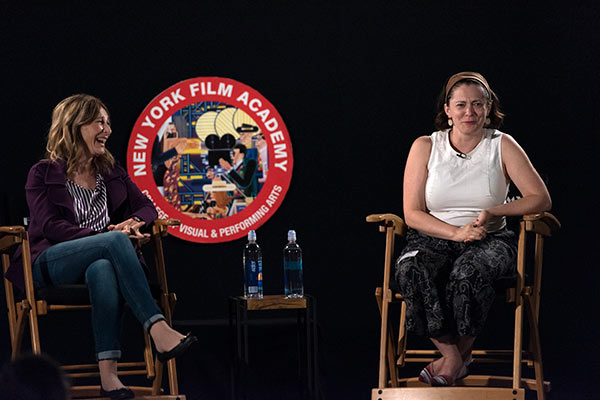 Bloom also wrote and performed in Yes: It's Really Us Singing: The Crazy Ex-Girlfriend Concert Special!, which aired after the series finale on the CW, and recently voiced the role of Batgirl in Batman VS. Teenage Mutant Ninja Turtles. Bloom will next be featured in The Angry Birds Movie 2 opposite Jason Sudeikis as well as Trolls 2: Trolls World Tour with Anna Kendrick and Justin Timberlake.
Laiter opened up the Q&A by asking Bloom how the idea for Crazy Ex-Girlfriend came about. "I had been doing comedic music videos on my YouTube channel for quite some time," answered Bloom. "Apparently, Aline saw them and I got an email from her saying she wants to meet with me to discuss a potential musical television show with CBS. It came out of the blue." Suddenly, the musical comedy ideas that Rachel had pitched and been turned down had become alive and viable.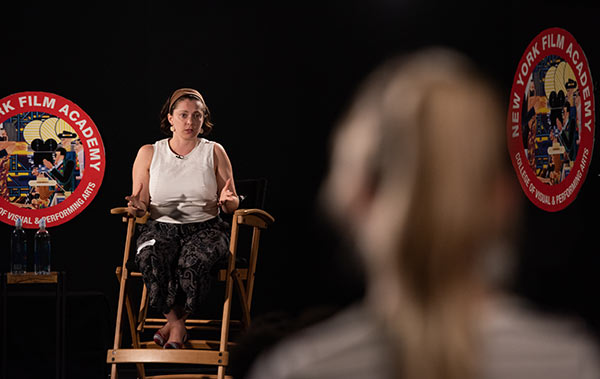 In regards to developing the skills necessary to be discovered, Bloom stated, "I have to believe that hard work and honing your craft work out and pan out, but you can't necessarily do it for that end goal because that's just luck and there's a lot of factors." She added, "You have to love the craft and you have to love the work."
Bloom continued on by advising students to "hone the process first and make connections in organic ways, but get good at your work first and then see what happens."
The Q&A then opened up to NYFA students. Bloom was asked how she and her team defined the line between homage and satire of musical theatre on Crazy Ex-Girlfriend. Bloom replied, "It's a very inexact science and a lot of it was gut and emotion. A lot of it came from my own un-ironic love of musical theatre and learning comedy and realizing that a lot of musical theatre is goofy and embarrassing, but still loving it. It's just mostly instinctive."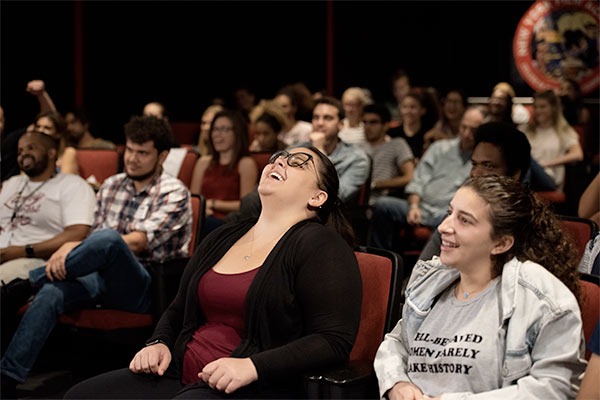 The Q&A concluded with Bloom being asked how she approaches writing and portraying characters with mental health issues without turning them into caricatures. Bloom articulated the importance of "coming at it from a first-person perspective and coming at it with empathy."
New York Film Academy would like to thank writer, performer, and Golden Globe winner Rachel Bloom for sharing her expertise with our students!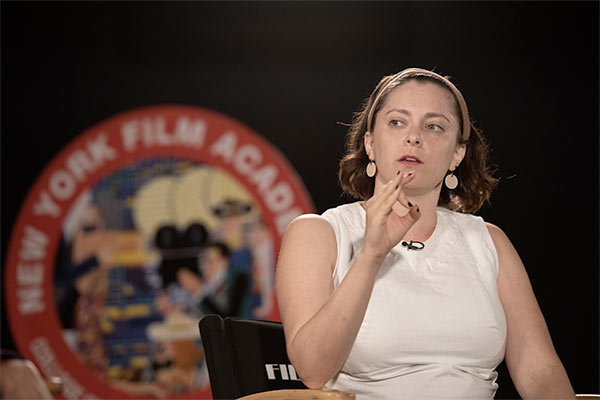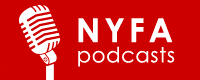 These guests are not faculty and do not teach at NYFA, but they have appeared to share their stories and experience with our students. As guest speakers are scheduled based on their availability, NYFA cannot guarantee whether a guest speaker will visit during a student's attendance or who that guest speaker may be. This guest speaker forum is not part of any NYFA curriculum and attendance at guest speaker events is purely voluntary. Students should be aware that guest speaker events do not represent a job opportunity nor are they intended to provide industry connections.
by nyfa