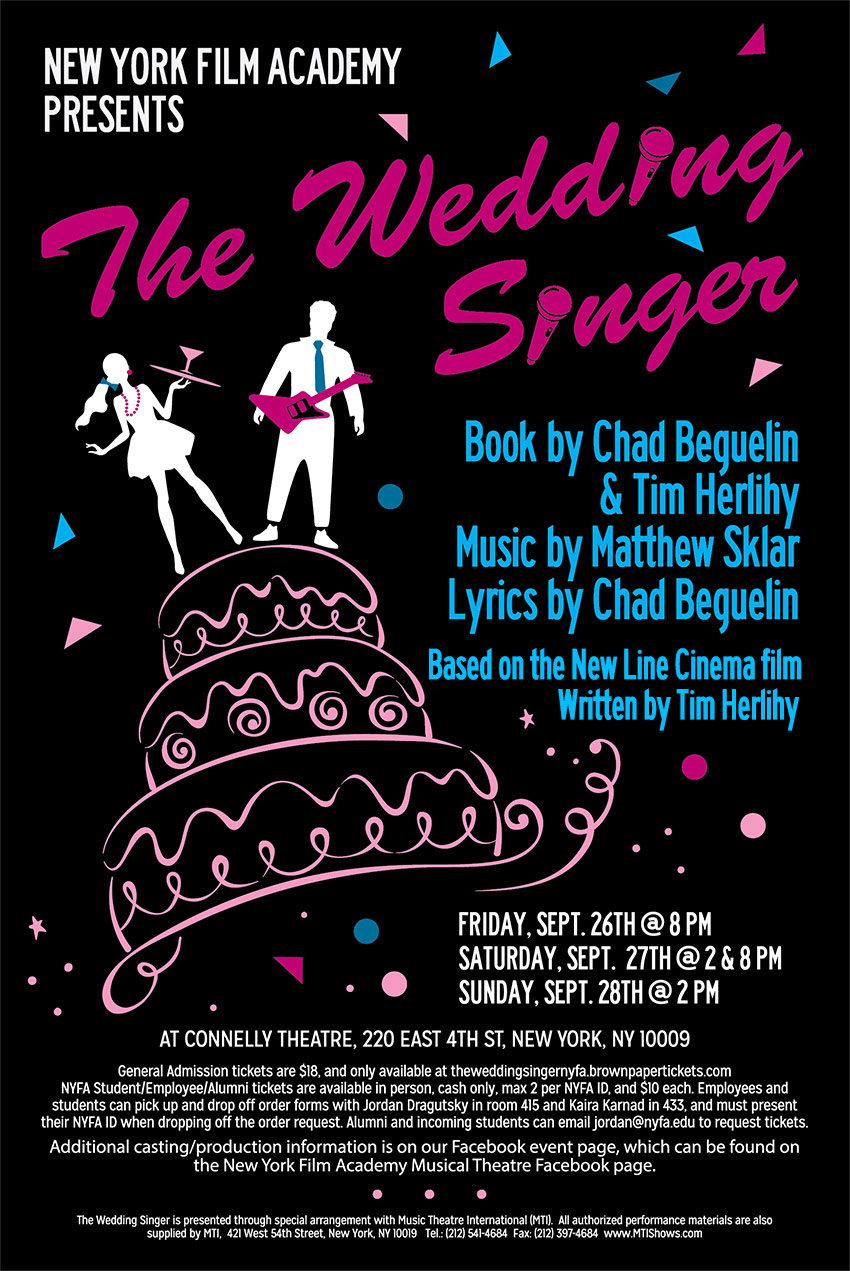 After our first successful staged theatrical performance of Spring Awakening at the American Theatre of Actors, it was without a doubt we'd have to follow up with another. To that extent, it's with great pleasure the New York Film Academy Musical Theatre Department would like to announce its second full length musical production, The Wedding Singer. The musical is based on the 1998 New Line Cinema film written by Tim Herlihy. It features music by Matthew Sklar and lyrics by Chad Beguelin, with its book written by Beguelin and Herlihy. The Wedding Singer is the story of a wedding singer and cocktail waitress, both already engaged to the wrong people. A series of comedic events and fortunes hopefully lead them to find true love elsewhere.
When: Performances are September 26th-28th, Friday & Saturday at 8PM, Saturday & Sunday at 2PM.
Where: The Connelly Theatre located at 220 East 4th Street, New York, NY 10009
For general admissions tickets, please CLICK HERE.
NYFA Student/Employee/Alumni tickets are available in person, cash only, max 2 per NYFA ID for $10 each. Employees and students can pick up and drop off order forms with Jordan Dragutsky in room 415 and Kaira Karnad in 433. Please present your NYFA ID when dropping off the order request. Alumni and incoming students can email [email protected] to request tickets.
Cast (in oder of appearance):
Robbie Hart – Connor Lyons
Sammy – Christopher Lee
George – Alec Lee
Julia Sullivan – Raquel Tillo
Holly – Stephania Sanquiz Donelli
Glen Guglia – Charles Engelsgjerd
Rosie – Fernanda Hidalgo
Linda – Carrie McMahon
Angie – Beatriz Cavalieri
Ensemble – Mauritz Badenhorst, Miguel A. Candelaria Palafox, Melissa Jennifer Gonzalez, Alexis Guarneros, Cody Arturo Hernandez (guest performer), Charlotte Hughes, Cristina Hussey, Ilda Mason, Silvia Nicoloso, Carol Nolasco, Giovana Pancera, Georgia Roe (NYFA Alum) Naomi Wong
Production Team:
Producers – Kristy Cates & Mark Olsen
Associate Producer/Prod Manager – Jordan Neil Dragutsky
Production Stage Manager – Nikki Castle
Production Assistant Stage Manager – Momo Sugawara
Creative Team:
Director – Isaac Byrne
Choreographer – Chad Austin
Music Director/Conductor – Anna Ebbessen
Speech & Dialect Coach – Lauren T. Mack
Fight Director – Mark Olsen
Fight Coordinator – Dan Renkin
Associate Choreographer – Georgia Roe (NYFA Alum)
Associate Music Director – Daniel Lincoln
Book by Chad Beguelin & Tim Herlihy
Music by Matthew Sklar
Lyrics by Chad Beguelin
Design Team:
Scenic Design – Ryan Howell
Costume Design – David Withrow
Lighting Design – Mary Ellen Stebbins
Sound Design – Jacob Subotnick
by nyfa