Everyone knows how much I enjoy writing about New York Film Academy (NYFA) Broadcast Journalism graduates. But usually I only "talk" with them via email and Facebook. Recently, however, two of them were actually able to stop by!
Ibtisam ("Tisam") Karaasian had already graduated from the Broadcast Journalism 1-year Conservatory Program when I arrived at NYFA in September 2013. But she was still "here" as a TA. Much of what I initially learned about the "student's perspective" of the program I first heard from Tisam. Later she returned home to Germany, and has worked on a number of different things including a long-term project for the United Nations. And she shared all of this with the current students… and instructor Evgenia Vlasova.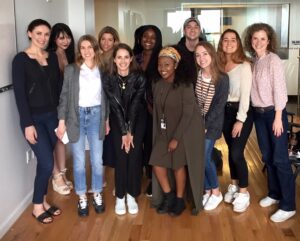 As all current and former NYFA Broadcast Journalism students know, we have a "skills-based" curriculum. And while those skills are essential to the practice of conventional journalism, they can be used in a wide range of media genres and forms.
I say that because last week I saw someone else who I first met when I arrived at NYFA, Ljubica ("Lubi") Popovic. She was part of the very first class I taught at NYFA, the 12-week Evening workshop. Currently she is working at the production unit of the City University of New York (CUNY), but that's just the start. For Fashion Week New York she was a casting director assistant and worked on all the runway preparations for Tadashi Shoji and Bosideng. That meant working with top models, and A-List Hollywood celebrities like Jeremy Renner and Anne Hathaway.
Next up she is producing a Comedy Special for Sasha Srbulj, which will be filmed in mid-November at the BRIC theatre in Brooklyn.
###
So, did I ever tell you how I studied French for four years… three years in high school, one year in college? Probably not, since almost everything I learned was long ago forgotten. But I am glad to know that NYFA grad Delphine Darmency is still contributing to francophone culture. She recently posted a nice multimedia piece about the Women's March in New York for French media giant TV5Monde.
Fabulous work, Delphine…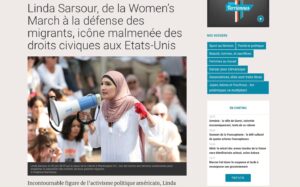 Finally, the two great "secrets" behind incredible human interest stories aren't secrets at all. Everybody knows them… little kids and animals, neither of whom will do what you want them to do, when you want them to do it.
NYFA alum Livia Fernanda creates online video content at Somar Meteorologia in Brazil. Last week she posted a gem of a story about little kids, climate, and TV weathercasting. I don't even understand what the children are saying — my Portuguese language skills being worse than my French — but it is still cute. Take a look for yourself… (BTW, that's the green screen effect that every 1-year NYFA Broadcast Journalism student learns about.)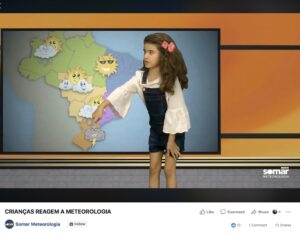 by nyfa