For cinematography students, learning from seasoned professionals such as BAFTA award-winning Anthony Richmond, ASC, BSC is nothing short of taking a masterclass in excelling behind the lens. Chair of the Cinematography Department at NYFA Los Angeles, Richmond's career spans well over six decades, with over 85 films and television projects under his belt.
NYFA Cinematography Chair, Anthony Richmond, ASC, BSC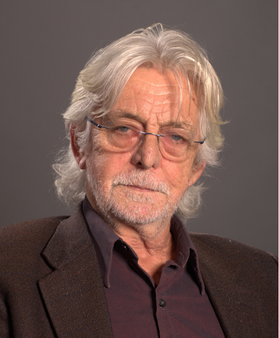 Known for being both prolific and diverse in his range of genres, early on in his career, Anthony worked as Assistant Cameraman on such landmark films as From Russia with Love (1963) and Doctor Zhivago (1965). He also assisted on A Funny Thing Happened On The Way To The Forum (1966) and Truffaut's Fahrenheit 451 (1966).
In his later years as an established Director of Photography, he worked on films such as Don't Look Now (1973), for which he won a BAFTA Award, The Man Who Fell to Earth (1975) starring David Bowie, Candyman (1992), and Legally Blonde (2001). He also worked on the seminal British music scene of the late 60s and shot the Rolling Stones classic, Sympathy For The Devil (1968) for Jean-Luc Godard, and then collaborated with Michael Lindsey Hogg on The Rolling Stones Rock and Roll Circus (1996) and the Beatles' Let It Be (1970).
In addition to his extensive work behind the camera and in the classroom, Anthony is also a member of the Academy of Motion Picture Arts & Sciences (A.M.P.A.S), British Academy of Film & Television Arts (B.A.F.T.A), American Society of Cinematographers (A.S.C), and British Society of Cinematographers (B.S.C).
We talked to him about how he first got interested in cinematography, his favorite projects, and his advice for students looking to get started.
NYFA: How did you first get interested in cinematography?
AR: I first got interested in cinematography when I was about 15 going to the movies three times a week.
NYFA: What have been your favorite projects/productions to work on to date?
AR: Don't Look Now (1973), for which I won the BAFTA Award for Best Cinematography. Also, Men of Honor (2000), The Greek Tycoon (1978), Ravenous (1999), The Eagle has Landed (1976), and Silver Bears (1977).
READ MORE: NYFA Chair Of Cinematography (La) Is Dp For The Beatles Docu-Series
NYFA: What are your favorite courses to teach?
AR: The Crane Workshop (3rd semester MFA Cinematography) and the Stage Lighting Workshop (2nd semester MFA & One-Year Cinematography).
For Stage Lighting Workshop, we spend two weeks learning how to light in a stage environment using big lights, stage power, and advanced grip equipment. We have a great set that's been built for us, with a 20′ x 50′ backing of the New York skyline. The backing can be lit from the front for a day scene, or it can be lit from behind to create a night look. Each student brings in a reference image, and they then create their own shot with the same lighting style.
For the Crane Workshop, the students learn to operate the camera with a remote head. This works like a traditional geared head, so the students work on this skill throughout the entire week of the class. The workshop builds up to a Cinematography Practicum shoot where we bring in a massive telescoping crane and shoot a scene with actors and director.
NYFA: Who do you believe have been some of the most significant individuals in cinematography?
AR: Freddie Young OBE, BSC was a British cinematographer who photographed many great pictures, including major historical epics such as Lawrence of Arabia (1962) and Dr. Zhivago (1965), both for director David Lean.
Gregg Toland, ASC, was an American cinematographer who was very innovative and shot for many classic Hollywood directors. His films include Citizen Kane (1941) for director Orson Welles, The Grapes of Wrath (1940) for director John Ford, and The Best Years of Our Lives (1946) for director William Wyler.
Raoul Coutard was a French cinematographer who brought new techniques to many of the French New Wave classics, including Breathless (1960) and Alphaville (1965) for director Jean-Luc Godard and Jules & Jim for director Francois Truffaut.
NYFA: What are some of your favorite films (in terms of how they did the cinematography)?
AR: Citizen Kane, Doctor Zhivago, and Lawrence of Arabia.
NYFA: What advice would you give a prospective student looking to get started in cinematography?
AR: Watch a lot of films. You can learn so much about composition, lighting, and storytelling from watching all kinds of different movies. If you are interested in getting started in cinematography, you can also build some basic skills by taking still photos. Be thoughtful about composition and lighting as you make your images. You can also look for opportunities to crew on short film projects, music videos, commercials, etc. Try to find other young filmmakers who have the same goal of making great films and collaborate with them.
Develop Your Cinematography Skills at NYFA
Ready to strengthen your creative and technical skills in cinematography? Learn more about our cinematography programs today!
by nyfa