As many of the most influential filmmakers know, the key to making a great film is telling a good story. For Andrea Swift, NYFA Filmmaking Chair, who has over 20 years of filmmaking experience, creating films is also about showing up "ready to jump in the deep end" and embracing the process of film production. At NYFA, Andrea is one of many NYFA filmmaking faculty members who help students learn how to create films step-by-step, helping them to develop the creative and technical expertise to tell stories they believe in.
NYFA CHAIR OF FILMMAKING, ANDREA SWIFT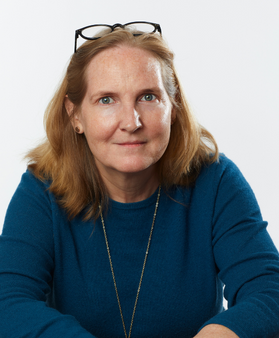 Throughout her experience, A cinematic storyteller with more than 20 years of experience, Swift has served as executive producer and director of PBS' Emmy-nominated documentary magazine series, In the Life. Her films have also been screened at the United Nations Earth Summit and at festivals worldwide, including Raindance Film Festival (Best of Festival Selection), Sundance's Environmental Film Festival, and Berlin International Film Festival (Best Short Film, Panorama.)
She has worked with AMC, History, and WE, as well as New York's very own NY Knicks, Madison Square Garden, and Clearview Cinemas, to create content. She has also directed and written for top talent, including Tony Award winners Alan Cumming, Harvey Fierstein, Cherry Jones, and Denis O'Hare, as well as Oscar winner Susan Sarandon, Oscar nominees Patricia Clarkson, Lesley Gore, and Laura Linney. She holds an MFA from Columbia University.
We spoke to Andrea about her time at NYFA, her favorite courses and subject matter to teach her students, and advice for prospective filmmakers.
NYFA: What have been your favorite projects/productions to work on to date?
AS: I ran a PBS tv show called "In the Life," which was pretty awesome. I've also associate produced a show called The Killers, filmed in Jamaica, which won the Panorama award at the Berlin Film Festival.
READ MORE: New York Film Academy Community Shines at 2022 Tribeca Film Festival
NYFA: Tell us about your time at NYFA.
AS: NYFA brought me in 15 years ago to create the documentary department, which I intended to do for one year before going back into production. I kept putting it off because I learned it was as fun making filmmakers as it was to make films. In January 2021, I took over the filmmaking department.
NYFA: What are your favorite classes to teach?
Aside from the core filmmaking curriculum, I love to teach filmmakers how to make films with no budget so our students can make films without spending a lot of money. I also love new media courses, everything that is not film…. web series, social media micro docs, podcasts, and whatever is evolving.
NYFA: How would your students describe your teaching style/methods?
I do some lectures and some dialectic conversations. I'm mostly interested in the work they are making, teaching by applying it to what they are creating right now.
NYFA: What are your favorite aspects of the film community in NYC?
I love that we are the indie filmmaking capital of the world. This is a place where people don't let other people make them wait to make films.
NYFA: Who do you believe have been some of the most significant documentary filmmakers?
In no particular order, Barry Jenkins, Chloe Zao, Martin Scorcese, Claire Denis, Chantal Ackerman.
READ MORE: Festival Favorite 'Shirampari' Documentary Headed To 2023 Sundance Film Festival
NYFA: What are some of your favorite films and television series?
Favorite is such a tricky word. My answer might be completely different from day to day., but some of the documentary films I find myself watching time and again include: Minding the Gap, Paris is Burning, Free Solo, Crip Camp, Tongues Untied, Stories We Tell, I Am Not Your Negro, The Gleaners and I, Mad Hot Ballroom, and Searching for Sugarman. For series, I highly recommend Wild, Wild Country, Planet Earth, and Making a Murderer.
My tastes are pretty eclectic, and there are so many films I love I hardly know where to begin. Topping my current re-watch list are Beau Travail, Children of Men, Godfather (I and II), The Rider, In the Mood for Love, Atlantique, Moonlight, Capernum, Winter's Bone, Point Break, and Paris, Texas. For series, I just rewatched all of Reservation Dogs, which was almost as much fun the second time around. The Wire and Season 1 of True Detective are all-time favs, and I'm looking forward to new seasons of Stranger Things and The Marvelous Mrs. Maisel.
NYFA: What advice would you give a prospective student looking to get started in filmmaking?
The only way you're going to learn how to direct films is by directing films, and there is no way around that. Your relationships are really important, who has worked with you before, who knows how well you work. That's how you're going to get plugged in. The networks people create at school are some of the most important things they come out with. Additionally, don't wait for someone else to give you permission to start making films. Just start.
Create Your Own Films and Documentaries at NYFA
Passionate about filmmaking and documentary films? Learn more about our filmmaking degrees, certificates, and workshops!
by nyfa