There's a certain magic to pressing a button on your controller and watching the character you play on screen react. Brandii Grace, Chair of the Game Design department at NYFA Los Angeles, was taken in by that magic at a young age, sending her on a decades-long journey of studying the ins and outs of game design and guiding the next generation of innovators looking to make their mark on this multi-billion dollar industry.
Over her 20-year career in the game industry, Brandii has been involved in AAA MMO titles, award-winning indies, and everything in between while also keeping an eye on developing curricula to educate aspiring game designers.
NYFA Chair of Game Design, Brandii Grace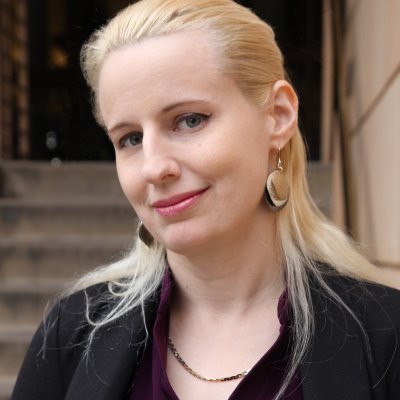 Since graduating from Western Washington University with a degree in Computer Science, Brandii has gone on to work for several major developers, including Microsoft Game Studios, Monolith Productions (a division of Warner Brothers), Renaissance Games, and Amaze Entertainment, where she worked on Call of Duty: Roads to Victory and Shrek the Third. She has worked with the Writers Guild of America to develop acceptable game writers' credits and advised Congress on passing new federal regulations regarding the gaming industry for the National Labor Relations Board.
She is published in the book Game Development Essentials – 3rd Edition and served as a community leader for the International Game Developers Association. Her passion for game design education has led to her starting multiple collegiate game design degree programs, as well as assisting the California Department of Education in creating a game development curriculum for high schools across the state.
We talked to her about what initially drew her to video games, her recommendations for hopeful designers, and how she envisions the future of the industry.
NYFA: How did you first get interested in game design?
BG: As a little kid, I wondered why pressing a controller button would cause Mario to jump on my TV but had no impact on cartoon show characters. Chasing that answer led me to the wonders of coding, game design, and the many possibilities for creating intricate and interactive worlds for others to explore and shape for themselves.
NYFA: What have been your favorite projects/games to work on to date?
BG: My favorite projects are the solo ones I'm making now. I've had the pleasure of working on major projects for big-name companies, but the indie games I'm creating now are about pushing our medium as a form of artistic expression while addressing important social issues.
READ MORE: New York Film Academy Named Top 25 School for Game Design & Animation
NYFA: Tell us about your time in the game design industry.
BG: I've been a game programmer, designer, producer, business founder, educator, and leader for the International Game Developers Association. I've worked on AAA projects, beloved franchises, and award-winning indie titles. I've worked for major studios, big-name publishers and founded a tech start-up. But my most important work has been fighting the good fight to make this a more diverse and inclusive industry for everyone.
NYFA: What's your favorite part of the game design community in Los Angeles?
BG: The game dev community is both international and interconnected, but local communities will often focus on different aspects of game design. Here in LA, games are treated as an extension of Hollywood, so there is a lot more focus on games as a narrative medium.
NYFA: Who do you believe have been some of the most significant individuals in game design?
BG: The people whose names you'll never hear. All the people who work tirelessly in the background to make sure your favorite games run smoothly, look amazing, sound great, and deliver an engaging experience.
NYFA: What are some of your favorite games?
BG: I'm a fan of big, immersive AAA story games as well as small, experimental indie games pushing the boundaries of what our medium can do. I've also won small tournaments for both fighting games and rhythm & music games. I just love games in general.
READ MORE: A Conversation With NYFA Alum Jeffrey Lay on What It's Like to Create a Video Game Funded by a Kickstarter Campaign
NYFA: What are your predictions for game design in the next five years?
BG: There is already high demand in Hollywood for creatives and techies trained to work in complex game engines like Unreal. As virtual production continues to take over the world of filmmaking, this trend is only going to accelerate. I also predict that the majority of game studios will shift to working remote, something we're already seeing across the industry.
NYFA: What advice would you give a prospective student looking to get started in game design?
BG: Start making games. Don't worry about making "good" games – that will come later. The press may push the story of a genius creator whose first game is a hit, but those stories conveniently gloss over the decade or two they spent working in the industry, the 50+ flops that never made it to market, the professional contractors they hired, or the years they spent iterating their game. True hole-in-one hit creators are almost never able to replicate that success because it's based on luck, not skill or know-how. Ignore the hype of overnight successes and just start making games.
Learn More About Game Design at NYFA
Interested in studying game design? Check out our game design degrees, certificates, and workshops!
by nyfa