New York Film Academy (NYFA) Instructor Ben Cohen has had a productive 2018. His sitcom screenplay, The Library, recently made the 2nd Round at the 2018 Austin Film Festival. Additionally, it was a finalist in the New York Screenplay Contest.
Cohen hails from Decatur, Georgia and is currently based in Brooklyn. He has studied at various institutions across the globe, and has honed his comedy chops at Upright Citizen Brigade, among other theaters and playhouse troupes. 
In addition to writing and performing, he currently teaches for the Filmmaking school at New York Film Academy's New York City campus, where he has gained a reputation for being incredibly devoted to both his students and his fellow faculty members. He is also a great role model for the aspiring film school students he teaches, as he balances his position at NYFA with a working career in the film and comedy industry, much like most of the Academy's experienced, industry-savvy faculty members.
It's no surprise then that his script for The Library made it to the 2nd Round of the 2018 Austin Film Festival (AFF). The AFF was founded in 1994 and has a focus on screenwriters, and has had judges from Warner Bros., Pixar, ABC Studios, and Nickelodeon in past years.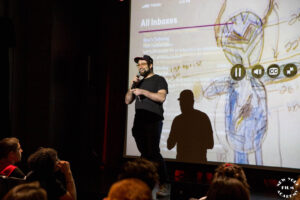 Cohen's script was also a finalist for the New York Screenplay Contest, a premiere global screenwriting contest that has introduced numerous talented and unique voices to the industry. Being named as a Finalist or Winner of the contest is a coveted, distinct honor.
Cohen has remained modest about his recent achievements, telling NYFA, "It's nice to see my writing get some recognition, but it's important for folks to know rejection isn't the negative — it's the norm." 
Expounding on this, he continued, "Much more of your creative life is spent being told that you're not good enough, but you have to keep writing, and more importantly, keep sharing your writing. I've learned to appreciate the good days (like this one) and just keep going. It helps to care about other things. My students know I'm just as happy to talk sports or Bowie as I am to talk about writing."
Additionally, Cohen was recently featured in a PBS Documentary produced by NYFA alum Ashton Brooks, and he plans to continue writing and pursuing gigs in the industry. 
The New York Film Academy congratulates filmmaking instructor Ben Cohen on his recent successes and looks forward to those still yet to come! 
by nyfa