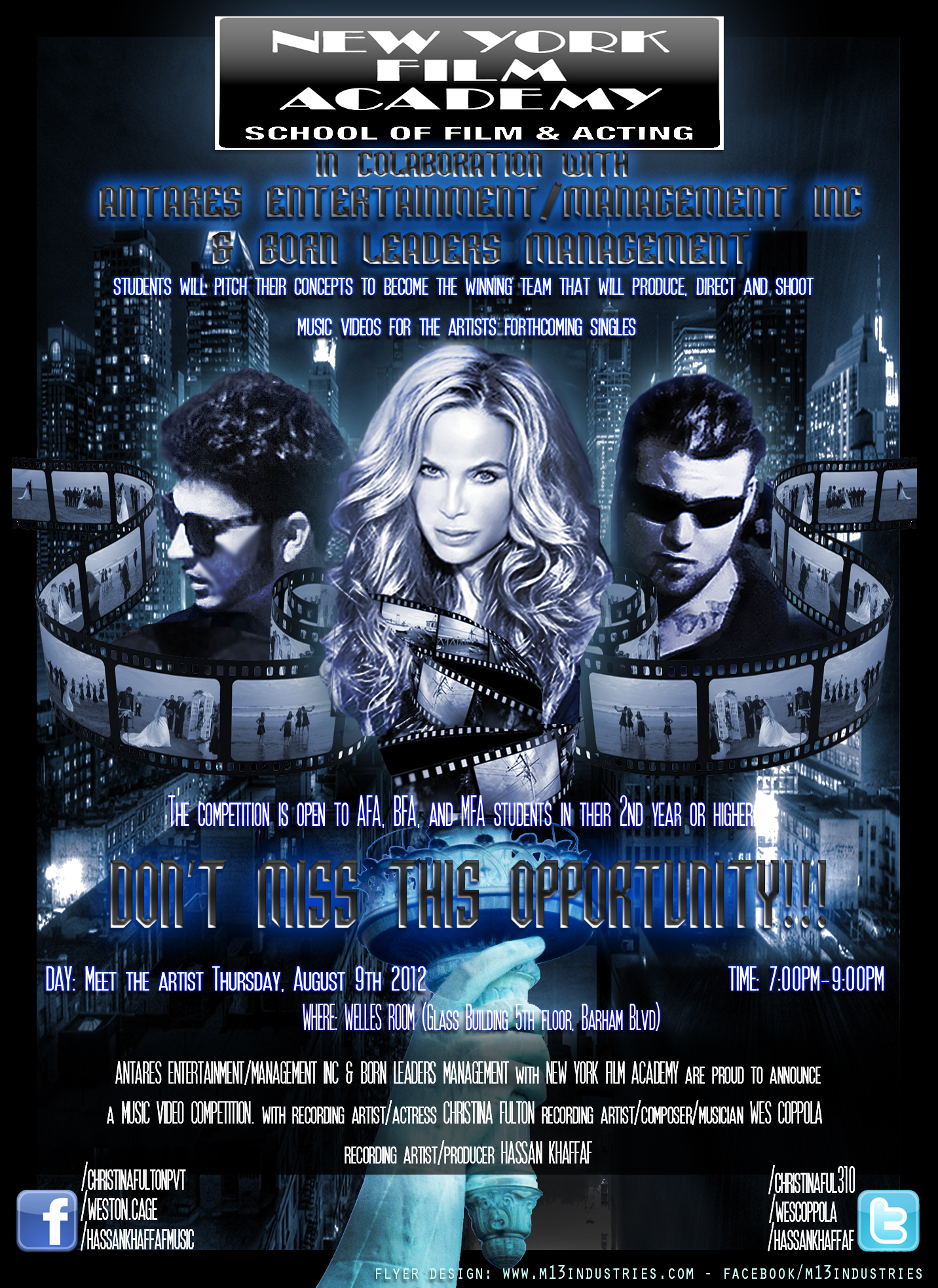 New York Film Academy is excited to announce a music video competition with Born Leaders Entertainment/Management artists Weston Coppola Cage, Christina Fulton, and Hassan Khaffaf. Students will compete for the chance to direct, shoot, and produce the singles for the artists' upcoming singles.
The competition is open to AFA, BFA, and MFA students in their second year, and alumni. Students will have the opportunity to meet the artists on Thursday, August 9 at 7 p.m. in the Welles room at the school's Universal Studios campus. After the meet and greet, students will have a week to come up with their pitches for the music videos, and the winning concepts will be chosen by the artists.
As the son of Nicolas Cage and Christina Fulton, actor and recording artist Weston Coppola Cage, carries on a rich artistic legacy. He released his first album with his band Eyes of Noctum, working with award-winning producer Jack Douglas, and top Swedish black metal producer Fredrik Nordstrom. He was asked to record a song for the major motion picture Drive Angry, and was asked back by the studio to record the monstrous evil voice in Ghost Rider. His much-anticipated solo album is due out at Christmas 2012, and will also star in the forthcoming film Sugar Rat in 2013.
Shortly after coming to Hollywood, actress and recording artist Christina Fulton landed a part in Oliver Stone's critically acclaimed film, The Doors. Her portrayal of the enigmatic Nico launched an illustrious acting career that has included roles in Francis Ford Coppola's Bram Stoker's Dracula, Brian DePalma's Snake Eyes, Abel Ferrara's Dangerous Games and the award-winning independent film, Lucinda's Spell. Her debut single, Thank You, premiered on MTV's Jersey Shore earlier this year. She previewed her second single, Freeing My Mind, while opening for Lupe Fiasco, Rock Mafia, and Cobra Starship at Kodak Theater this year.
Hassan Khaffaf is a Middle Eastern producer and recording artists, soaring off his successful world debut with last year's number one song in Asia, co-produced by Kanye West. Now he is on his own journey to captivate the world with his unique production and extraordinary artistry.
Today, Christina Fulton released a statement saying, "New York Film Academy has long been a respected and renowned institution for students seeking training in the creative arts, acting, film, and photography. For many years I've wished to collaborate with them and I am very excited by the uniqueness and promise of the program we have designed that combines the excellent training NYFA has long been known for with premier exposure of the student's work and most importantly, an opportunity for them to work with established artists that can greatly assist in their fretful transition from school to real world that every student must face. What I, and the wonderful NYFA executives who've embraced my idea, have done is to combine training with opportunity."
by nyfa