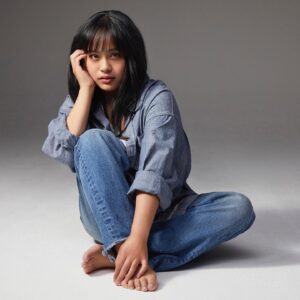 Many moons ago, actors made the long-awaited move to New York City right after graduating from conservatories, BFA or MFA programs out of necessity. They'd settle into the pace of the city and in between dance classes and voice lessons, they'd scour through the pages of a printed Backstage magazines for upcoming auditions. They'd hit the ground running, printed headshot in-hand and race to in-person auditions for regional theaters, festivals, films and TV shows. But things have changed. For the most part, the days of printed Backstage magazines, printed headshots and spiraling lines are behind us. They've been replaced by online audition notices, digital headshots and self-tapes. NYFA Musical Theater Alum Miisha Shimizu spoke with NYFA and affirmed that with good training and a cellphone, you can get far – halfway across the globe.
Miisha says that instead of shuffling to and from auditions immediately after graduating in 2020, she went back home and made up for lost time "I spent a lot of time with my family for that year while preparing to continue my remaining two more years of my college [but] of course my passion for musical theater never disappeared." She then got wind of a virtual audition for Vanara: The Musical. "I was chosen among the 17 finalists but I couldn't make it." However, while getting back into the swing of things at home, Miisha was not just auditioning – she was building an audience. "I did a lot of singing on Instagram, TikTok and YouTube. I sang a lot of famous musical numbers and jazz and of course a lot of Disney songs, too" She gained traction on all three platforms and today she has 413.7k followers on Tik Tok, 67.7k on Instagram and 70.6k Youtube subscribers.
Then one day, Disney called. "Disney Japan was looking for someone to be the theme artist for [a] festival project "Ultimate Princess Celebration", to sing the Japanese version of  'Starting Now' – It was an honor to be selected. I couldn't believe it! And when I first listened to the song and the words made me glad I hadn't quit. "
"I mean [it] wasn't easy for me. There were ups and downs, but my friends and teachers and [especially] my family was always there for me to get through all the hardships and go on no matter what! Just like the words in this song. It's like magic!"
When asked about her studies at NYFA, Miisha said "There are tons of things I learned at NYFA which helped me a lot on this project. Even if it's in Japanese language, I could still apply all the things I have learned at NYFA whether it is acting, singing, or dancing. How to project my voice and being able to express every phrase in the song. I think it's universal!"
Later that year, things came full circle for Miisha. " [I] got an offer for the very first time to be cast in a Musical with outstanding and famous musical actors in Japan. One of them, Ikusaburo Yamazaki, who is the lead actor and who actually got to visit NYFA in October 2018 which was my first year at NYFA. We sang together on the stage of NYFA."
NYFA congratulates Miisha Shimizu on all her success!
by nyfa