Our NYFA Producing programs teach students all the critical aspects of making a film or television show from start to finish, educating them on the realities and challenges of bringing a production to life. This hands-on approach is supported by our faculty of active industry professionals, such as our Chair of the Producing department at NYFA New York, Neal Weisman. Neal believes his mission is to teach the next generation about the art and craft of producing.
NYFA Producing Chair, Neal Weisman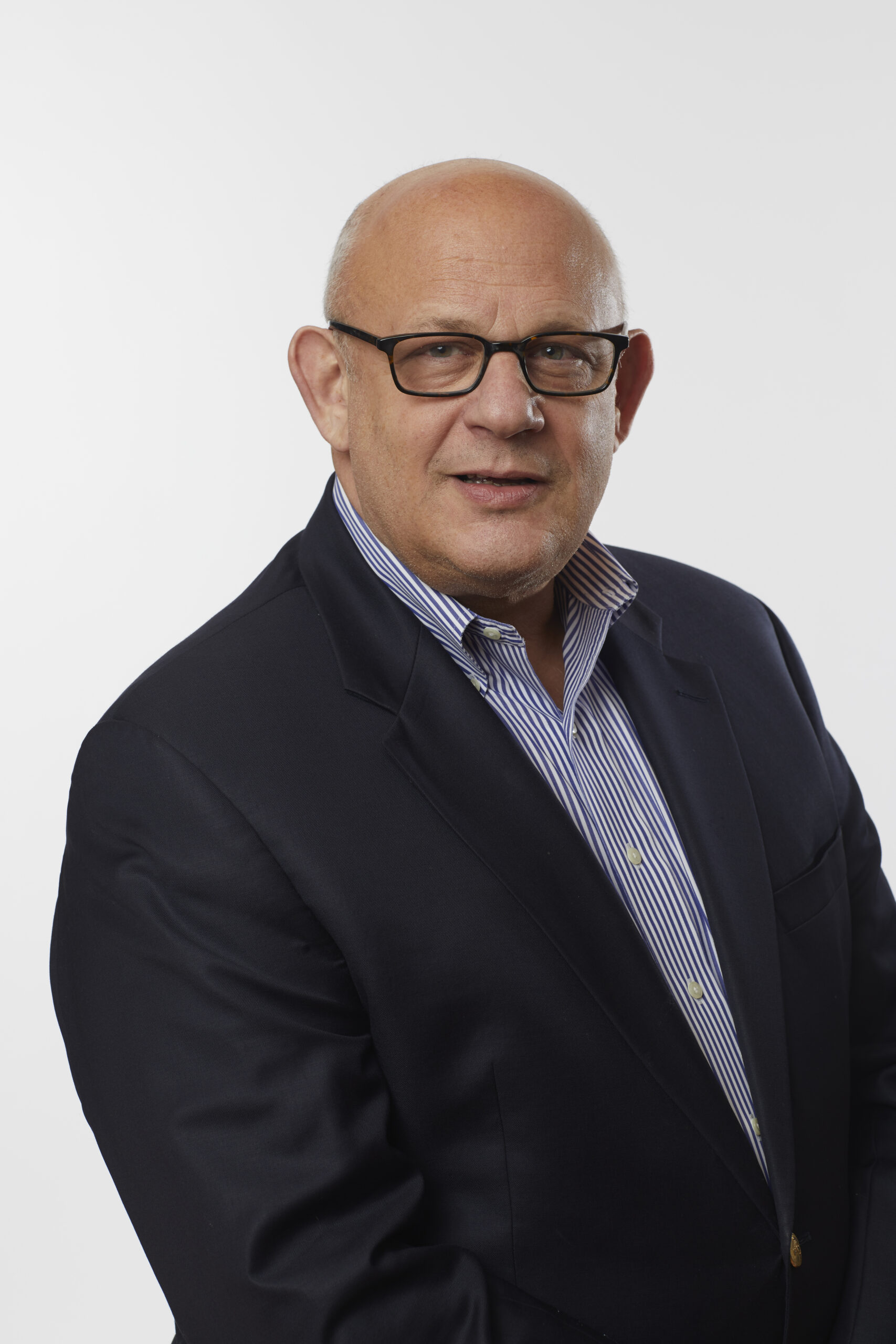 Neal's producing credits include The Politician's Wife (1995), which won a BAFTA and Peabody Award, as well as an International Emmy Award for Best Drama Serial; Seeing Red (2000), which won a Christopher Award; and My Kingdom (2001), starring Richard Harris in his last leading role. He also produced Let's Talk About Sex (2009), a documentary that was broadcast on TLC.
In addition to his producing career, Neal is also the Vice President of Edward Pressman Film Corporation, which is responsible for producing films like David Byrne's True Stories (1986), Wall Street (1987), Talk Radio (1988), Kathryn Bigelow's Blue Steel (1989), and Barbet Schroeder's Reversal of Fortune (1990), to name a few.
An award-winning film and television producer with over 20 years of international experience, we spoke to Neal about his favorite projects, his time at NYFA, and what advice he'd give to those looking to get started in producing.
New York Film Academy (NYFA): How (and when) did you first get interested in producing?
Neal Weisman (NW): I initially wanted to become a writer-director. While earning my Master of Fine Arts degree in Cinema, I wrote and directed so many films that I realized I did not want to direct as a career. I worked out my directorial aspirations early in life! I wanted to keep making films, so it was a natural transition to producing.
NYFA: What have been your favorite projects/productions to work on to date?
NW: This is like asking a parent which is your favorite child! I have a special affection for "my first child in the film industry," True Stories (1986), co-written and directed by David Byrne, with music by Talking Heads. It has become a true cult hit, was recently remastered, and is available on Criterion. The cinematography is by Ed Lachman, a true master.
READ MORE: Q&A-List Series Welcomes Iconic Horror Film & TV Producer, Roy Lee
NYFA: Tell us about your time at NYFA.
NW: I love sharing my experience and knowledge in the education of new producers. It is very gratifying to mentor the next generation of content creators. I am on a mission to spread the answer to the important question, "What Does a Producer Do?". One of the great strengths of the New York Film Academy is the diversity of the student population. It is invigorating to meet and work with students of all ages and ethnic and gender identities who come to study at NYFA from all over the world. It not only enriches the students' experiences but those of the faculty as well.
NYFA: What are your favorite courses to teach?
NW: Producer's Craft because this is where I get to answer, "What Does a Producer Do?". We explore the entire producing process, from identifying ideas to working with writers in the development of scripts, assembling commercially viable packages, raising finance, and looking at all aspects of pre-production, filming/shooting, post-production, as well as marketing, and distribution. It is a very comprehensive overview of producing.
NYFA: How would your students describe your teaching style/methods?
NW: I have a lot of information to give to our students, so I do a lot of talking! The students, in turn, ask a lot of questions, so there is a good give and take. As we are very hands-on, students apply what they are learning in lectures to their own individual case studies, which are shared in class. I encourage as much participation, discussion, and interaction as possible.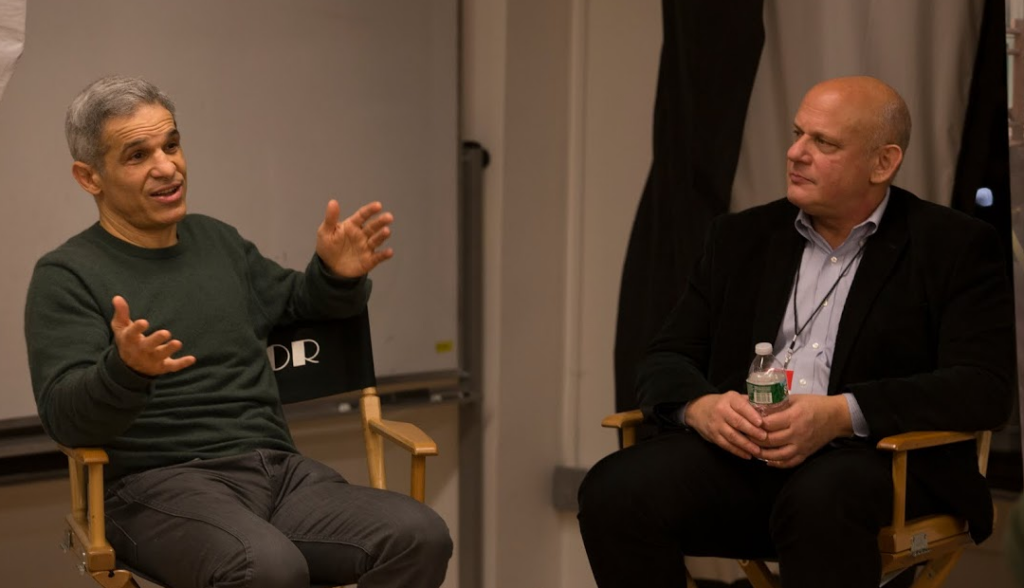 Executive Producer John Giura with NYFA Producing Co-Chair Neal Weisman at a NYFA Q&A Session

NYFA: What are your favorite aspects of the film community in New York?
NW: New York City is the greatest backlot in the world! Think of all the fantastic films that have been set here. It is so exciting to create work in the Big Apple. There is a fiercely independent and entrepreneurial spirit in New York; so many motivated people making everything from low-budget indies to amazing documentaries to huge Marvel movies. From Martin Scorsese to Spike Lee, everyone and everything is here!
NYFA: Who do you believe have been some of the most significant individuals in producing?
NW: Saul Zaentz was an incredible producer. He operated primarily outside the studio system, based in San Francisco, and was able to make truly significant work – movies like One Flew Over the Cuckoo's Nest (1975), The English Patient (1996), Amadeus (1984), The Mosquito Coast (1986), and The Unbearable Lightness of Being (1988).
The British producer Jeremy Thomas has made a host of amazing films working with great directors like David Cronenberg, Bernardo Bertolucci, and Terry Gilliam. Also, Jason Blum is awesome, making lower-budgeted horror films like Insidious (2010-2018) and The Purge (2013); and moving on to movies like Whiplash (2014), Split (2016), Get Out (2017), BlacKkKlansman (2018), Glass (2019), and Us (2019).
Of course, I can't forget Edward R. Pressman, who was an important mentor and responsible for such movies as Wall Street (1987), To Sleep with Anger (1990), Reversal of Fortune (1990), The Crow (1994), and American Psycho (2000).
READ MORE: NYFA Opens Latam Reach With Master Class In Creative Film Financing In Uruguay
NYFA: What are some of your favorite films?
NW: Many of my students know that I consider Citizen Kane (1941) to be one of the most influential and important films of all time. That said, I confess to The Wizard of Oz (1939) as being my favorite film for a multitude of reasons (not just Judy Garland). The music is timeless, the performances are superb, but most importantly, it is a classic hero story. I often cite it when speaking about crafting screenplays.
NYFA: What advice would you give a prospective student looking to get started in producing?
NW: Learn all the basics and fundamentals of producing first and foremost. Once you have these concepts, strategies, and skills in your toolbox, you'll be able to follow your passion wherever it takes you, confidently knowing what you are doing!
Produce Your Own Short Films and Content at NYFA
Ready to produce your own content and short films? Check out our degrees in producing, as well as our certificates and workshops!
by nyfa