The theater lights dimmed, the first frames of film flickered across the screen, and the orchestra played their opening bars. Orchestra? Yes, orchestra, for this wasn't just any film screening. This was the Los Angeles Live Score Film Festival, a celebration of the relationship between film and music, and that was the Helix Collective playing live as the films screened. 
Held on July 21, 2018 at the Barnsdall Art Park Gallery Theatre, the festival featured the works of Los Angeles area film students, including five New York Film Academy (NYFA) filmmakers. Festival director Sarah May Robinson paired each of them with a composer from the Academy of Scoring Arts who scored the shorts. 
On the night of the event, host Brian Ralston of the SCOREcast interviewed each director/composer team, asking them to discuss the experience of being matched with a total stranger and what it was like to work together.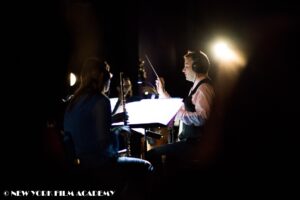 Next, conductor Phil Popham picked up his baton and led the orchestra in a thrilling accompaniment for the films. Audiences were entertained by the films of NYFA directors Victoria Gagieva (Niara), Vicken Joulfayan (Liminal), Oliver Weinmann (The Pill), Nicolas Varela (Aphrodite), and Haily Lanyue Zhang and Majik Jingwei Zhou (Arrow and Oil). 
But the excitement didn't stop at the last "The End" because the audience was asked to vote for the Best Film and the Best Score. The tension was palpable as audience members texted in their choices. The winners for Best Film were Haily Lanyue Zhang and Majik Jingwei Zhou with Arrow and Oil, and their composer George Oldziey took Best Score. After their win, Zhang exclaimed, "I'm thrilled and excited! Now I have great expectations about launching into more film festivals!" 
Zhou was also full of thanks, remarking, "I want to thank my parents. They supported me to come to the USA to study Filmmaking! Secondly, I want to thank my school. NYFA taught me so much knowledge about filmmaking and gave us this chance to represent the school in this festival. Especially, I want to thank my teachers Nick Sivakumaran, the Kohnen brothers — Matt Kohnen and Sean Kohnen — Carl Bartels, Sanora Bartels, Steve Morris. They are the best teachers, ever, ever!"
Their prize was a free studio recording of the orchestra playing their composed score.
All the filmmakers were winners, though, as each received a studio recording of their score for a nominal fee plus a free sound mix from Greenhouse Post.
The New York Film Academy congratulates all the filmmakers and wishes them continued success in their film festival runs!
[su_carousel source="media: 27461,27464,27453,27454,27465,27466,27467,27456,27459,27458,27460,27462,27463,27457,27455″ limit="49″ link="lightbox" target="blank" width="780″ height="360″ title="no" autoplay="0″]
by nyfa