New York Film Academy (NYFA) Producing students headed across the river to Greenpoint, Brooklyn to produce two episodes of Over Coffee, a new webseries featuring women in most of its prominent roles both on- and off-camera.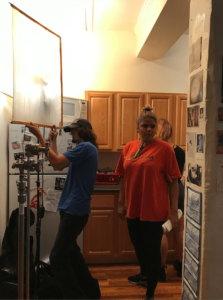 Over Coffee, by New York-based screenwriter Nefertiti Warren, tells the story of three contemporary urban women, sharing their trials and tribulations. The production was shot by a current NYFA Cinematography student, and directed by recent NYFA Filmmaking graduate Ellinor Skeppström.
Production was held in Greenpoint, a neighborhood of Brooklyn located on the East River, where one of New York's largest production communities has evolved over the past decade as studios both small and large have set up shop in the area.
The webseries is the fourth project produced by NYFA Producing students as part of their 1-Year Conservatory studies. Previously, they honed their craft producing short films, reality television sizzle reels, and commercials.
"It was a new experience for me," says NYFA Producing student Emilia D'Agata, "because I had never worked on a webseries. It was very nice to work all together as producers and deal with a screenwriter, director, and cast who are all women. I hope that in the future we can continue to work on this project. It was an amazing experience."
[su_carousel source="media: 32463,32462,32461,32460,32459,32457,32458,32456,32455″ limit="60″ link="lightbox" target="blank" width="780″ height="360″ title="no" autoplay="0″]
by nyfa