On Tuesday, December 3, the New York Film Academy (NYFA) had the pleasure to host Chris Andrews, top talent agent at the industry-leading Creative Artists Agency (CAA). Tova Laiter, Director of the NYFA Q&A Series, moderated the event.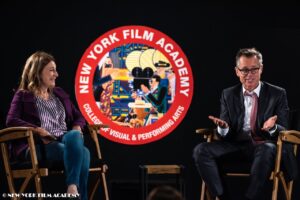 Andrews is based in Los Angeles and represents many of the Hollywood's leading actors, including Daniel Craig, Liam Neeson, Colin Firth, Saoirse Ronan, Nicole Kidman, Jon Hamm, Ben Kingsley, Ian McKellen, Kristin Scott Thomas, Emily Blunt, and Edgar Ramirez, among others. He has been instrumental in the development and advancement of his clients' careers around the globe.
Laiter opened the Q&A by asking Andrews how he became an agent and started with CAA. Andrews discussed his history in the industry, from working in the mailroom ("you meet everybody—agents and clients") to his current work as one of the company's top agents. Through his story and the entire session, Andrews emphasized the importance of hard work and ambition. 
One student asked Andrews for advice on how to get an agent when first starting out in their craft. Andrews replied,  "Work brings work … if you can get one job it'll lead to something else. Anybody you meet – write their name down, get their phone number, get their email address, remember that … keep it handy so that you have it. Don't be like 'Oh, I think I met her'… You should know who you've met along the way … you never know who you're going to meet."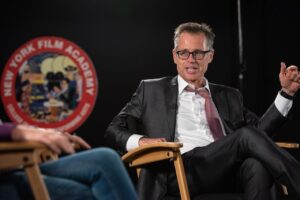 Andrews left the students with some inspirational words. "Time is precious. It goes by really, really fast … Take it in … If you love film, if you love acting, if you love producing, if you love writing—read great writers, watch great directors, watch great actors. You will learn something, because it'll teach you where the bar is higher … You have to live in that hope, still, of dreaming of 'I can be better' … that's what propels me."
New York Film Academy thanks CAA agent Chris Andrews for taking the time to share his experience and expertise with our students.
by nyfa