On July 18, 2019, New York Film Academy (NYFA) hosted veteran writer and game designer John Zuur Platten. 
Zuur Platten came to speak at NYFA as part of the school's Masters of Game Design program, a speaker series in which distinguished members of the gaming industry visit for an informal chat with NYFA Game Design instructor Scott Rogers and NYFA students about their careers in gaming.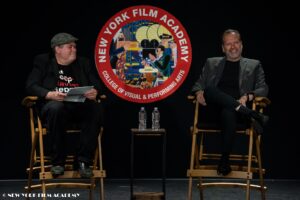 The event was attended by over 50 students and industry professionals who have been invited to the school. Zuur Platten and Rogers talked about Zuur Platten's 26-year career, including his transition from the movie VFX industry into gaming.
Also discussed was Zuur Platten's work on the Fear Effect and Ghostbusters video games, the mobile game Ingress, the mega-hit Pokemon Go, and his latest work on Jurassic World Evolution. After the hour-long conversation, students and audience attendees were then invited to ask Zuur Platten questions.
New York Film Academy thanks veteran writer and game designer John Zuur Platten for taking the time to share his expertise with our students!
[su_carousel source="media: 32736,32737,32742,32734,32735,32738,32739,32740,32741″ limit="60″ link="lightbox" target="blank" width="780″ height="360″ title="no" autoplay="0″]
by nyfa