On August 15, 2019, New York Film Academy (NYFA) hosted Disney Imagineer Jonathan Ackley.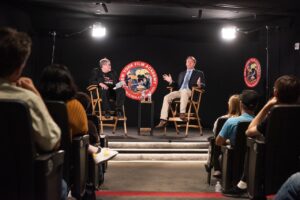 Ackley spoke at NYFA's Burbank-based campus as part of the school's Masters of Game Design series. The Masters of Game Design speaker series hosts distinguished members of the gaming industry visit for an informal chat with NYFA Game Design instructor Scott Rogers and NYFA students about their careers in gaming.
The event was attended by over 50 students and industry professionals who had been invited to the school. Rogers spoke with Ackley about his 27-year career, including his transition from the video game industry into creating experiences for theme parks.
Also discussed was Ackley's work on LucasArts adventure games, Lego Mindstorms, and Disney Parks and Resort projects including Sorcerers of the Magic Kingdom, the Kim Possible World Showcase Adventure, and the Disney Play app. After the hour-long conversation, audience attendees were then invited to ask Ackley questions in an insightful Q&A session.
New York Film Academy (NYFA) thanks Disney Imagineer Jonathan Ackley for speaking with students as part of our Masters of Game Design series!
[su_carousel source="media: 32650,32648,32647,32649″ limit="60″ link="lightbox" target="blank" width="780″ height="360″ title="no" autoplay="0″]
by nyfa