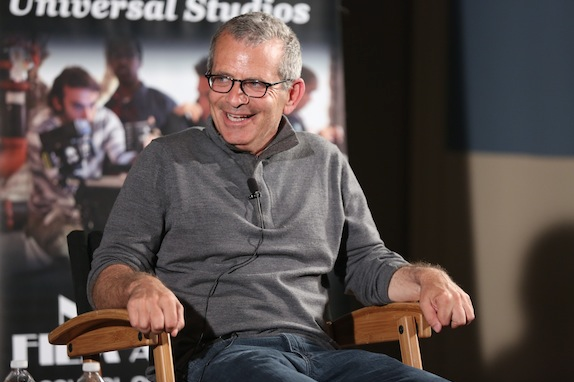 New York Film Academy Los Angeles students were treated this month to a screening of the cult smash hit Donnie Darko at Warner Bros. studios. Following the screening was a Q&A with the producer Adam Fields, moderated by Tova Laiter.
Although there may be mass confusion as to the meaning behind Donnie Darko, most people can agree that, for one reason or another, they love it. This was the case for producer Adam Fields when he first read the script and decided to spearhead the project. Adam didn't know exactly what the story was about, but he was deeply drawn to the project. Most notably, the dialogue of the struggling high school students felt more real and moving than anything else he had ever read in that genre. So Adam followed his gut and took on the project. Before he had secured any financing, he went out on a limb and announced a future shooting date in the trade papers. Agents began calling and asking to read the script, their clients loved the material, and soon everyone was interested. This momentum attracted money and eventually Drew Barrymore, who helped complete financing. By believing the project was definitely happening and acting as if it were, Adam Fields manifested the reality he desired.
The value of "trusting your gut" was an important theme of the night. Trusting his gut is also something Adam did when deciding to produce the film Ravenous. Similar to Donnie Darko, this film was obscure and didn't fit perfectly into any one particular genre like Hollywood likes, but Adam loved it. Without Adam's enthusiasm for this offbeat script with cannibalistic content and humorous undertones, Ravenous would never have seen the light of day. He was eventually able to convince a studio executive to read the script. Although the executive told Adam that he "hated it," he didn't give up. While courting the executive over breakfast, he learned that he was a vegetarian, which explained to Adam why he wouldn't like a script about cannibals. However, Adam cleverly spun the project as a "pro-vegetarian" piece. Adam was able to help the executive see what he saw in Ravenous and the project was green-lit.
Adam Fields rise to the top was definitely an unorthodox approach. He didn't care about what was popular or trending and simply pursued those projects that he connected with. His successes, (that he has either produced or supervised) — An American Werewolf in London, Six Weeks, Missing, Endless Love, Sixteen Candles, The Breakfast Club, Great Balls of Fire, Ali, Brokedown Palace, Blue Crush, and Limitless with Bradley Cooper and Robert DeNiro — were all the more satisfying because of this. This was an important lesson that Adam taught NYFA students.
We wish Adam Fields the best of luck with his future projects such as Sin City: A Dame to Kill For, The Wedding Ringer, a TV series based on James Mangold's Copland, and Gone Baby Gone from author Dennis Lehane.
by nyfa