On August 13, 2018, the New York Film Academy's Department of Veteran Services, was honored to host an advanced screening of the next chapter in the Louis Zamperini story, Unbroken: Path to Redemption. The film is the sequel to the 2014 film, Unbroken, directed by Academy Award Winner®, Angelina Jolie, and hits theaters later this year. Following the screening, producers Matthew Baer and Luke Zamperini, son of Louis Zamperini, treated the audience to a Q&A moderated by Navy veteran and New York Film Academy (NYFA) MFA Acting Alumnus, Ron Ringo.
The event was part of the NYFA DVS series of events that includes guest speakers, film screenings, master classes, workshops, and employment trainings — all which promote industry engagement for NYFA's veteran-students and the wider veteran communities in Los Angeles, New York City, and Miami (South Beach).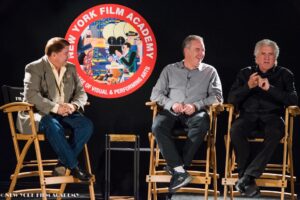 Baer and Zamperini shared their experiences creating the film, as well as stories about Louis Zamperini himself. With having only 20 days to shoot the entire film, Baer addressed the challenges that he faced along with sharing a lot of valuable information for aspiring filmmakers. Zamperini shared stories of his father and explained how powerful it is seeing his father's inspirational story depicted on the big screen for everyone to experience. Being on set and seeing his family members being portrayed by actors was incredibly surreal to him. 
BFA Producing student and US Navy veteran Jonathan Garza commented, "Louis Zamperini's inspirational and powerful story should be seen by everyone. He is a true American Hero." He added, "I also enjoyed hearing from Matthew and his insight from years of producing. He mentioned that he still runs into the same problems producing studio films that he did when he was in film school, but on a larger scale."
Luke Zamperini is the President and CEO of the Louis Zamperini Youth Ministries Foundation.  Matthew Baer's other producing credits include The Hurricane starring Denzel Washington, City by the Sea with Robert De Niro and James Franco, and the first chapter in the Louis Zamperini story, Unbroken — among many other successful films. 
The New York Film Academy thanks Matthew Baer and Luke Zamperini for their generosity and willingness to share their stories and to help students pursuing careers in the film industry.
by nyfa