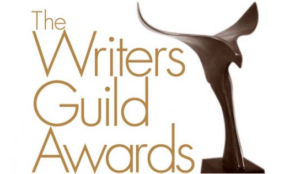 The Writer's Guild of America—Hollywood's most prominent union for screenwriters—announced the winners of their annual award ceremony this weekend, in one of the final award shows of the year before the Oscars wrap up the season. The night puts the spotlight solely on writers, with nominees and awards chosen by other writers, and could be a hint to what expect for next week's Academy Award winners in Original Screenplay and Adapted Screenplay.
The awards cover categories from film and television, as well as documentary, radio and even video games, though the winners can only be guild members. Here is a complete list of the winners:
Film
Original Screenplay: The Grand Budapest Hotel, Screenplay by Wes Anderson; Story by Wes Anderson & Hugo Guinness; Fox Searchlight
Adapted Screenplay: The Imitation Game, Written by Graham Moore; Based on the book Alan Turing: The Enigma by Andrew Hodges
Documentary Screenplay: The Internet's Own Boy: The Story of Aaron Swartz, Written by Brian Knappenberger; FilmBuff
TV & New Media
Drama Series: True Detective, Written by Nic Pizzolatto; HBO
Comedy Series: Louie, Written by Pamela Adlon, Louis C.K.; FX
New Series: True Detective, Written by Nic Pizzolatto; HBO
Episodic Drama: "The Last Call" (The Good Wife), Written by Robert King & Michelle King; CBS
Episodic Comedy: "So Did the Fat Lady" (Louie), Written by Louis C.K.; FX
Long Form Original: Deliverance Creek, Written by Melissa Carter; Lifetime
Long Form Adapted: Olive Kitteridge, Teleplay by Jane Anderson, Based on the novel by Elizabeth Strout; HBO
Short Form New Media—Original: "Episode 113: Rachel" (High Maintenance), Written by Katja Blichfeld & Ben Sinclair
Animation: "Brick Like Me" (The Simpsons), Written by Brian Kelley; Fox
Comedy/Variety (Including Talk)—Series: Last Week Tonight with John Oliver, Writers: Kevin Avery, Tim Carvell, Dan Gurewitch, Geoff Haggerty, Jeff Maurer, John Oliver, Scott Sherman, Will Tracy, Jill Twiss, Juli Weiner; HBO
Comedy/Variety—Music, Awards, Tributes—Specials: 71st Annual Golden Globe Awards, Written by Barry Adelman; Special Material by Alex Baze, Dave Boone, Robert Carlock, Tina Fey, Jon Macks, Sam Means, Seth Meyers, Amy Poehler, Mike Shoemaker; NBC
Quiz And Audience Participation: Hollywood Game Night, Head Writer: Grant Taylor; Writers: Alex Chauvin, Ann Slichter; NBC
Daytime Drama: General Hospital, Written by Ron Carlivati, Anna Theresa Cascio, Suzanne Flynn, Kate Hall, Elizabeth Korte, Daniel James O'Connor, Elizabeth Page, Katherine Schock, Scott Sickles, Chris Van Etten; ABC
Children's Script—Episodic And Specials: "Haunted Heartthrob" (Haunted Hathaways), Written by Bob Smiley; Nickelodeon
Documentary Script—Current Events: "United States of Secrets: The Program (Part One)" (Frontline); PBS; Written by Michael Kirk & Mike Wiser; PBS
Documentary Script—Other Than Current Events: "League of Denial: The NFL's Concussion Crisis" (Frontline), Written by Michael Kirk & Mike Wiser; PBS
TV News Script—Regularly Scheduled, Bulletin, Or Breaking Report: "Nelson Mandela: A Man Who Changed the World" (World News with Diane Sawyer), Written by Dave Bloch, Lisa Ferri, Diane Sawyer; ABC News
TV News Script—Analysis, Feature, Or Commentary: "Nowhere to Go" (60 Minutes), Written by Oriana Zill de Granados, Scott Pelley, Michael Rey; CBS
Radio Winners
Radio Documentary: "Three Shots Rang Out: The JFK Assassination 50 Years Later," Written by Darren Reynolds; ABC News Radio
Radio News Script—Regularly Scheduled, Bulletin, Or Breaking Report: "World News This Week," Written by Andrew Evans; ABC News Radio
Radio News Script—Analysis Feature, Or Commentary: "Civil Rights at 50," Written by Jane Tillman Irving; WCBS Radio
Promotional Writing Winner
On-Air Promotion (Television, New Media, Or Radio): "How I Met Your Mother," Written by Dan Greenberger; CBS
Video Game Winner
Outstanding Achievement In Video Game Writing: The Last of Us: Left Behind, Written by Neil Druckmann; Sony Computer Entertainment
Hope to win a WGA award one day? Check out our screenwriting school programs here.
by nyfa