NYFA Los Angeles Welcomes Acting for Film Alumnus Manuel Garcia-Rulfo for Special Screening of "Magnificent 7"
July 6, 2017 The New York Film Academy Los Angeles recently welcomed acting for film alumnus and international film actor Manuel Garcia-Rulfo as the guest of honor in a Guest Speaker Series event. Garcia-Rulfo is perhaps best known for his work in "Magnificent 7." The actor has also appeared in "From Dusk Till Dawn," "Cake" (starring Jennifer Aniston), and "180 Grados."



The Guest Speaker event was hosted by Associate Chair of the Acting Department Miguel Cruz, and included a Q&A with Garcia-Rulfo following a special screening of "Magnificent 7." Attending the event were enthusiastic students both from NYFA college and summer camp programs.


Garcia-Rulfo is notable for his achievement of establishing a career in the entertainment industries in both Mexico and the United States, a feat the actor says is partially due to making carefully selective decisions early in his career.

As a young actor in Mexico, Garcia-Rulfo said he was offered roles in telenovelas that he decided to turn down. "They offer you everything, in the beginning, to work on these soap operas," he told students. "And you're very hungry in the beginning. But I knew what I wanted my career to look like. I said no to a lot of things early in my career."

Saying no to roles is difficult for any aspiring actor, but Garcia-Rulfo made the choice to focus on pouring his energies elsewhere, such as in his studies at the New York Film Academy. He proceeded to graduate from the 1-Year Acting for Film conservatory program at NYFA's Los Angeles campus.

Of his time at NYFA Garcia-Rulfo said, "New York Film Academy really gave me the chance to work in front of the camera - a lot! Having that experience makes you comfortable to be in front of the camera. Once you get out of here [NYFA] you know everything. I already knew all the aspects of the camera setup and crew when I was on set - having that prior knowledge was one of my favorite things. NYFA gave me a base upon which to build. For that, I am very thankful."

In recounting his days as an acting student, Garcia-Rulfo shared an anecdote about his early foibles in seeking representation. Together with a friend, he decided organizing his own special event for prospective representatives. He rented the ballroom of a fancy Beverly Hills hotel and shipped out gift baskets filled with chocolate to every representative. "Manuel is a great Mexican actor," Garcia-Rulfo would tell agents over the phone.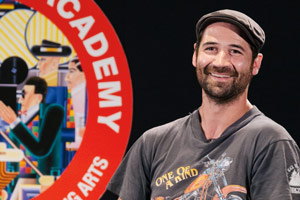 "I don't think even my mother showed up," Garcia-Rulfo said. The point of the story, according to Garcia-Rulfo, is that craft should always come first.

"There's no formula to this thing we're doing," Garcia-Rulfo explained to his audience of NYFA students. "If I have any advice to actors it's this: just buckle up, because it's going to be a bumpy ride. It's very tough. But, I think we have to enjoy that experience as well. Nurture your craft."

Garcia-Ruflo will be starring in the remake of "Murder on the Orient Express" alongside Johnny Depp, Daisy Ridley, Michelle Pfeiffer, and Penélope Cruz, to be released November 10, 2017.

The New York Film Academy would like to thank Manuel Garcia-Rulfo for visiting our summer camp students and our college students as a Guest Speaker.



Please note: NYFA does not represent that these are typical or guaranteed career outcomes. The success of our graduates in any chosen professional pathway depends on multiple factors, and the achievements of NYFA alumni are the result of their hard work, perseverance, talent and circumstances.