NEW YORK FILM ACADEMY (NYFA) WELCOMES ICM PARTNERS' DOUG MACLAREN FOR 'THE Q&A-LIST SERIES'
December 15, 2020
Recently, New York Film Academy (NYFA) had the opportunity to host a live video Q&A with the Head of the Motion Picture Literary Department of ICM Agency,
Doug MacLaren
. The discussion with NYFA students and alumni was centered on the agency world and how agents work with their clients in the entertainment industry, especially now in the middle of a pandemic.
Tova Laiter
, Director of the NYFA Q&A-List Series, curated and moderated the event.
Doug MacLaren is Partner and Co-Head of ICM's Director's Group. He is a talent and literary agent at ICM Partners, where he represents directors, writers, and actors across both movies and television. He started as an assistant at Intertalent which merged with ICM in 1993.
His current clients include Tom Hooper (Best Picture and Best Director Oscar winner for
The King's Speech; Les Miserables; The Danish Girl
), Vince Gilligan (Emmy award-winner for
Breaking Bad
and
Better Caul Saul; El Camino
), Gurinder Chadha (
Blinded By The Light; Bend It Like Beckham
), Neill Blomkamp (
District 9; Elysium
), Peter Weir (multiple Oscar nominee for
Dead Poets Society; Witness; The Truman Show
) Joseph Cedar (Foreign Oscar nominee for
Footnote
and
Beaufort; Our Boys
), and Michelle MacLaren (Emmy award-winner for
Breaking Bad; Game of Thrones; Westworld; The Walking Dead
).

Tova Laiter (Left) and Doug MacLaren for NYFA's Q&A-List
Laiter began the discussion by asking MacLaren how he ended up in the entertainment agency business, to which he replied that right out of college he was involved in the banking industry. After working in Hong Kong at a French bank, MacLaren realized he needed to reevaluate what it was he actually wanted to do with his life. After coming back stateside, MacLaren decided to finally let his love of cinema lead a path to Los Angeles where he started meeting with companies who made movies he liked and eventually landed a job in the industry.
Laiter questioned how is the agency able to keep up with the multiple companies around, from studios, streamers and so many independents (when she started in the business there were five studios and two independents). MacLaren explained how the agency world is keeping up with the changes. "We have staff covering it all and we meet several times a week where we cover all kinds of possibilities for our clients" he explained. "We need to be specialists in all areas from animation to the independent filmmaking market, and I have a division of people who I can work with for all kinds of projects [studio and streaming alike]."
Before the pandemic, being an agent meant combing through the city with meetings and networking, with lunches and dinners held in order for people to meet and make big moves happen for projects and clients. With the COVID-19 pandemic, Laiter pointed out, that way of life for agents has also changed.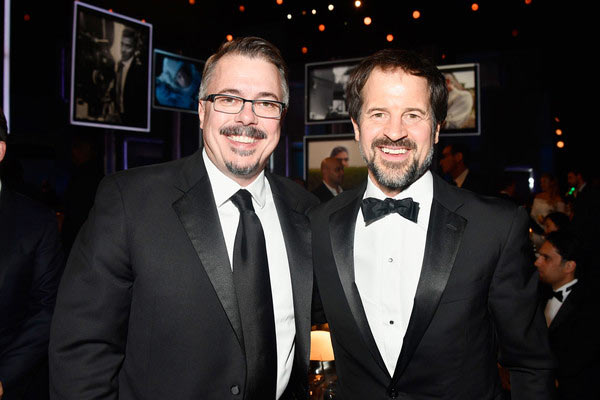 Doug MacLaren (Right) with "Breaking Bad" creator and client Vince Gilligan (Zimbio)
"There's a lot of ways we can keep things COVID-safe with what we do," shared MacLaren. "We are finding that scheduling Zooms with studios and big production companies is actually easier to get everyone together. In fact, it's a plus not having to drive to studios or companies across heavily trafficked Los Angeles. It's now easier to work with people's schedules including managing clients in multiple time zones and helping in work/life balance to take moments to relax.
While the pandemic has changed the way agents are working, studios and streaming services have already been changing the way they pick and choose their projects, MacLaren noted. "Studios like Sony and Warner Bros. are mostly looking for the pre-branded IP (Intellectual property). That shift has been going on for a long time as there is international value in it."
"For those of us who grew up loving dramas, comedies, and thrillers, that can be frustrating because of the narrowing of movies that are being made," he said. "The hope is that the streamers don't have to worry about the Box Office and streamers like Netflix are making everything from documentaries to sit-coms to replace your cable box."
On the other hand, MacLaren warned that the data streaming platforms collect can also be threatening. "My fear is, because I represent a diverse group of artists, is that they [streaming platforms] start to develop an echo chamber and say 'oh well if people are watching action comedies, let's make more action comedies and IP-driven blockbuster movies'."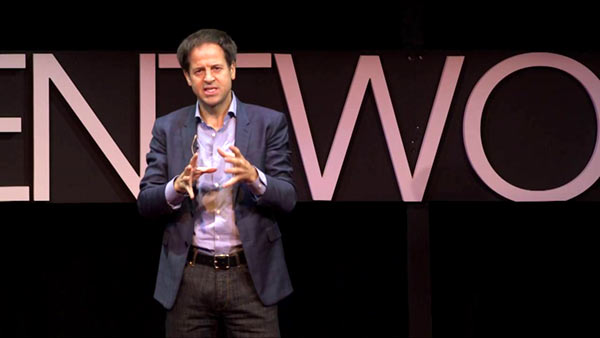 Still from Doug MacLaren's Tedx Talk "Primal Processing Power of Our Brains"
Laiter also asked MacLaren whether creatives and agents need to have more of a package, even if its middle names of talent, put together before showing it to studio or streamers for a project, to cut through the noise or send a screenplay unattached. "In general, yeah, we are taking things a bit further down the road before exposing them to studios," he revealed, noting that that the production can be easily imagined by studios if the project has the thoughtfulness and care already put into it. However, if the script is exactly what the studio or streamers are looking for- then yes, just send the screenplay."
Laiter then closed the conversation by thanking MacLaren for pulling back the curtain as to what is happening in the film industry right now and what his job entails. MacLaren replied that he was grateful to join the conversation and wished NYFA students and alumni the best of luck. "Keep making stuff. Keep writing stuff. This is an exciting time for the industry!"
New York Film Academy would like to thank ICM Partners' Doug MacLaren for sharing his time and film industry experience with NYFA students and alumni. To hear the full conversation with MacLaren's insight into the industry and what he thinks will become of movie theaters as a result of the pandemic.
To view the full conversation, view the video below or
click here
.
These guests are not faculty and do not teach at NYFA, but they have appeared to share their stories and experience with our students. As guest speakers are scheduled based on their availability, NYFA cannot guarantee whether a guest speaker will visit during a student's attendance or who that guest speaker may be. This guest speaker forum is not part of any NYFA curriculum and attendance at guest speaker events is purely voluntary. Students should be aware that guest speaker events do not represent a job opportunity nor are they intended to provide industry connections.