NEW YORK FILM ACADEMY (NYFA) WELCOMES ACTOR AND DIRECTOR MARK WEBBER FOR 'THE Q&A-List SERIES'
October 27, 2020
On October 22, 2020, New York Film Academy (NYFA) was excited to host a live video Q&A with actor and director
Mark Webber
to discuss directing his latest film
The Place of No Words
with NYFA students and alumni.
Tova Laiter
, Director of NYFA's Q&A-List Series, curated and moderated the event.
Webber has been nominated for multiple awards for directing and acting. He is known for roles in films such as Edgar Wright's
Scott Pilgrim vs. The World
, A24's
Green Room
, Gus Van Sant's
Don't Worry, He Won't Get Far on Foot
, and more. He has also come into his own as a fully-fledged director with his fifth film as director,
The Place of No Words
, receiving 'Best Film' at the Giffoni Film Festival and nominations at Tribeca Film Festival, Munich Film Festival, and the Philadelphia Film Festival.
Webber's unique, realistic approach to authentic storytelling began with his first feature,
Explicit Ills
, where he used elements from his real life and included family members in his cast. He has since cast all his movies that way.


Tova Laiter (Left) and Mark Webber (Right) for NYFA's Q&A List
Webber, who shared he was happy to be talking online with NYFA's students, recalled his upbringing with his teenage single mother and growing up homeless, citing that as a filmmaker he benefited from how he was raised as it allowed him to connect with different groups of people in the community. "These are the things I care about most in my life and I know how grateful I am to be in this position [an actor/director] because I know how vapid the industry can be."
The NYFA students and Laiter praised Webber for his recent film and asked him multiple questions about directing, his original filmmaking style, and honing his craft. "I started this process called 'reality cinema.' After screening my previous film,
The End of Love
at Sundance, I felt like I really found my voice. I am particularly fascinated by realism and acting in my own films. I paralleled a moment in the film where I cast my real father, who I hadn't seen in years, in a scene where we meet face-to-face in real-time. It is deeply fulfilling to get to work on things with people you love."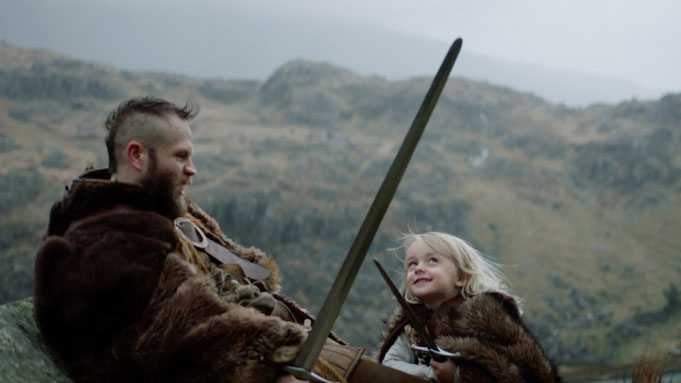 Still from 'The Place of No Words' - Mark Webber (Left) and Bodhi Palmer (Right)
Webber, who is compared by many critics to the likes of Terrence Malick (The Tree of Life) takes the viewer on a magical journey in his film
The Place of No Words
, in which a three-year-old (played by his son Bodhi Palmer) take a fantastical journey into the wood, to grapples with his father's (Webber) terminal illness - something he cannot make sense of in real-world terms. his wife, Australian actress Teresa Palmer plays the mother- a real family affair.
Laiter, who remarked how incredible Bodhi was in the film, asked Webber about directing and being a dad at the same time while on set and working alongside his family. "I can never stop being a dad. I have my dad hat on at all times and Bodhi's emotional well-being and safety is the top priority for me," he shared. "Some of the scenes, we would shoot as improv. There are moments of takes with that spontaneity anchored in the framework of the context of the story, so it allows for these moments that feel so authentic and so real take place in this film."
The film, part real and part fantasy, creates a colorful world for a child to begin to understand the biggest question of all, "Where do we go when we die?" Webber explained that he wanted the fantasy elements to still feel like reality. "I wanted it to honor the way I see my child's mind working. So many of the fantasy elements there are from stories that Bodhi and I would tell each other and from stories I tell my own children."
Webber's film pays off, being hailed by the likes of
Variety
and
The New York Times
calling it "sweet and personal."
New York Film Academy would like to thank actor and director Mark Webber for sharing his directing experience with NYFA students and alumni and encourages everyone to check out his beautiful and emotionally rich film,
The Place of No Words
, now available to watch on Amazon Prime, Google Play, and other streaming service providers.
To watch the full conversation, click
here
.
These guests are not faculty and do not teach at NYFA, but they have appeared to share their stories and experience with our students. As guest speakers are scheduled based on their availability, NYFA cannot guarantee whether a guest speaker will visit during a student's attendance or who that guest speaker may be. This guest speaker forum is not part of any NYFA curriculum and attendance at guest speaker events is purely voluntary. Students should be aware that guest speaker events do not represent a job opportunity nor are they intended to provide industry connections.