NEW YORK FILM ACADEMY (NYFA) WELCOMES AWARD-WINNING DIRECTOR SARAH PIROZEK FOR 'THE 20/20 SERIES'
December 10, 2020
On Wednesday, December 2, 2020, New York Film Academy (NYFA) had the pleasure of welcoming award-winning director
SARAH PIROZEK
as part of The 20/20 Series, created by NYFA's Creative Director of Filmmaking and
Cinematography
, Liz Hinlein. The conversation was moderated by Hinlein and was held virtually, allowing individuals to join NYFA and the special guests from all over the world.
The 20/20 Series, created by Hinlein, is a virtual pop-up event that takes us into the homes, hubs, and workspaces of an array of dynamic creative visionaries to allow for relaxed, engaging conversations on craft, creation, and artistic vision.

Liz Hinlein (Left) and Sarah Pirozek (Right) for The 20/20 Series
Sarah Pirozek
is an award-winning Writer/Director/Producer with a fine arts and documentary background. Her original feature,
#LIKE
, is currently earning accolades and winning "Best Script," "Best Director," and "Best Actor" awards at multiple film festivals. Pirozek has several projects in development including her autobiographical, original script,
The Squatters Handbook
, her 1/2 hour TV pilot,
Rockaway
, and the documentary
The Coffee and Cream Club
. Her short,
Confessions of a Girl Who Never Received a Visitation From The Sacred Heart
screened at the London International Film Festival.
She has directed shorts, music videos, and over 100 commercials, as well as programming for The Sundance Channel, MTV, VH1, PBS, HBO, NAT GEO, AMC, BBC, and Channel Four TV in London. She also co-created the TV show,
Crafty,
for the Discovery Channel. Her other projects include the feature
Free Tibet
, featuring the Foo Fighters, Bjork, De La Soul, among many others, which was picked up after winning the "Best of Fest" award at The Edinburgh International Film Festival, and as a producer, the indie feature
Flora
, premiering at LA's Outfest, winning Showtime's "New Talent Award," distributed by Regent Entertainment.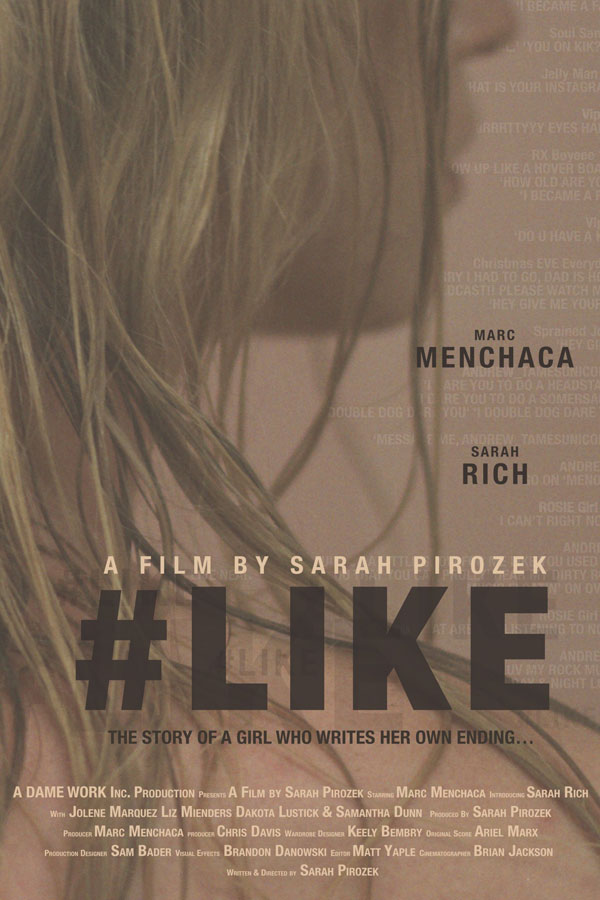 Film poster for "#LIKE"
Hinlein opened up The 20/20 Series with Sarah Pirozek by showing a trailer for Pirozek's film
#LIKE
and urged the audience to guess how high the budget was for the film. With such a stunning portraiture of characters, story, and frames captured, the audience was shocked to learn that the film was made on a microbudget.
Hinlein and Pirozek began to discuss what directors, producers, and others need to do to produce a quality film on such a small budget without making it look like a small budget. Pirozek shared that she thinks about those things early on in her writing process. "For
#LIKE
, I thought 'okay well I have access to this scary basement, what can I write there?' Knowing that the budget was going to be low with my first narrative feature, I had to work with what I had."
But it isn't just the budget in her head when she is writing, it's her actors too. Marc Menchaca (
Ozark, The Sinner
), who plays one of her leads in #LIKE, was the actor she had in mind to play The Man when she was drafting her script. "When I met him, I said 'i'm going to write a script for you' and he said 'okay great,' and six months later I brought him the script and he read it and said that he would do it."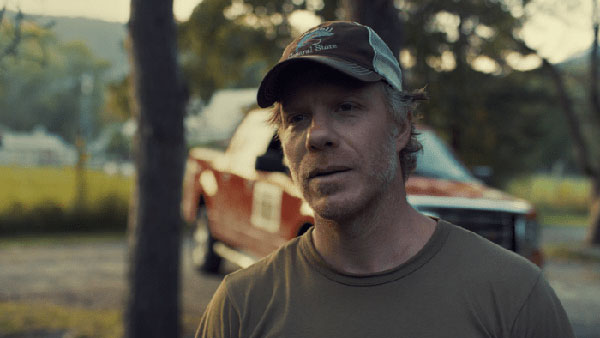 Marc Menchaca as The Man in "#LIKE"
While working with a small budget, Pirozek shared that can sometimes impact your casting and the time you have with them prior to filming. "We did have the opportunity in the casting sessions, but we had no official rehearsals," she shared. "A lot of actors with stage experience like a lot of rehearsal but a lot of TV actors like it to be fresh, which is what we had to do. I think it would have been great to rehearse a bit more, but unless you have a ton of time to work with the actors, then it's best to work with them fresh and fine-tune it as you go along."
While Pirozek had every confidence in her cast, she shared with all the aspiring filmmakers listening to the conversation that when it comes to getting your film bought and distributed you are likely to find greater success with well-known names. "If you don't have a name in your film, think about how you can pitch your cast. Sarah Rich, my lead actor, had a cameo in
Orange is The New Black
and
Law & Order
, and we ended up marketing her as one of those names in the credits as 'Introducing…' to make it feel like an event or showcase for this new talent, and it's true, she is incredible."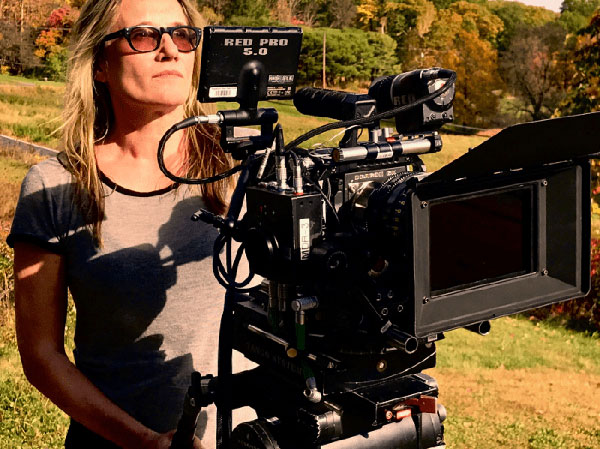 Sarah Pirozek on set
Finding an actor like Sarah (Rich) among so many actors was no easy task, but Pirozek reminded the audience that it's about being "very clear" about what you are looking for when sharing a casting call and making it a role anyone (including an A-lister) would want to play. "Rewind to your script and write interesting characters. Ask:
Who is your character? Are they developed? Are they someone your actor can sink their teeth into?
"
New York Film Academy would like to thank special guest Sarah Pirozek for joining the NYFA global community to discuss creating an award-winning film on a micro-budget for The 20/20 Series, created by and moderated by Liz Hinlein. Pirozek's film,
#LIKE
is set to be screened at the Woodstock Film Festival and will also be available on
a/ptr
through January 31, 2021.
To watch the full conversation, click the video below or
click here.
These guests are not faculty and do not teach at NYFA, but they have appeared to share their stories and experience with our students. As guest speakers are scheduled based on their availability, NYFA cannot guarantee whether a guest speaker will visit during a student's attendance or who that guest speaker may be. This guest speaker forum is not part of any NYFA curriculum and attendance at guest speaker events is purely voluntary. Students should be aware that guest speaker events do not represent a job opportunity nor are they intended to provide industry connections.