NEW YORK FILM ACADEMY (NYFA) WELCOMES AWARD-WINNING PRODUCER GRETCHEN MCGOWAN FOR 'THE 20/20 SERIES'
September 1, 2020
On Wednesday, August 19, 2020, New York Film Academy (NYFA) had the privilege of hosting award-winning producer
GRETCHEN MCGOWAN
as part of The 20/20 Series, created by NYFA's Creative Director of Filmmaking and
Cinematography
, Liz Hinlein. The conversation was moderated by Hinlein and was held virtually, allowing individuals to join NYFA and the special guests from all over the world.
The 20/20 Series, created by Hinlein, is a virtual pop-up event that takes us into the homes, hubs, and workspaces of an array of dynamic creative visionaries to allow for relaxed, engaging conversations on craft, creation and artistic vision.

Gretchen McGowan (Left) and Liz Hinlein (Right) for 'The 20/20 Series'
Gretchen McGowan is an award-winning producer and the Head of Production for Goldcrest Features in New York City where she has overseen the titles
Carol, Mojave, Slumber, Restrepo, Carrie Pilby
and
Danger, Close
. McGowan has collaborated with Sebastian Junger on five films and she is now completing
Blood on the Wall
with Junger and Fisher Stevens, a documentary feature to premiere September 30th on National Geographic.
McGowan independently produced Jim Jarmusch's
The Limits of Control
, a Focus Features release and Magnolia Pictures'
American Swing
. While Head of Production with Mark Cuban's HDNet Films, Blow Up Pictures and Open City Films she supervised over 25 features including
Redacted, Enron, Broken English, Bubble, Lovely and Amazing
, and
Coffee and Cigarettes
. Her work as a freelance producer includes the Oscar-nominated
Dancemaker, Buffalo '66, Two Girls and a Guy, American Psycho
and
Heavy
.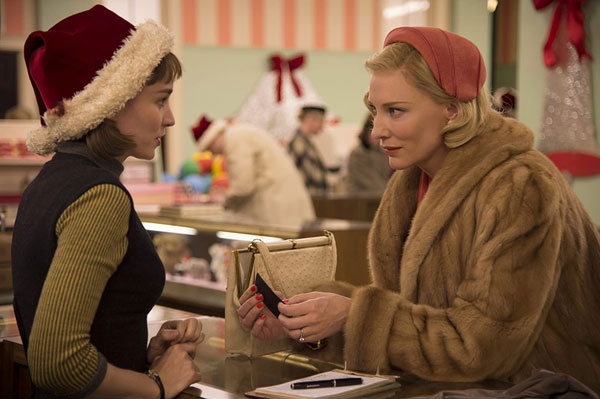 Rooney Mara and Cate Blanchett in 'Carol' (Production Manager: Gretchen McGowan)
Hinlein began the conversation by asking McGowan about her role as Head of Production at GoldCrest Features. "If somebody brings a project to us [at Goldcrest], I am the one to sort of hold their hand through the process of seeing that project come to life and decide if it's a good fit for our production company," shared McGowan.
She also explained that, generally, when she receives a project she thinks about the relevance of the story in time, noting that, "you may have a great script for the moment, but it begs the question of, once production is finished, will the story still be well received by an audience?"
As for what McGowan finds incredibly satisfying about her job, she shared that it's all about the talent you pull together for the project. "I think putting together the crew is the most rewarding part of putting together a film. I can't always be on set all the time as Head of Production, but I need to build the team for the producer and director that can and will deliver."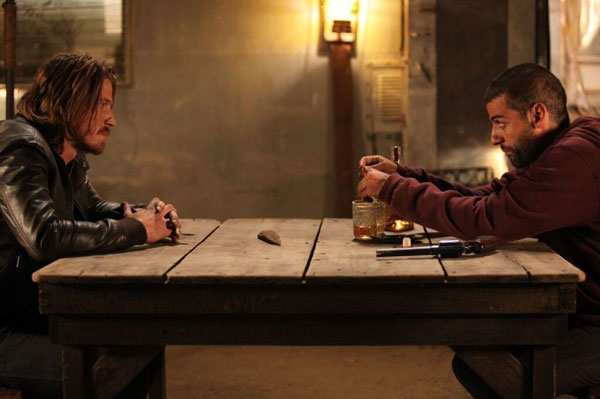 Garrett Hedlund (Left) and Oscar Isaac (Right) in 'Mojave' (Gretchen McGowan, Head of Production)
McGowan explained that in the long run, producing is a profession where knowing the fundamentals helps to understand the process and the scale of each film or production. "One of my first jobs was as an assistant editor working with celluloid, so you had to understand that aspect of post-production," shared McGowan, noting that it's in the fundamentals of the process like post-production in which the film or project is actually made.
She also answered an audience question that asked how much or how little producers and directors should know or understand about each other's roles. "Well, on a low-budget film the director is a producer," she joked, "but you would like to be able to turn that side of yourself off and focus on your cast and more. I don't think it is such a bad thing that a director understands what a producer has to go through or for a producer to understand what a director has to go through."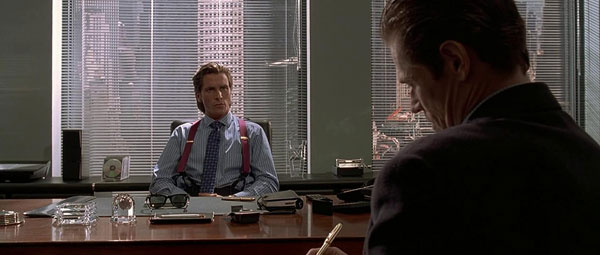 Christian Bale (Left) and Willem Dafoe (Right) in 'American Psycho' (Gretchen McGowan, Line Producer)
McGowan also addressed questions regarding what Goldcrest and other production houses have been focused on since the COVID-19 pandemic hit. "Documentaries have been at the forefront of projects we are working on at the moment as we try to make everything work safely," she explained. "I think we are still a ways away before being able to do a full narrative production. I feel like many of the projects I am seeing now that are a bit complicated (casting, financing, etc) are going to be made in late 2021."
Hinlein closed the conversation by asking McGowan if there was a project that she had worked on that continued to stand out to her as life changing to which McGowan responded: "I loved going on location and scouting and things like that. I scouted for a film called Three Seasons and put together a location book for how to make a movie there, and I loved that challenge. It terrifies me, but that's what makes your heart beat."
As for what can make a great producer, McGowan revealed: "Good producers attract great material. A good producer will also have a film or two in their arsenal that they have completed soup to nuts."
New York Film Academy would like to thank Gretchen McGowan for joining the NYFA global community to discuss the Head of Production role and the processes production companies go through to select a script for The 20/20 Series, created by and moderated by Liz Hinlein.
To watch the full conversation, view the video below or watch on our
Youtube channel
.
These guests are not faculty and do not teach at NYFA, but they have appeared to share their stories and experience with our students. As guest speakers are scheduled based on their availability, NYFA cannot guarantee whether a guest speaker will visit during a student's attendance or who that guest speaker may be. This guest speaker forum is not part of any NYFA curriculum and attendance at guest speaker events is purely voluntary. Students should be aware that guest speaker events do not represent a job opportunity nor are they intended to provide industry connections.