NEW YORK FILM ACADEMY (NYFA) WELCOMES CONTENT ENTREPRENEUR JOANNA BOWZER FOR 'THE 20/20 SERIES'
October 29, 2020
On Wednesday, October 28, 2020, New York Film Academy (NYFA) had the honor of welcoming content entrepreneur
JOANNA BOWZER
as part of The 20/20 Series, created by NYFA's Creative Director of Filmmaking and
Cinematography
, Liz Hinlein. The conversation was moderated by Hinlein and was held virtually, allowing individuals to join NYFA and the special guests from all over the world.
The 20/20 Series, created by Hinlein, is a virtual pop-up event that takes us into the homes, hubs, and workspaces of an array of dynamic creative visionaries to allow for relaxed, engaging conversations on craft, creation, and artistic vision.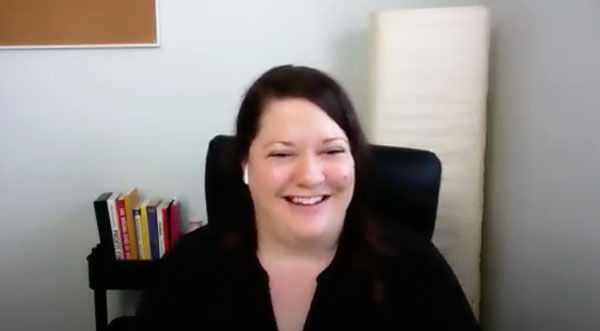 Joanna Bowzer for The 20/20 Series
Joanna Bowzer is a Los Angeles-based content entrepreneur with creative projects in film, theater, and immersive storytelling. Throughout her career, she has worked with start-ups focused on digital media and premium online content and education. She continues to work with new companies, content entrepreneurs, and performing artists, helping them build branding, business development, career, and marketing strategies.
As writer and director, Bowzer's work has been called both "bold, inspiring and a breath of fresh air" and "casually sardonic" by the
New York Theater Review
and
LA Weekly
, respectively. Her films have won awards at over a dozen festivals, and have been shown at over forty, including Slamdance Film Festival, Palm Springs International Film Festival, Catalina International Film Festival, New York City International Film Festival, Manhattan Film Festival, and New York Shorts Fest.
Hinlein introduced Bowzer as a self-starter and applauded her work ethic as both an entrepreneur and a filmmaker. Bowzer then encouraged the audience to start thinking of themselves as a startup when in the film business. "That entrepreneurial spirit working with business development, marketing, and operational strategies helped propel me as a filmmaker because as filmmakers we are essentially startups."
Bowzer also spoke on what it can be like for artists trying to get their foot in the door though they may not have much experience in a particular field. "In my very first interview to be hired as a screenwriter, part of that conversation was me mentioning I wanted to be a producer on the project because I had all this experience in the business world and they said 'okay.' That background I had in a different industry made me accelerate even though I didn't have much of a film background," she revealed.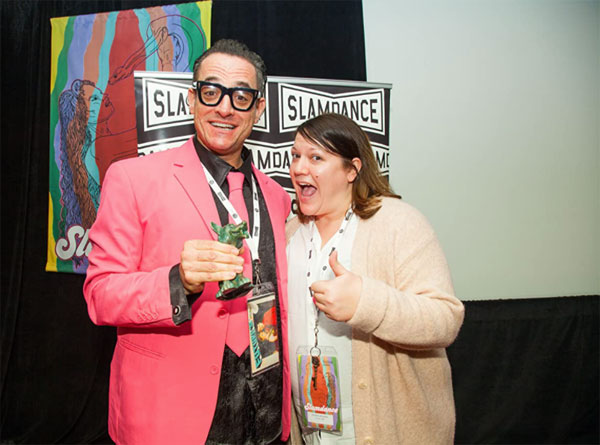 "Audience Award for Beyond Feature: "Future '38" (Jamie Greenberg and Joanna Bowzer)
Bowzer also divulged how she went about molding her work ethic in the business as she began navigating this new world. "I needed to think about marketing and how I was setting myself up financially like a business," she began. "It starts to reshape your perspective (being in a startup) - the process of iterating. Rather than focusing on R&D, a startup will put something out and reiterate. For example, you may not start out with a feature, but you may put little content pieces out at a time before you can get your short film or feature out there."
Hinlein then asked Bowzer to explain her coined phrase "making a bold request." Bowzer laughed then shared: "It's making a request in a way that leaves the other person (producer, filmmaker, screenwriter, etc) really aware of the opportunity your work can be for them." In other words, it allows you to better understand "
what does this person need.
" Then you can create the opportunity for yourself to be the solution for that pain point.
New York Film Academy would like to thank Joanna Bowzer for joining the NYFA global community to discuss the entrepreneurial side of the filmmaking business and for sharing her hot tips for becoming business-minded filmmakers for The 20/20 Series, created by and moderated by Liz Hinlein. To watch the full conversation, view the video below or watch on our
Youtube channel
.
These guests are not faculty and do not teach at NYFA, but they have appeared to share their stories and experience with our students. As guest speakers are scheduled based on their availability, NYFA cannot guarantee whether a guest speaker will visit during a student's attendance or who that guest speaker may be. This guest speaker forum is not part of any NYFA curriculum and attendance at guest speaker events is purely voluntary. Students should be aware that guest speaker events do not represent a job opportunity nor are they intended to provide industry connections.