NEW YORK FILM ACADEMY (NYFA) WELCOMES ACTOR DENIS O'HARE AND WRITER, DIRECTOR, PRODUCER SARAH PIROZEK
April 23, 2020 On Wednesday, April 15, New York Film Academy (NYFA) had the esteemed honor to host actor Denis O'Hare and writer, director, and producer Sarah Pirozek as part of The 20/20 Series, created by NYFA's own Creative Director of Filmmaking and Cinematography, Liz Hinlein. The conversation was moderated by Hinlein and was held virtually, allowing individuals to join NYFA and the special guests from all over the world.

The 20/20 Series, created by Hinlein, is a virtual pop-up event that takes us into the homes, hubs, and workspaces of an array of dynamic creative visionaries to allow for relaxed, engaging conversations on craft, creation and artistic vision. The event began with all guests introducing their key theme of the session, "Creativity and Compromise."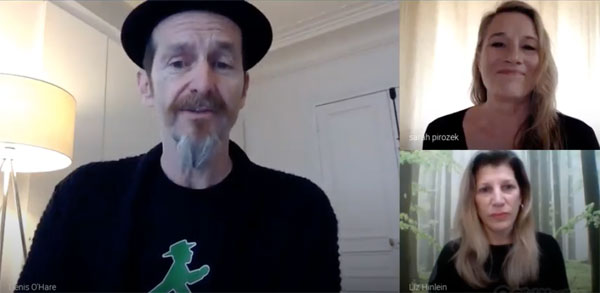 Denis O'Hare, Sarah Pirozek, and Liz Hinlein speak virtually on "Creativity vs. Compromise"
Special guest Denis O'Hare is a three-time Emmy Award nominee and Tony nominee, whose acting credits span across film, television, and theatre productions including
Dallas Buyer's Club, Garden State, American Horror Story, The Good Wife, Milk
, and many more. During the discussion, O'Hare was joined by Sarah Pirozek, whose career includes directing hip-hop music videos, award-winning national commercials, documentaries and feature films, including her debut feature,
#LIKE
, which recently screened at multiple festivals, winning 'Best Producer', 'Best Script' and a nomination for 'Best Indie.'
Hinlein, who moderated the event, kicked off the discussion by commenting on the collaboration process that occurs when acting in or creating a film and began with discussing O'Hare's directorial debut film
The Parting Glass
, which he also wrote and produced. "Until I made this movie [
The Parting Glass
], I never really got that movies are collaborative and it's not my movie," says O'Hare. "It is the movie made by the guy who did the music, and the woman who did the brilliant job on the sets, and the DP [Director of Photography]."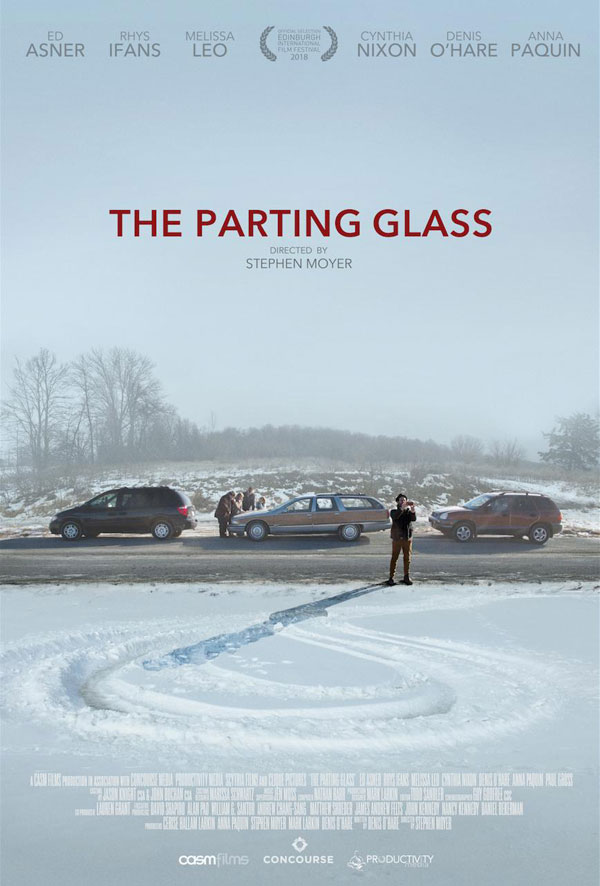 Film poster for 'The Parting Glass'
Hinlein also directly asked O'Hare what it is like individually for an actor to contribute to the ensemble of an entire project. "When you're on stage you can definitely upstage somebody, but it is hard to do that for a film," he begins, "ultimately, everyone is there for a reason. It doesn't have to be a competition." O'Hare and Pirozek then went on to explain that at the end of the day, everyone is striving to do the best possible work for each project they come in contact with.
The conversation continued with Pirzoek commenting on how building out a scene or an entire film is all about compromise. "You have to, as a creative, have to have an incredibly strong ego, but then you also have to be able to tell that ego to take a backseat." She continued, "you have to be strong enough to continue and weigh out when I can fight for something that I think is correct and when I go
'oh that's just my ego talking'
. I don't need to win an argument. What I need to do is do the right thing for the project."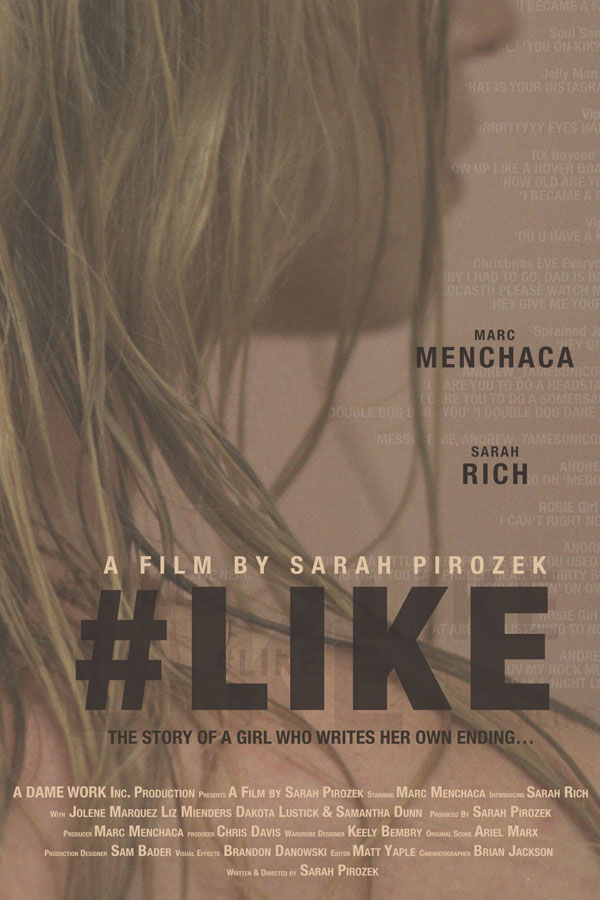 Film poster for Sarah Pirozek's debut feature film '#Like'
The conversation then steered from the collaboration process in film to the creativity process for many creators and performers, causing Hinlein to pose the question to both O'Hare and Pirozek on what their thoughts were regarding young and upcoming actors who perhaps underplay their performance due to not having the direction they need for a role.
O'Hare responded, "If everytime you are on camera and you are underplaying, you probably aren't reading the script." He went on to explain that instead, "you are creating a brand for yourself" instead of doing the character justice. O'Hare, who is a character actor himself, especially for FX drama
American Horror Story
, says that sometimes it does make sense to play a version of yourself in a movie and, in a sense, "underplay" the role. He notes, however, that choosing not to explore a role's character further is limiting to yourself and the project.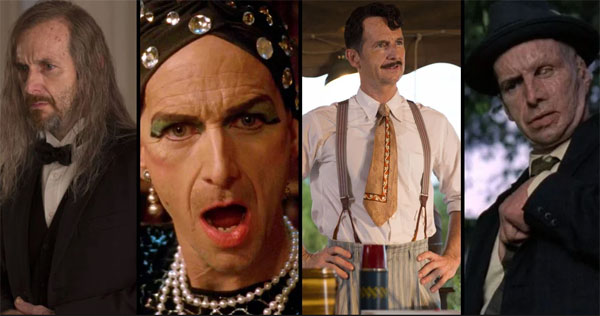 Denis O'Hare's characters from American Horror Story (Photo Credit: Screen Rant)
The conversation came to a close with a thought provoking remark by O'Hare on collaborating with other creators and artists to bring their projects to life. "My favorite projects in the world are ones that haven't succeeded," says O'Hare. "At the end of the day you have to ask yourself 'what are you proud of?'"
New York Film Academy would like to thank Denis O'Hare and Sarah Pirozek for taking the time to speak on their creative processes for the 20/20 Series, created by and moderated by Liz Hinlein.
These guests are not faculty and do not teach at NYFA, but they have appeared to share their stories and experience with our students. As guest speakers are scheduled based on their availability, NYFA cannot guarantee whether a guest speaker will visit during a student's attendance or who that guest speaker may be. This guest speaker forum is not part of any NYFA curriculum and attendance at guest speaker events is purely voluntary. Students should be aware that guest speaker events do not represent a job opportunity nor are they intended to provide industry connections.