NEW YORK FILM ACADEMY (NYFA) WELCOMES AWARD-WINNING DIRECTORS NICOLE KASSELL AND SARAH PIROZEK FOR 'THE 20/20 SERIES'
September 04, 2020
On Wednesday, August 26, 2020, New York Film Academy (NYFA) had the honor of welcoming award-winning directors
NICOLE KASSELL
and
SARAH PIROZEK
as part of The 20/20 Series, created by NYFA's Creative Director of Filmmaking and
Cinematography
, Liz Hinlein. The conversation was moderated by Hinlein and was held virtually, allowing individuals to join NYFA and the special guests from all over the world.
The 20/20 Series, created by Hinlein, is a virtual pop-up event that takes us into the homes, hubs, and workspaces of an array of dynamic creative visionaries to allow for relaxed, engaging conversations on craft, creation and artistic vision.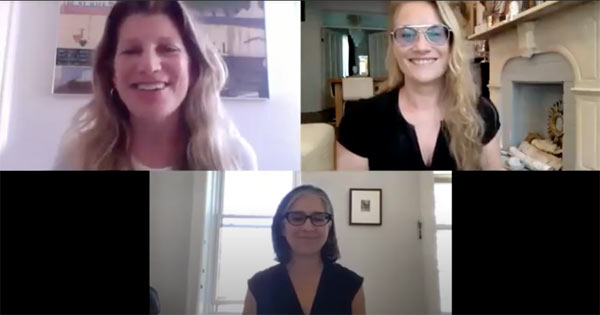 (Clockwise) Liz Hinlein, Sarah Pirozek, and Nicole Kassell for 'The 20/20 Series'
Nicole Kassell
is a DGA Award-winning and Emmy-nominated filmmaker. Kassell, who won a DGA Award this year for her work on the
Watchmen
pilot, also directed episodes two and eight of the series and is nominated in this year's Primetime Emmy Awards for directing the show. In addition to
Watchmen
, Kassell has directed episodes of many critically praised series, including
Westworld, The Leftovers, The Killing, The Americans, The Following,
and
Rectify
. She is set to direct the upcoming feature film Silver Seas as well as The Last of the Mohicans series for HBO Max for which she is also an executive producer.
Returning guest
Sarah Pirozek has helmed over 100 award-winning commercials, multiple music videos, and produced three features including: indie feature Flora and her award-winning documentary feature film
Free Tibet
, which she also directed. She has written two features, a series and a collection of short stories, and has directed, produced and written TV programming & web content for the Sundance Channel, NAT GEO, PBS, HBO and The UK's Channel Four TV. She is a DGA member in good standing, and has recently made her dramatic feature debut with her script
#LIKE.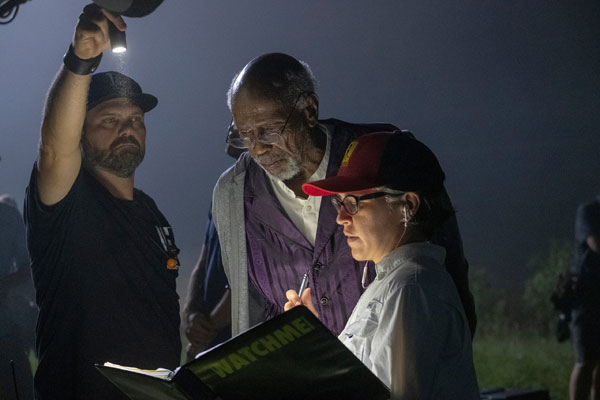 Nicole Kassell behind the scenes of shooting 'Watchmen'
Hinlein began the discussion by asking both directors how they became the directors they are today. "The only thing I wanted to do in my career was be a director," shared Kassell. "For her first feature film,
The Woodsman,
she recalled telling Lee Daniels that it needed to be her to direct her own script. "I knew if I didn't direct that script, I would never get a shot [at directing]."
Pirozek, who is currently on her festival run for her film
#LIKE,
shared that she was inspired by Kassell and her drive to direct her own projects and completely own them. "You hear 'why don't we get this person to direct' and you have to say 'no, this is my film'."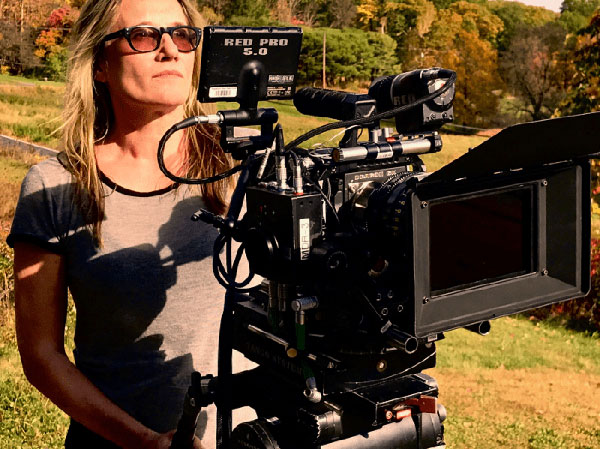 Director Sarah Pirozek shooting on location
Hinlein also inquired about what it's like working with actors throughout the production process and asked Kassell and Pirozek to elaborate on their own personal preference. "I try to put myself in the actor's shoes," shared Kassell. "As an episodic director, I make sure that I have seen or read every episode up to mine so my actors know I have seen and felt everything they have been through." Pirozek agreed and added: "The best thing you can do is stay out of your actor's way. They know what they're doing, you just need to tweak it [as the director]."
Both directors also shared how important the research process is for not only their actors to understand, but for directors to grasp the characters as well, not just tweak actors' performances. As an example, Kassell explained that she worked closely with Regina Hall in discussing her character's history to elevate both the director and actor's understanding of the character.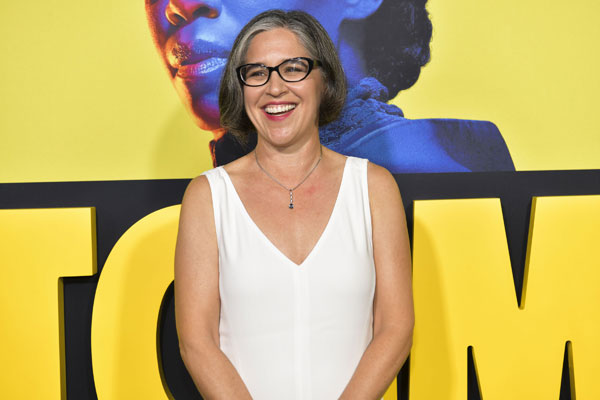 Nicole Kassell at HBO's 'Watchmen' premiere
As for how to motivate your actors as a director, Kassell revealed that her directorial style is not about motivating her actors. "If someone has the job they should be ready to work on set. Even if they nail it on the first take, I still want to see their range and if they can take direction and play."
Pirozek agreed with Kassell, also adding the importance of trusting your actors to do their job just as they trust the director to do theirs: "It's about creating an atmosphere of love and trust (like a family) and I [as the director] want everyone to win."
Nicole Kassell shared her full lookbook she created for 'Watchmen' on social media
In addition to character prep, both directors noted the importance of the entire production process and always coming to set as prepared as you possibly can. "You have to be incredibly prepared," said Pirozek. "You have to make sure people feel comfortable and everything is appropriate for the situation."
Kassell, who shared her application process for becoming a director on
Watchmen
, recalled having to think through "acting, casting, lighting, props, production design...everything." Before pitching herself as a director for the show, she was able to read the pilot script so she could map out her vision in a
lookbook
that eventually got her the job, and now she is an Emmy-nominated director.
"I went on an insane ride from reading that pilot script. It felt like a visual version of Queen's 'Bohemian Rhapsody' to me," shared Kassell. "Did I have to sell my vision? Yes. Writers can be very subjective at that point [when pitching]. That's why I created a lookbook, so it shows them 'if you hire me, here's what you're going to get'. One of my most proud moments was seeing the pilot [for Watchmen] air and looking back at my lookbook and seeing everything there."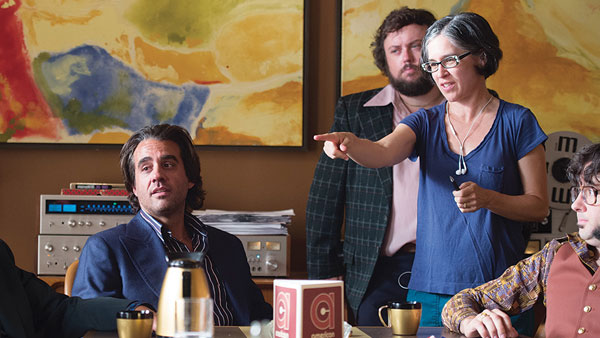 Kassell (Right) directing Bobby Cannavale on set for 'Vinyl'
In closing remarks, both Kassell and Pirozek urged the global audience to never be afraid to bend the rules as filmmakers and create what they love and want to watch.
New York Film Academy would like to thank Nicole Kassell and Sarah Pirozek for joining the NYFA global community to discuss preparation as a director and how to approach working with your actors for The 20/20 Series, created by and moderated by Liz Hinlein.
To watch the full conversation, view the video below or watch on our
Youtube channel
.
These guests are not faculty and do not teach at NYFA, but they have appeared to share their stories and experience with our students. As guest speakers are scheduled based on their availability, NYFA cannot guarantee whether a guest speaker will visit during a student's attendance or who that guest speaker may be. This guest speaker forum is not part of any NYFA curriculum and attendance at guest speaker events is purely voluntary. Students should be aware that guest speaker events do not represent a job opportunity nor are they intended to provide industry connections.