NYFA INSTRUCTOR AND DIRECTOR OF PHOTOGRAPHY TOMMY MADDOX-UPSHAW, ASC IN CONVERSATION FOR THE 20/20 SERIES
March 18, 2021
On Wednesday, March 3, New York Film Academy (NYFA) welcomed NYFA Cinematography instructor and Director of Photography
TOMMY MADDOX-UPSHAW
, ASC as part of The 20/20 Series, created by NYFA's Creative Director of Filmmaking and
Cinematography
, Liz Hinlein. The conversation was moderated by Hinlein and was held virtually, allowing individuals to join NYFA and the special guests from all over the world.
The 20/20 Series, created by Hinlein, is a virtual pop-up event that takes us into the homes, hubs, and workspaces of an array of dynamic creative visionaries to allow for relaxed, engaging conversations on craft, creation, and artistic vision.

Liz Hinlein (Left) and Tommy Maddox-Upshaw (Right) for The 20/20 Series
Tommy Maddox-Upshaw is currently lensing the sixth season of Fox's hit series
Empire
for creators Lee Daniels and Danny Strong. He recently wrapped shooting the third season of FX's
Snowfall
, chronicling the crack cocaine epidemic in 1980s Los Angeles. Previously, Maddox-Upshaw shot the second season of Netflix's breakout hit
On My Block
and the first season of
Huge in France
, also for Netflix, starring Gad Elmaleh as a successful French comedian who moves to the U.S. and suddenly finds he's no longer a star.
Prior to his run of Netflix shows, he lensed BET's
The Comedy Get Down
for director Stan Lathan as well as the first season of Tales for creator Irv Gotti. For features, Maddox-Upshaw shot
Kalushi: The Story of Solomon Mahlangu
for director Mandla Dube, an official selection at the 2017 Camerimage Festival. He is a
Cinematography
instructor at New York Film Academy's Los Angeles campus.
Tommy Maddox Upshaw shooting "Kalushi"
"NYFA means a lot to me and has been my laboratory for years," began Maddox-Upshaw when asked about his work as an instructor in the
Los Angeles
Cinematography department. "It has helped me approach my projects like
Snowfall
and
On My Block
."
Maddox-Upshaw discussed with Hinlein how all cinematographers have different visions and can go through different phases in their career using Roger Deakins as an example, who shot both
Blade Runner 2049
and
The Shawshank Redemption
; two totally different films with different styles of photography.
"It's definitely about what is on the page of the script. As cinematographers [Liz], our visions wouldn't look the same. We wouldn't be chosen necessarily for the same thing. Different artists have different ways of approaching things and I think it's more about what's important for the script," he explained.
As for what style Maddox-Upshaw is focused on right now, he shared: "I like to express through color. My style is very much based on visiting my foundation into the film business altogether, leaning into the colorfulness of the hip hop music videos I was introduced to in the business from the 90s."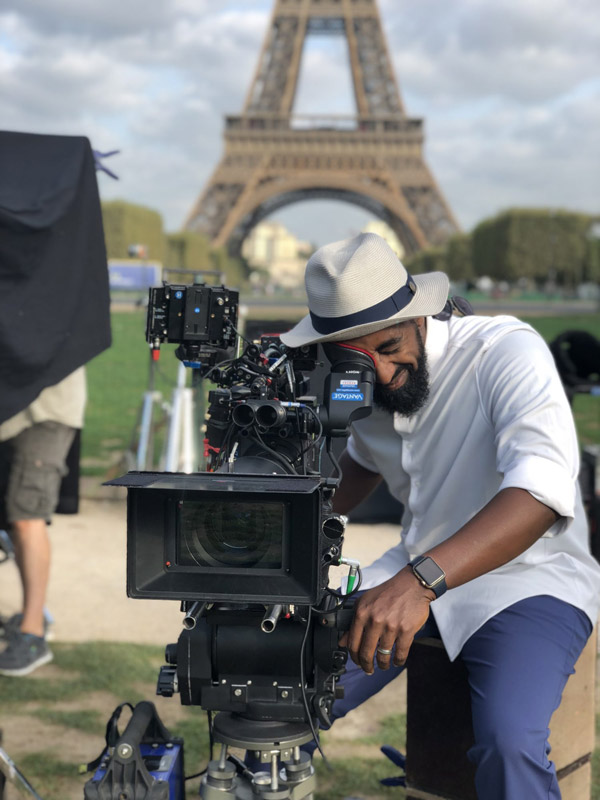 Leading up to Maddox-Upshaw's work on the hit show
Snowfall
, the NYFA instructor worked on a show on BET called
Tails
, an anthology hip hop show where each week there was a different story. "I had different approaches for each episode depending on the music. That show and
On My Block
set the foundation for me going into
Snowfall
." Maddox-Upshaw also shared that it was the late John Singleton (
Boyz n The Hood, Poetic Justice
) who brought Maddox-Upshaw onto the show and the rest is history.
A member of the audience then asked Maddox-Upshaw about whether film school can be a good choice for someone pursuing a career in filmmaking to which Maddox-Upshaw shared that ultimately, it is a good investment. "What you are paying for in film school is the critique. It's about understanding your decision-making. I think it's good and it helps you understand the story, structure, arcs, and why you are making the decisions that you are."
Maddox-Upshaw shared important insight as to how he shoots Black and Brown skin tones on a film camera, an important part of being a DP that Maddox-Upshaw approaches very carefully and urged the audience to study.
New York Film Academy would like to thank Tommy Maddox-Upshaw, ASC for joining the NYFA global community to discuss everything from how he got started in the business to shooting the hit series
Snowfall
for The 20/20 Series, created by and moderated by Liz Hinlein.
These guests are not faculty and do not teach at NYFA, but they have appeared to share their stories and experience with our students. As guest speakers are scheduled based on their availability, NYFA cannot guarantee whether a guest speaker will visit during a student's attendance or who that guest speaker may be. This guest speaker forum is not part of any NYFA curriculum and attendance at guest speaker events is purely voluntary. Students should be aware that guest speaker events do not represent a job opportunity nor are they intended to provide industry connections.