NEW YORK FILM ACADEMY (NYFA) WELCOMES ACCLAIMED EXECUTIVE PRODUCER AND DIRECTOR MARCOS SIEGA 'THE 20/20 SERIES'
August 17, 2020 On Wednesday, August 5, New York Film Academy (NYFA) had the honor of welcoming acclaimed executive producer and director MARCOS SIEGA as part of The 20/20 Series, created by NYFA's Creative Director of Filmmaking and Cinematography, Liz Hinlein. The conversation was moderated by Hinlein and was held virtually, allowing individuals to join NYFA and the special guests from all over the world.

The 20/20 Series, created by Hinlein, is a virtual pop-up event that takes us into the homes, hubs, and workspaces of an array of dynamic creative visionaries to allow for relaxed, engaging conversations on craft, creation and artistic vision.

Marcos Siega (Left) and Liz Hinlein (Right) for The 20/20 Series
Marcos Siega is a film, television, commercial and music video director. He is known for directing such acclaimed television series as
Dexter, True Blood, Veronica Mars, Tyrant, Blindspot
, and
The Following
. He directed the Pilot episodes (and served as the Executive Producer/Director) of
Vampire Diaries, Charlie's Angels, The Following, The Passage
, and
God Friended Me.
He also served as executive producer on NBC's
Outlaw
, Netflix's
YOU
, and, more recently, Siega directed and executive produced the pilot for CW's
Batwoman.
He produced and directed the independent film,
Pretty Persuasion
, starring Evan Rachel Wood, Selma Blair, Jane Krakowski, and Ron Livingston, which was nominated for the Grand Jury Prize at the 2005 Sundance Film Festival. Siega has also directed award-winning music videos for artists such as Weezer, Blink-182, All American Rejects, System of a Down, and Papa Roach to name a few. He has also directed commercials for Guinness Beer, Doritos, Microsoft, and Yahoo.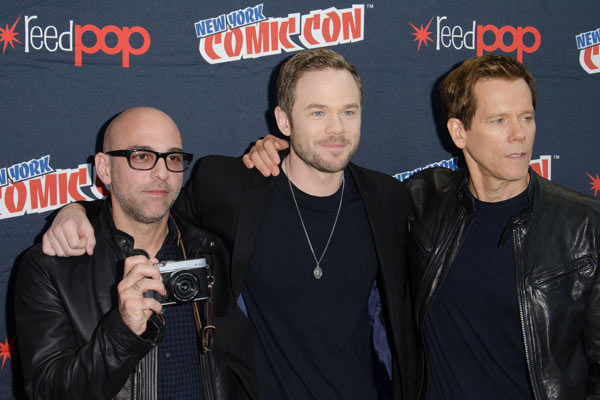 Marcos Siega (Left) with Shawn Ashmore (Middle) & Kevin Bacon (Right) for 'The Following' at NY Comic Con
Hinlein began the discussion by asking Siega about what makes a "good" director. Siega responded: "Good directors are great storytellers and great communicators, who can articulate a vision on the technical side. At the heart of it though, it is about being able to tell a story and getting great performances out of people."
"Communication," Siega noted, "is an important quality as you need to be able to get your vision out with your team to execute that vision, especially when it comes to directing television," which, Siega explained, "isn't always an easy task."
"It can be difficult because you can't always choose your script, so you need to fall in love with what you get scene by scene and do your homework on the show (what the expectations are, how they play scenes out, what camera equipment you can use). For a guest TV director, you're typically looking for a TV director who can elevate the material, but you are still playing in their sandbox, so you still have to go in knowing what they're [the studios] expectations are."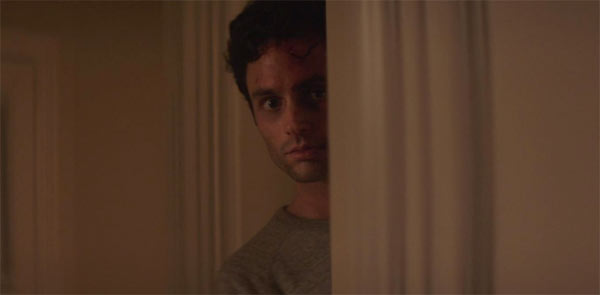 Penn Badgley in 'YOU' season one, episode six (Dir. Marcos Siega)
Hinlein, who joined Siega on set while he was a director for Netflix series
YOU
, recalls that he didn't know how he was going to shoot everything the day of an important sequence held in a large mansion. Siega, who always comes prepared on set with his own notes, had quickly realized that one specific scene needed some changes due to the scale of the scenes being shot; noting to the audience that you must always come prepared, but you need to be able to adapt quickly if needed.
"When doing television, I prepare a lot and I have a shot list and my notes in my script in my own shorthand and I communicate with my team. I also know that, if I decide to turn around and change everything the day-of, I need to ask 'what's the domino effect going to be' [for the team]," which Siega had to consider while shooting a scene like the one in
YOU
, where things needed to quickly pivot and change in the moment.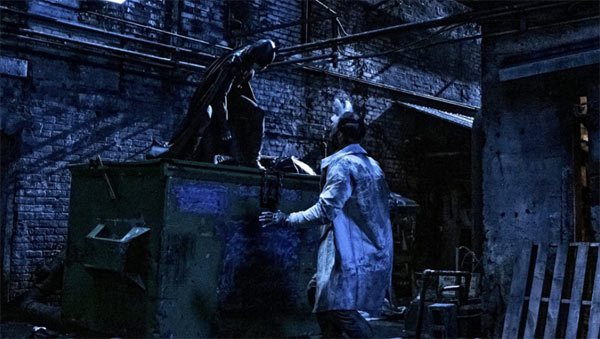 Ruby Rose in 'Batwoman' episode "The Rabbit Hole" (Dir. Marcos Siega)
Hinlein and Siega also discussed the intricacies of directing television and how grueling the process can be for directors looking to direct an episodic series. "Getting the job on a television show is a bit of a performance; you want to give them the flavor of what you're about and sell an idea [to the showrunner]. It's a shot in the dark in a way, so I just go with my gut and conviction and try to communicate exactly what I want."
Siega also shared storyboards for a
Batwoman
episode he directed called "Down the Rabbit Hole." With the storyboards, Siega was able to showcase his preparation process for how he planned to elevate the beats in the script. "The script isn't the full playbook, but it gives you the beats to play with and add your own flavor to," he explained.
Hinlein closed the conversation by sharing a question from an audience member asking Siega about his favorite and least favorable parts of the directing process, which he then responded candidly to with the global viewers.
"My favorite part of directing films or shows is what I can get out of the audience. Whether it's getting them to smile, cry, or be scared, it's your [the director's] responsibility. You need the confidence to say 'I know what this needs to work,' and I really enjoy doing that. My least favorite part is post production when a network wants to change things. I have learned that I need to protect myself. Plenty of executives give fantastic notes, but I do dread that process where, potentially, my work gets unraveled."
New York Film Academy would like to thank the talented executive producer and director Marcos Siega for joining the NYFA global community to discuss directing television for The 20/20 Series, created by and moderated by Liz Hinlein.
To watch the full conversation, view the video below or watch on our
Youtube
channel.
These guests are not faculty and do not teach at NYFA, but they have appeared to share their stories and experience with our students. As guest speakers are scheduled based on their availability, NYFA cannot guarantee whether a guest speaker will visit during a student's attendance or who that guest speaker may be. This guest speaker forum is not part of any NYFA curriculum and attendance at guest speaker events is purely voluntary. Students should be aware that guest speaker events do not represent a job opportunity nor are they intended to provide industry connections.