NEW YORK FILM ACADEMY (NYFA) WELCOMES SCREENWRITER TOM SCHLESINGER TO THE 20/20 SERIES
March 3, 2021
New York Film Academy (NYFA) had the honor of welcoming screenwriter
TOM SCHLESINGER
as part of The 20/20 Series, created by NYFA's Creative Director of Filmmaking and
Cinematography
, Liz Hinlein. The conversation was moderated by Hinlein and was held virtually, allowing individuals to join NYFA and the special guests from all over the world.
The 20/20 Series, created by Hinlein, is a virtual pop-up event that takes us into the homes, hubs, and workspaces of an array of dynamic creative visionaries to allow for relaxed, engaging conversations on craft, creation, and artistic vision.

Liz Hinlein (Left) and Tom Schlesinger (Right) for The 20/20 Series
Tom Schlesinger was writer-consultant on HBO's
Prom Night in Mississippi
featuring Morgan Freeman, and the follow-up,
The Last White Knight
featuring Harry Belafonte. He was a story mentor on Caroline Link's
Nowhere in Africa
, which won the Academy Award for Best Foreign Film, and also on Caroline's
Beyond Silence
, nominated for Best Foreign Film.
Schlesinger wrote and is co-producing the feature films
Second Line West
, which will start shooting this upcoming June, and
Thief River
, scheduled for pre-production next October. He wrote the feature screenplay
Chappie and Me
, with Morgan Freeman attached to play baseball legend, Chappie Johnson. Schlesinger has also facilitated storytelling workshops for Pixar, Lucasfilm, the AFI, the Banff Centre, the DGA, and throughout Europe.
Schlesinger is what some in the writer's room call a story architect, someone who works with the creative team to help visualize what the film could be when it's finished. An intuitive role, Schlesinger explained this role is important for when the script is being developed or the film is being shot.
Hinlein asked Schlesinger if there was a way to separate the role of an architect and a screenwriter, to which Schlesinger responded: "There isn't such differentiation of roles. Following some of the rules of improv, everyone in the writer's room is supporting everyone else to do their best work." In that same vein, more screenwriters and architects are starting to become producers as well as it allows screenwriters to also see their story evolve into the final product, working alongside as a collaborator from beginning to end.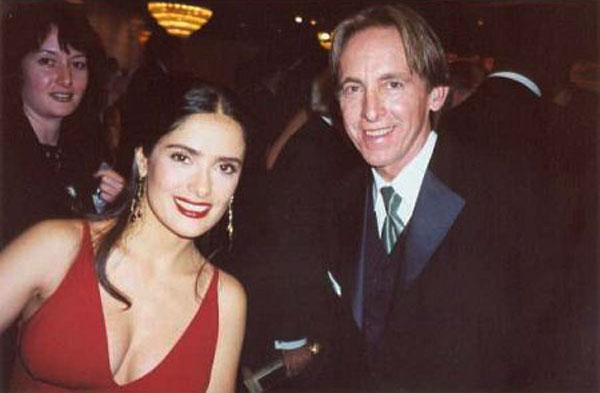 Salma Hayek (Left) and Tom Schlesinger (Right)
One member of the audience probed Schlesinger to give the secret sauce every screenwriter wants to know,
how to write a good story
. "You have to give yourself permission to write a bad first draft. You have to get the paint out on the canvas before you can work with it, it's kind of like sculpting," he remarked. "Then there are certain things to look at for the story to function. Your character needs an outer goal that relates to a passion or freedom and something relating to a relationship. Also, ask
what is my character's dilemma.
"
Schlesinger also encouraged aspiring writers to not design a story to fit a particular genre but rather focus on what is important to the writer. "Rather than pick a genre that is popular right now, for me, a genre is based on how you see the world and find meaning," he began. "You can work within a genre and attract a big audience, but on the other hand, you can focus on creating transformative characters that can have a social impact.
Breaking down the process further for those in attendance, Schlesinger broke down his process for ideating scripts and storylines. First, he explained that you always need to start out with a step outline (your story without dialogue). Then, you break that down into a one-page synopsis, the logline, and then can begin to write. "If you have a tentative structure to begin with, wonderful things can happen."
New York Film Academy would like to thank Tom Schlesinger for joining the NYFA global community to discuss how to build out stories for The 20/20 Series, created by and moderated by Liz Hinlein.
These guests are not faculty and do not teach at NYFA, but they have appeared to share their stories and experience with our students. As guest speakers are scheduled based on their availability, NYFA cannot guarantee whether a guest speaker will visit during a student's attendance or who that guest speaker may be. This guest speaker forum is not part of any NYFA curriculum and attendance at guest speaker events is purely voluntary. Students should be aware that guest speaker events do not represent a job opportunity nor are they intended to provide industry connections.