Musical Theatre Students Shine in 'The Wedding Singer'
October 8, 2014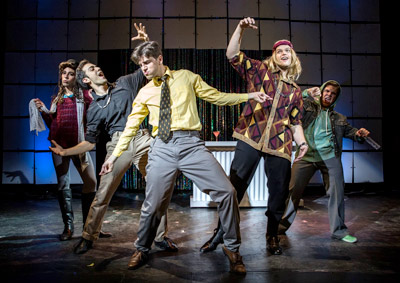 Coming off the huge success of our first musical production,
Spring Awakening
, the New York Film Academy Musical Theatre Department put together another magnificent performance in
The Wedding Singer
. A complete contrast from the former,
The Wedding Singer
is a comedic piece based on the 1998 Adam Sandler film. Featuring music by Matthew Sklar and lyrics by Chad Beguelin, with its book written by Beguelin and Tim Herlihy,
The Wedding Singer
is the story of a wedding singer and a cocktail waitress, both engaged to the wrong significant other.
Stretching over the weekend from September 26th - 28th, our diverse and talented team of 21 students from 11 different countries put on four shows at The Connelly Theatre in New York City's East Village. Even two of
our alumni
returned to work with the lighting, costumes and house management.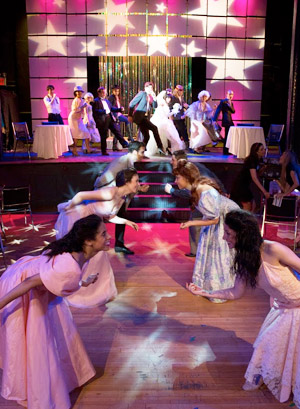 Audiences packed the house with three of the four shows selling out, thanks in large part due to the wonderful performances orchestrated by our experienced NYFA friends and staff, which included producers, Chair Mark Olsen and Kristy Cates, as well as associate producer Jordan Dragutsy. Seasoned director Isaac Byrne directed the musical with music direction from Anne Ebbson. Once again, the gifted Chad Austin headed the choreography, making the performers look more like professionals than students.
"I am so proud of our students and their commitment to their craft, spending each day in class and each evening in rehearsal for nearly 2 months," says NYFA Creative Director of
Musical Theatre
Kristy Cates, best known for her turn in the role of Elphaba in the Broadway, Chicago, and national tour of the smash musical Wicked. "At NYFA, we want to give our students every possible chance to succeed in this crazy business and it thrills me that each one of them rose to the occasion and had a wonderful experience in this show!"
For many students, this is their first 'go' at a major staged musical production. "The Wedding Singer has been one of the best experiences of my life!" exclaimed Musical Theatre student Stephania Sánquiz Donelli, who plays the role of Holly. "I've always wanted to perform in musicals and I never had the opportunity in my country because there were always so much political, social and economics problems that affected my artistic life."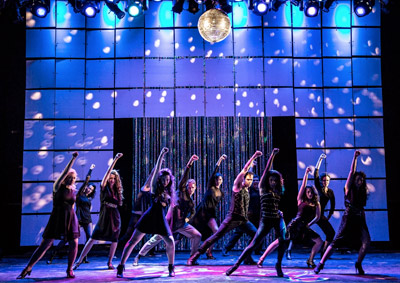 Adding his thoughts on the value of the whole production experience was student Conner Lyons, who plays the role of Robbie Hart. "The leaps and bounds we've made as artists and professionals from this experience is priceless!" he says.
"I learned so much in all facets of musical theatre. I think the most invaluable assets of the show for me have been the positive motivation to improve my vocals and to believe in myself as a vocalist!"
Given the positive and overall resounding appreciation from our students, as well as our audiences, the New York Film Academy intends to continue producing musicals of this caliber as a regular part of its curriculum. In fact, look for our next musical in April, 2015!
Cast (in oder of appearance):
Robbie Hart – Connor Lyons
Sammy – Christopher Lee
George – Alec Lee
Julia Sullivan – Raquel Tillo
Holly – Stephania Sanquiz Donelli
Glen Guglia – Charles Engelsgjerd
Rosie – Fernanda Hidalgo
Linda – Carrie McMahon
Angie – Beatriz Cavalieri
Ensemble – Mauritz Badenhorst, Miguel A. Candelaria Palafox, Melissa Jennifer Gonzalez, Alexis Guarneros, Cody Arturo Hernandez (guest performer), Charlotte Hughes, Cristina Hussey, Ilda Mason, Silvia Nicoloso, Carol Nolasco, Giovana Pancera, Georgia Roe (NYFA Alum) Naomi Wong


Production Team:
Producers – Kristy Cates & Mark Olsen
Associate Producer/Prod Manager – Jordan Neil Dragutsky
Production Stage Manager – Nikki Castle
Production Assistant Stage Manager – Momo Sugawara


Creative Team:
Director – Isaac Byrne
Choreographer – Chad Austin
Music Director/Conductor – Anna Ebbessen
Speech & Dialect Coach – Lauren T. Mack
Fight Director – Mark Olsen
Fight Coordinator – Dan Renkin
Associate Choreographer – Georgia Roe (NYFA Alum)
Associate Music Director – Daniel Lincoln
Book by Chad Beguelin & Tim Herlihy
Music by Matthew Sklar
Lyrics by Chad Beguelin


Design Team:
Scenic Design – Ryan Howell
Costume Design – David Withrow
Lighting Design – Mary Ellen Stebbins
Sound Design – Jacob Subotnick